Look at you now you're a game changer / Stronger than the truth and 10 times braver / Like an arrow shooting through a poison heart you know what you are / You're a game changer.
- lyrics from "Game Changer" by Nini Camps, Kristen Henderson, and Lori McKenna
The other day, my friend Nancy Flanagan (a retired band teacher from Michigan) posted an image suggesting, given that one of the targets deliberately chosen by ISIS in Paris was the Bataclan, that we choose to defeat terrorism by attending a live music show over the weekend. As it happens, I already had plans to attend a concert Friday night, the one-week anniversary of the Paris attacks, and I shared that with her and resolved to share pictures from the show that night over social media.
Having seen them play at halftime at a Connecticut Sun game this summer, and given the firm stand they had taken against sexism in the music industry, I follow local teen girl band Kalliope Jones on Facebook. When they announced they had been invited to appear at the Iron Horse and would be opening for Antigone Rising, I immediately had the feeling it would be a concert I wouldn't want to miss. I quickly went to YouTube and pulled up the live version of Antigone Rising's song "Don't Look Back." I loved it, and ordered tickets in advance just in case the show sold out.
When I arrived, the place was packed and radiating a sense of happiness, positive energy, and community. Not wanting to take up a table when I was just one person, I found a stool in the back corner where I could see pretty well, and also walk over behind the sound board when I wanted a better view. Kalliope Jones played a strong, tight set that set the mood perfectly for Antigone Rising to take the stage and rip into their first song. As people smiled, danced, sang along, and of course took pictures, I paused briefly to share out one picture of each band on Twitter and Facebook, promoting good music, promoting girls and women in rock, and of course also responding to Nancy's post.
Near the end of the evening, Antigone Rising's lead vocalist Nini Camps took a moment to "get serious" and talk about their newly established non-profit, Girl Bands Rock. As the website states, "The women of Antigone Rising seek to provide information, inspiration and education to girls and women on a local, national and global level about what a career in music is like for women, and to convey a positive image that currently is not being portrayed by the music industry or the mainstream media." Of course, that is a cause near and dear to my heart, and to the mission of our school. With every rehearsal, every show in which our rock bands participate, we promote that very same positive image. I couldn't help but think, too, how cool it was that I had learned about Antigone Rising through one of the teen girl bands they were helping to support and promote.
They followed their announcement of Girl Bands Rock with "Game Changer," my new theme song. As the final verse says,
This is for all the midnight jammers / Journal writers / True love believers / You're no stranger you're not alone / But you might have to be your own / Game changer / Truth savior / Sign painter / Silence breaker
I very much see my students in those lyrics, and while I hope they know they're by no means alone, I also absolutely trust them to be their own game changers whenever they feel the need.
The other night, I was on Twitter, chatting about music with Doug Robertson, author of He's the Weird Teacher. He found out that I teach rock band, and wrote me, "That's really cool. That would be so much fun." I wrote back, "It is a total blast. And in a girls school, extra important. I'm so lucky!"
Indeed I am. I love my work, and I know it matters. What more could I ask?
Written by Bill Ivey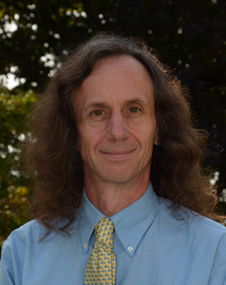 A dedicated member of the faculty, Bill Ivey is the Middle School Dean at Stoneleigh-Burnham School. He teaches Humanities 7 and the Middle and Upper School Rock Bands. Bill is the advisor for MOCA, the middle school student government, and he coordinates and participates in the middle school service program. Among his many hats, Bill also coordinates social media for Stoneleigh-Burnham School.