The National Coalition of Girls Schools (NCGS) held their Annual Conference from June 22-24, 2015 at St. Catherine's School in Richmond, Virginia. The theme was "From STEM to STEAM: Girls' Schools Leading the Way." Sally Mixsell, Head of School, attended along with science teachers Andrea Tehan Carnes and Meghan Lena, and Bill Ivey, Middle School Dean. Over the weeks following the conference, we are sharing our thoughts on what we learned and what we did.
With growing national awareness of transgender people and gender diversity, the National Coalition of Girls Schools established a task force to gather resources and develop a position statement. They also hosted a double-length session, "Transgender Students at Girls' Schools: A Training and Discussion" at their Annual Conference, and this was the final session I attended. Martha Perry, Head of St. Clement's School, set the tone by observing, "Our students must be at the center of all that we do."
Davey Shlasko, of Think Again Training and Consultation, began with some basic definitions and vocabulary, after pointing out that you can't discuss identity without taking into account a common cultural context. With his ten minutes (!), he told us that biological sex means everything about our our bodies that we give gender meaning to. It is usually thought of as binary, but isn't as some people are born intersex. Gender identity is about who you know yourself to be - your internal sense of your own gender. Gender identity, too, is not binary (this is a historical reality). Gender expression is behavior - how you walk, talk, dress, etc. Gender expression can be observed but you don't always know what it means to that person. For one thing, culture can be a factor. Biological sex is… no one's business. You can not observe gender identity; you can only know if someone tells you. Sexual orientation is how you relate to other people, in Western cultures sexually and romantically. It is not related to gender expression. One commonly used definition of "transgender" is living as a different gender than what is birth-assigned, with or without physical modifications. In attempting to negotiate all of this, it's important to be accepting.
The second person to speak was Shannon McKay, a member of the Virginia Pride Board of Directors and the parent of a transgender girl. Like many parents of trans kids, she supported her child's gender non-conformity even as she was experiencing a great deal of judgment from other parents. Like many parents of trans kids, it took her a little while to realize the difference between a child saying "I want to be a girl" and "I am a girl" or "I feel like a girl on the inside." Part of that is that really little kids don't necessarily have the words to express who they are, so they need to show you instead. Before and since she put it all together, she has been an amazing, supportive parent. Her clear and strong love for her children, supporting them in growing into who they are, was deeply moving.
Sandra Luna, Head of Julia Morgan School, spoke next. She began by highlighting the need to educate and prepare our communities for transgender people and gender awareness, and that this education needs to be ongoing. Toward this end, Julia Morgan School explicitly and deliberately works spectra of sexuality and gender into their curriculum. For example, the seventh graders learn about biological sex, gender expression, and gender identity. The school also actively works to ensure they're considering and accommodating transgender people, through their policies, their language use, and their focus on protection and privacy. They are actively working to build community in a way that minimizes or even eliminates bullying, and have a strong anti-discrimination statement. She emphasized that is it important to realize, even in girls schools, we need to be aware of and sensitive to diversity of gender on the spectrum, for example by evaluating the language used on our admissions forms and providing gender-neutral bathrooms. Girls schools, too, need to examine dress codes - in part because, and this is fundamentally important to remember, not all transgender kids are out. In the end, we need to focus on not stigmatizing students, on creating structures that (however inadvertently) call them out. It's got to be about more than tolerance. As once transgender kid said, "I want to be seen, I want to be heard, I want to be held."
Julie Mencher was the final speaker. She began by noting that every school is trying to do the right thing but we are uncertain what best practices are. There's so much to consider. Ms. Mencher had a huge variety of questions for schools to examine, not all of which I could note down. She mentioned admissions challenges and retention concerns. Which gender categories will be considered? Once admitted, how do we best handle a transitioning student? Are we a school for girls or are we a girl-centered school? How do we define "girl"? What is our community's attitude toward transgender people? "It is not a question of 'if' but 'when' schools will face transgender issues. Many things to do before this happens, in preparation." (tweet by Briony Scott) Ms. Mencher also noted ideas from a transgender student that included putting gender discrimination in official statements and the curriculum, having formal policies, and having a designated go-to person.
These four presentations were followed by a question and answer session. One question was "What can girls' schools learn from women's colleges?" We looked at published admissions policies of seven women's colleges, all of whom currently admit trans women. Four do not admit trans men, one does, and two have policies that boil down to "maybe." Once admitted, a trans man may unconditionally remain at six colleges, conditionally at a seventh. Women's colleges have policies all over the lot on admitting non-binary people, sometimes depending on a person's birth-assigned gender. Almost all colleges use "self-identity" as determining factor. There are, of course, some differences for girls schools. For one, most kids under 18 who intend to undergo physical transition have not yet begun. Other differences may include students' emotional and cognitive development, accountability to parents, higher stakes for nonconformity and self expression, and the application process. Girls schools can also take other lessons from women's colleges, such as undertaking education and training, including legal awareness, before developing and implementing policies. Ultimately, the wish to do the right thing is a great start but not enough.
Athletics are another important consideration for transgender kids, whether or not they are at girls schools. Rules in athletic governing organizations and conferences tend to focus more on bodies than identities, which at one level makes sense and at another level creates issues. We do need to be aware of what rules govern each of our schools for athletic competition. Julia Morgan School also talks with potential competitors. Different school communities in different geographic areas will need to respond differently.
Ultimately, our culture is continually evolving. Cultures and communities do need time to change, and we need to respect that. Yet, transgender rights are a civil rights issue, and these different perspectives create tension.We need to give kids space to be themselves and express their gender identity, and we need to avoid assumptions. We need to consider how to be inclusive and welcoming and also claim our identities as girls schools. We need to keep the door open for discussion. In a context where students are often driving these discussions more than adults, they can help lead - but so can we. Finally, the National Coalition of Girls Schools emphasized that we can always call and ask for help with any question or issue. Often, they can identify a resource for us.
The conference was an amazing experience - focusing on taking an honest look at how things are going, building a case for action, and learning what actions are being taken and how they are working out. We considered not just gender, but also race, class, abledness, and a range of diversity. We left, as Jennifer Turner put it, with our heads full of ideas and our hearts full of inspiration. "Now," she said, "to turn it into meaningful learning experiences for girls."
Written by Bill Ivey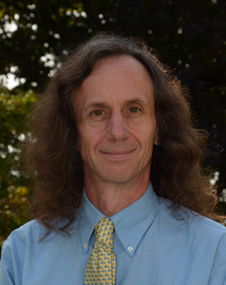 A dedicated member of the faculty, Bill Ivey is the Middle School Dean at Stoneleigh-Burnham School. He teaches Humanities 7 and the Middle and Upper School Rock Bands. Bill is the advisor for MOCA, the middle school student government, and he coordinates and participates in the middle school service program. Among his many hats, Bill also coordinates social media for Stoneleigh-Burnham School.