What if the mightiest word is love? / Love beyond marital, filial, national, / love that casts a widening pool of light, / love with no need to pre-empt grievance. / In today's sharp sparkle, this winter air, / any thing can be made, any sentence begun. / On the brink, on the brim, on the cusp, / praise song for walking forward in that light. - Elizabeth Alexander, "Praise Song for the Day" (A Poem for Barack Obama's Presidential Inauguration)
This poem, ending with these words, opened today's Multicultural Educators Forum, hosted annually by The Fenn School. We were invited to reflect on it quietly to ourselves, and in that silence, I committed myself once again to the twin importance of acting out of love and ensuring we are not merely walking in that light but are genuinely walking forward in that light.
Debby Irving, the author of Waking Up White, keynoted on the theme, "I'm a Good Person! Isn't That Enough?" She pointed out that pain and love are inseparable, and that only by leaning into the pain can we work through it to achieve authentic love. In telling the story of how she grew up - the Norman Rockwell narratives that surrounded and shaped her without her even knowing it, the moments of history such as the bombing of Black Wall Street that went untold and unknown, the belief that the playing field was level when it was anything but - she enabled privileged eyes to be opened without speaking for or over oppressed and marginalized people. She made it clear that different people experience the racial storm differently, and that you have to See history clearly in order not to repeat it. We are formed by our childhoods, but can still reshape our futures. She finished by noting some unhelpful white ways:
Feeling entitled and equipped to help, fix, and take charge (which reproduces the same dynamics)

Assuming formal education trumps lived experience

Reacting to discomfort by getting defensive, judging, and/or disengaging
More helpful would be for white people to:
embrace our own ignorance and biases - think of it not as a matter of character but as a matter of competence

tolerate and manage our own discomfort

explore what's at stake and for whom
In short, we need to live between our comfort and danger zones, in our learning zone. We need to remember that "danger zone" may differ by demographic. In the end, quoting Daniel Boorstin, Ms. Irving concluded, "Education is learning what you didn't even know you didn't know."
For the second session of the day, I attended a conversation on hiring faculty and staff. We agreed to confidentiality at the start of the session; suffice it to say that I learned of ways different schools are examining steps of the hiring process to ensure a diverse applicant pool, and creating a welcoming school culture that embraces and supports new faculty members and also focuses explicitly on diversity. One thought I found particularly liberating is that, as schools undertake continual growth, there's no reason not to start with the choir when building a culture. Indeed, it may help create a momentum of its own.

After lunch, we returned to work with Ms. Irving for a full group session entitled "Interrupting patterns of privilege." She talked of the cultural forces that undermine our best intentions, and then defined social location as proximity to power based on intersectional identities. To help make that visible, she used chart paper on which we listed and grouped different identities within categories such as gender, sexuality, race, ethnicity, abledness, and class. Most identities fell below a line she later said was based on Peggy McIntosh's "invisible line of social justice," and we worked to figure out the corresponding identities of privilege that fell above the line: male, heterosexual, Anglo, neurotypical, able-bodied, Protestant, owning class, citizen, white. Ms. Irving pointed out that people will do back flips to fit into identities of privilege. Yet, for those of us with different kinds of privilege, we do have the ability to interact with people who can challenge our privileged perspectives and stereotypes. Race stands out in contrast to the other identities in part due to the historical (and to a very great extent ongoing if no longer encoded in law) segregation that prevented those necessary interactions.
We also did an exercise involving two columns, one listing "dominant white culture values and habits" such as "hierarchical, authoritative" and "either/or" thinking, and one listing "transformational values and habits" such as "collaborative, negotiation" and "both/and" thinking. Most of us felt our classrooms represented transformational thinking, whether or not our individual schools did. Intriguingly, a number of people reframed the lists in different ways such as older generations vs. millennials, or patriarchy vs. feminism. Notice, though, that in all cases, it comes down to the questions of "Who's got the power?" and "How do they maintain it?"
To round out the day, I attended a break-out session on "How diverse and inclusive is your classroom?" led by Fenn's librarian, Sam Kane. We reflected on what our classrooms would communicate even in silence, on what classrooms of our youth were most memorable and why, and finally on what aspects of different identities were present and who was missing on the walls and in the materials of our classrooms.
One of my take-aways was that, as careful as I am to be inclusive of the full range of human sexualities, I've somehow never taught a novel with a family structure involving a same-gender couple, only heterosexual couples and single parents. I also came to grips with the fact that it's now been a few years since I've taught a novel with a major disabled and/or neurodiverse character. While I'm firmly committed to a democratic classroom model and to having the students vote in the books they want to read, that doesn't keep me from doing a better job of finding diverse books for them to consider, nor of having conversations with them about the benefits of deliberately seeking to learn about diverse perspectives that may or may not match their own.
This is second straight year I've attended Fenn's Multicultural Educators Forum, and I'm hoping and expecting next year will be the third. Tete Cobblah, Fenn's wonderful and kind Director of Diversity, mentioned on several occasions his hope that visiting schools would bring students next year, and my colleagues Karen and Charlotte and I all agreed that would be wonderful and powerful. In the meantime, lots of conversations, lots of reflection (including sharing around a copy of Ms. Irving's book which we were kindly given), and lots of work await us as we continue to walk forward in the light.
Written by Bill Ivey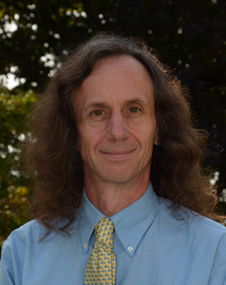 A dedicated member of the faculty, Bill Ivey is the Middle School Dean at Stoneleigh-Burnham School. He teaches Humanities 7 and the Middle and Upper School Rock Bands. Bill is the advisor for MOCA, the middle school student government, and he coordinates and participates in the middle school service program. Among his many hats, Bill also coordinates social media for Stoneleigh-Burnham School.