In the MiddleTalk educators' group, Stoneleigh-Burnham Middle School has become inseparably entwined with the question "What would you do if you were brave?" since my answer to that question when asked by group member Brenda Dyck more than a decade ago was "I would start a middle school." One year later, of course, I became part of the committee that helped found SBMS.
Check "starting a middle school" off my to-do list!
As good a story as it is, I always knew at some point in time, I'd need a new "If you were brave…" example. We're in our eleventh year, and as much fun and rewarding as that moment was, at some point in time someone's bound to say, "That's cool and all, but what have you done lately?"
Enter Rick Wormeli and his recently published article at the Association of Middle Level Education, The Courage it Takes. Though Rick is one of the best known, most respected, and busiest educational consultants in the world, he too has a personal list of "If I were brave…" actions. One, for example, is "Question No Child Left Behind and every other federal education mandate from any political party in power from now until we retire if we have concerns about it."
Well. As coincidence would have it, that's one of the very things I just undertook with my Humanities 7 class! Chris Toy, a consultant with whom we had worked during our Founding year to ensure our practices were well aligned with This We Believe, had a contact with Senator Angus King (I-ME) and had offered MiddleTalk teachers the chance to have their students' thoughts on education in this country and the reauthorization of the Elementary and Secondary Education Act (a.k.a. "No Child Left Behind") shared with Senator King, who sits on the Senate Education Committee.
As always, the students responded brilliantly. You can see their thoughts summarized here in the format we shared with Senator King, but know that among their major themes were:
High-stakes tests often lead schools to overfocus on certain segments of their populations, to the detriment of others.
A school is successful when students are both learning and enjoying themselves.
Schools and teachers are successful when they know and understand what skills a student has and what they need to learn next, and enable that learning to happen.
Teachers are successful when they respect their students and their ideas, and place trust in their students.
Students are successful when they want to learn, engage, try, and live up to the trust placed in them.
When checking for success, do not compare (schools, teachers, or students) but rather seek to observe (incorporating multiple viewpoints) what is actually happening and what progress has genuinely been made.
If a (school, teacher, student) is not successful, do not give up on them but rather figure out what is not working and offer necessary support and mentorship to enable them to improve.
You could build a really solid and successful school around those principles. I would hope SBMS would be on that short list of really solid and successful schools. I know I believe in and try to live up to those principles (and others the kids listed I have not mentioned here).
But wait. That's the kids' list in response to Rick's personal "If I were brave…" goal. What would my own "If I were brave…" goal list look like today? Something, I think, like this:
Stand up more frequently for what is right when I see gender or racial bias, or other diverse stereotypes and prejudice, without compromising my own ideals of minimum respect due all people.
Face up to the effects of my own privilege and cast them away as much as possible.
In a year where I have been observed more times by adults than in the previous two decades put together, coupled with multiple student evaluations (formal and informal) as always, continue to open myself up more fully to outside perspectives on my teaching and seek to face up to and compensate for my weaknesses in service to my students.
Be willing to be seen as a role model for others in whatever ways they might feel helps them (this need not, and better not!, mean elevating myself, by the way).
In short, strive to be scrupulously honest with myself about when I am living according to my ideals (including those of intersectional feminism) and when, all good intentions aside, I fall short.
Rick closes with the admonition, "For our students' and communities' sake, let's take the opportunities in the school year ahead to dare greatly and be brave five minutes longer."
Five minutes longer? That, I can do.
Maybe even more.
Written by Bill Ivey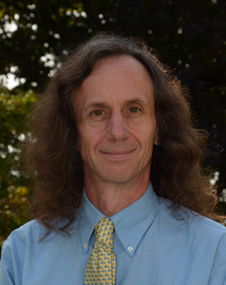 A dedicated member of the faculty, Bill Ivey is the Middle School Dean at Stoneleigh-Burnham School. He teaches Humanities 7 and the Middle and Upper School Rock Bands. Bill is the advisor for MOCA, the middle school student government, and he coordinates and participates in the middle school service program. Among his many hats, Bill also coordinates social media for Stoneleigh-Burnham School.