"Not everything that is faced can be changed; but nothing can be changed until it is faced." - James Baldwin

I swooshed past Carolyn with a cheery, "See you tomorrow! I'll be back by 6:15." knowing that it was going to be tight as I had to set up Bonnie's House for a 6:30 Rock Band rehearsal. But my virtual colleague, José Vilson, one of the best known and most respected edu-bloggers in the country, was coming to the Odyssey Bookshop in South Hadley (co-sponsored by Mount Holyoke College and coordinated by Megan Marie Allen) to read from his book, This Is Not a Test: A New Narrative on Race, Class, and Education, and I was simply not going to miss it.

Of course, I'd already read (and reviewed) the book. But I'd never met José face to face, never heard him in person (I had listened to a video of his epic poem "This Is Not a Test" delivered at the SOS [Save Our Schools] March on Washington), never gotten my copy signed. Plus, I was taking the next day off to attend the Multicultural Educators' Forum at Fenn School, and the conjunction of the two events was irresistible. Standing at the back in case I had to leave early (which proved the case), I found myself deeply moved to hear José's words with his own voice. His call to take a hard and honest look at what students of all races and classes need and are receiving, as well the roles of intersecting privileges, resonated with me and challenged me to fully live up to my ideals. And it did indeed perfectly prepare me for the next day's work at the Multicultural Educators' Forum.

There, we began by viewing the documentary film "I'm Not Racist… Am I?" directed by Catherine Higginton Greene. The Calhoun School has begun a major initiative in "Deconstructing Race," the goal of which (according to the film's website) is "to create a multimedia platform to get young people, their teachers and their families talking – and doing something – about structural systemic racism." The film is just the first step in the initiative.

Twelve New York City high school students of different races and socioeconomic backgrounds, attending both private and public schools, agree to attend a series of eight intensive day-long or multi-day workshops on understanding racism at a deep level and developing the tools to deal with the systemic racism that surrounds them. The documentary follows them through the year, focusing primarily on scenes from the workshops themselves but also occasionally looking at the kids at home interacting with their parents, or just interviewing them one on one. The website linked above includes a trailer for the movie, and also information about the students, the workshops, and more. A heartbreaking and insightful quote from the movie: "It's already too late for us, to change the world. We can make a change but we can't be the change."

After the movie, we were asked to form groups to talk about our reactions to it. In my group, several of us found the movie's distinction of bigotry vs. racism to be helpful. Bigotry (or prejudice) can be thought of as individual meanness, while racism is the misuse of power to hurt and control people of colour, help white people, and keep everybody obedient to the system. Another quote from the movie that is pertinent here: "You can't get rid of racism just by everyone being nice." And yes, the movie said, the implication is that all white people are racist. [Aside: my very first instinct was to think, "Okay, but at least I'm not bigoted, right?" That reaction was echoed by one of the white families in the movie. There are implications in those reactions, too, as they instantly recenter the discussion on whiteness and the desire all of us have to think of ourselves as good people.]

Later on, before we broke up to attend smaller workshops, one of the teachers said, essentially, "This is all well and good, wonderful even, but I find myself thinking and worrying: what are we going to do about this?" Ms. Talusan challenged us to answer that question since, in the end, it was going to be up to us anyway. There was a fairly significant silence following her challenge, but eventually voices emerged.

In my small workshop session, we spent a fair amount of time discussing one of the scenes in the movie where the kids are asked to take a white board and write down the thing that people are thinking but nobody is saying. One of the black kids wrote that he was pissed off 90% of the time at what one person (he gave no names) was saying. A white girl sitting near him said that had to be her, and left the room in tears. After talking through what had happened in the room with the conference facilitator and what she was thinking and feeling, she returned, and the ensuing conversation was deeply painful in many ways - of course, it's worth noting that there was an ensuing conversation.

Several people in our discussion pointed out that, in effect, the entire session for the kids had suddenly become focused on this one girl and, in the process, on whiteness. We were concerned for the kids in the classroom (of all races) and what was being done for them. People of colour and white people alike talked about times they had seen a similar dynamic happen before in their own lives, and how it felt. And our conversation built from there.

Near the end of our discussion, Tete Cobblah, the Diversity Coordinator for Fenn and the person who had organized the day, came to check in with us. He commented that our discussion was much more rich, deep, and multi-layered than another one which, randomly, only white people were attending. He stated his belief that our racial diversity in the room was a strength. I would absolutely agree.

I still frequently find myself thinking about the high school student who observed that (systemic) racism in the U.S. had already infiltrated and permanently affected their lives. That is a simple fact that can't be changed. What is true of these students must, of course, be true of the rest of us who grew up in this society. Still and all, however true it must be that we can't be the change we want to see in the world, we can still make changes. In a school that seeks to value student voice, we have strong students of many races,. We have faculty and staff who bring their own variety of perspectives and who sincerely want to use them to strengthen the school. Indeed, I have to think that our collective resources in the Stoneleigh-Burnham community, aged 12 to (mumble) will be able to find a way to figure out the additional actions needed to deepen the conversation and help keep our community growing.
Written by Bill Ivey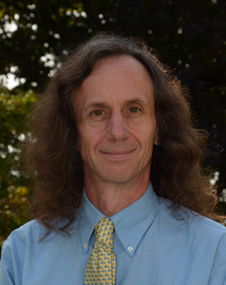 A dedicated member of the faculty, Bill Ivey is the Middle School Dean at Stoneleigh-Burnham School. He teaches Humanities 7 and the Middle and Upper School Rock Bands. Bill is the advisor for MOCA, the middle school student government, and he coordinates and participates in the middle school service program. Among his many hats, Bill also coordinates social media for Stoneleigh-Burnham School.