By all reports, he was a wonderful person, loved by the students in the school where he worked. He would smile at every child every day, and succeeded in making the cafeteria where he worked a happy space for them. One parent described him as "Mr. Rogers with dreadlocks" (Rafowicz, quoted in Lonetree) The J.J. Hill Montessori School PTO wrote, "Because you were a part of our community, we are better. / We will hold you and your family in peace and memoriam."
As I'm sure you all know, the shooting death of Philando Castile was but one horrific and tragic moment in a week that left most of the country reeling, perhaps especially those of us still tender from the mass shooting in Orlando. That, along with the deaths of Alton Sterling and five police officers in Dallas, the news of the aftermath of the ISIS car bomb in Baghdad, and the explosion on the train in Taipei, went well beyond overwhelming to simply and numbingly unbearable, and people in my timelines began announcing they were engaging in active self-care - taking time off from the news and social media to recover, reaching out to support others, and/or turning to hashtags like #CarefreeBlackKids.
As a teacher myself, I've developed an online network that disproportionately includes teachers. Whatever our individual politics, every single one of us is reeling from recent events, every single one of us longs for a more just and peaceful world, and every single one of us worries about our kids (by which I originally meant our students but which of course includes our own children as well as other people's). It is telling that after Orlando, many of us who were still in classes focused almost immediately on how best to handle it in the classroom while many of us who were on vacation wrote that we missed the chance to process it with our students - probably both for their sakes (clearly the top priority here) and for our own. Essentially the same can be said of all the subsequent tragedies.
I'm certainly not going to walk into class on day one and lead with, "Wow, that first month of summer was really depressing. Anyone want to talk about it?" But my students will certainly be aware of everything that's happened, and it is virtually certain the summer's events will come up this year as we discuss their growing sense of identity, stereotypes and prejudice, fairness and justice, and whatever other interests this particular group of students expresses. And I will be ready to talk.
There is bound to be a range of perspectives, overlapping in different areas, diverging in others. Taking in and respecting those perspectives, as long as they are themselves respectfully phrased and honor our common humanity, learning to see and understand a diversity of points of view, and thinking through and - perhaps - changing our opinions in response… these are vital life skills I want my students to develop. In the process, if I am not necessarily explicitly teaching citizenship, that is nonetheless what they will be learning.
With every single one of our actions, we are shaping both who we are and the world in which we live. I want my kids to understand this, and to live as their best (if imperfect) authentic selves to the best of their ability. I look at our graduates, people like Siobhan Pascal '16 who read her deeply moving poem "The Unchanging Nights" at the Poetry Festival to a lengthy, deafening standing ovation. I look at my own son, just graduated from college and starting the next phase of his life with a girlfriend just as warm, insightful, and kind as he is. And I do feel hope.
But that in no way diminishes my own responsibility to act to the best of my own imperfect ability to build a better world.
Every moment of every day.
Written by Bill Ivey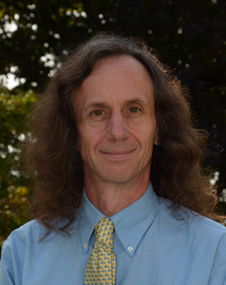 A dedicated member of the faculty, Bill Ivey is the Middle School Dean at Stoneleigh-Burnham School. He teaches Humanities 7 and the Middle and Upper School Rock Bands. Bill is the advisor for MOCA, the middle school student government, and he coordinates and participates in the middle school service program. Among his many hats, Bill also coordinates social media for Stoneleigh-Burnham School.