Welcome, everyone, to the first day of the Stoneleigh-Burnham academic year.
Every year in August I participate in an event that draws people from around the world to this beautiful area. It's called the Deerfield Dirt Road Randonnée, or the D2R2, and it's this huge bike ride on the hilliest, steepest dirt roads you'll ever see. It usually takes me anywhere from 7- 11 hours to complete, depending on which of many different courses I choose.
There's this road called Archambo Road. It has a 27% grade which means it looks like this: [gesture]. This year I came upon it about five hours into my ride and I told myself, "I know I can do it if I just push myself hard enough and throw everything I have into climbing this dirt wall. Sure, I still have hours of riding to do and lots of other steep hills to climb, and it's going to cost me a lot of effort and energy to do it... but there it is and I should climb it because, well, because I just should. I'm not going to watch while other people go past me" So I took a deep breath and rode right up it and I ……. got off my bike and proceeded to push it up that hill.
I didn't get off my bike because I was lazy or afraid of that hill. I'm pretty confident in my riding abilities. I knew I could do it but I also knew I needed to be smart and save a little energy for the next five hours so that I could actually enjoy the rest of the ride. As I got off my bike, I saw that other riders around me noticed and, with palpable relief, also got off and started pushing. During that five minute push I met someone from Canada, from Australia, from California, and we all started chatting about our experiences that day - the beautiful views we'd seen, the farms dotted with cows, sheep and goats, the volunteers along the way serving us PBJs and trail mix, the other big climbs we were dreading or looking forward to. As we crested the hill and got back on our bikes, we all commented on how that little break made us feel stronger and better prepared for the rest of the long ride.
As you start this year, think about it as a long and challenging and beautiful ride with a lot of steep climbs and exhilarating descents and some easy flat stretches as well. Sure, you need to push yourself hard at times, but you also need to practice recognizing when it makes sense to get off your bike and take a break so you can come back stronger than ever. I want to be clear: I'm not telling you to bail on a hard homework assignment - I'm encouraging you to pause from time to time, take a deep breath and think about how consistent learning and practicing add up over a year. As my advisee Clem very wisely said, "the days can be so long but the weeks go by so fast." It's not about staying up late every night - it's about pacing yourself and acknowledging your own particular strengths. It's different for everyone. Some people may zoom up steep hills without breaking a sweat; others may have to work a little harder to get up the hill, but they might be more skillful on the tricky descents. At the end of the day, or the academic year, we really all end up in the same place: stronger, smarter, wiser, and, most important, part of a community that has traveled the same road together, supporting and encouraging each other along the way.
by Lauren Cunniffe, Interim Academic Dean and College Counselor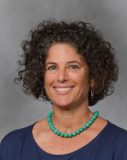 Written by Guest Faculty Bloggers

Occasionally we feature guest contributions from members of our faculty. Their voices provide an exclusive view into the classrooms, halls, lounges, and residence halls that make Stoneleigh-Burnham School such a great place to live, work, and study. To find blogs exclusively from our faculty members, use "The Faculty Perspective" category.