by Shawn Durrett, Dean of Faculty
Good morning class of 2019, and welcome, Stoneleigh-Burnham community and honored guests. Seniors, it's a privilege to join you here -- thank you for asking me to share this celebration with you!
Today, you are graduating in SBS's sesquicentennial year. Recently, in IB History class, many of you worked on a special archives exhibit for reunion, and soon you too will be part of our school's 150-year history. So, what does this mean?
I went to poke around in the archives to see for myself, and here are some of the things I learned:
-- Starting in 1909 students took physical training classes which included a strict course of analytical study in "graceful carriage and the art of walking."
-- In 1933, students had to wear bloomers long enough to meet their stockings and were never allowed to show bare legs. Back then, you could take typewriting class for $30 and the suggested allowance was $3 per week. Can you imagine that decades from now someone might look in the archives and find your weekly spendings on New Fortune or Dunkin' unfathomably miniscule?
-- There used to be a fathers' weekend that included cattle roping competitions where students (not the fathers) roped cattle.
-- We used to have a May Queen with her own "court" and of course you've heard that Burnham pudding was a special recipe given to graduates only once they became brides.
-- And I'm not sure what decade this was from, but in one of the boxes I found a sheet of rules printed with these ominous, harrowing words: "There is to be no dancing in the living room."
Thankfully, seniors, times have changed. You can now make (or not make) all the pudding you want, regardless of your marital status! And I am quite sure that you have danced your way through every room in this school!
Years from now, I wonder what someone might find if they opened a box holding archives from the class of 2019. A plastic bubble tea cup with boba pearls dried to dust? This year's trial dress code policy? A lock of hair from the head of one of the members of the Korean boy band BTS?
Or maybe this? [holds up senior class business card]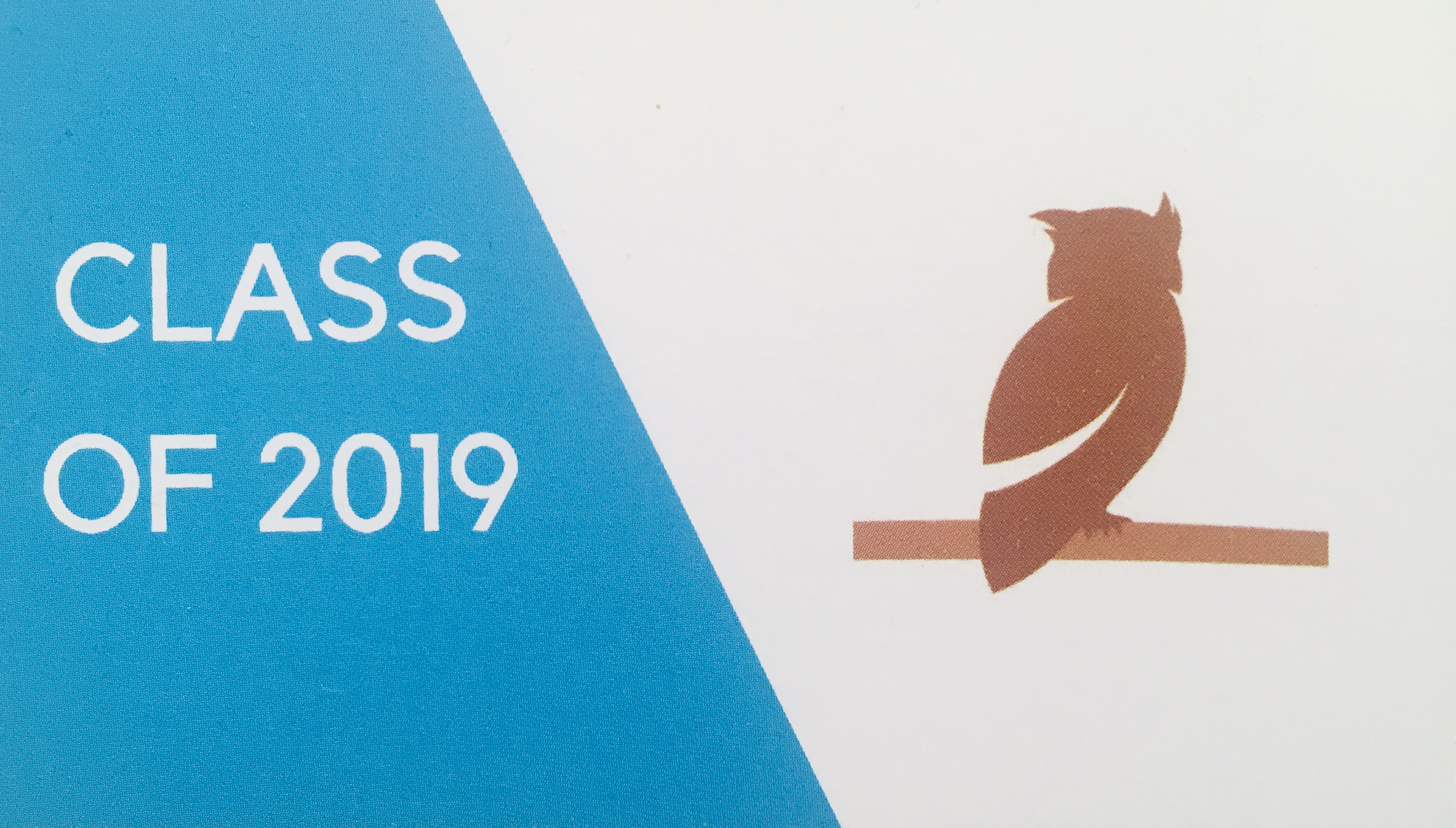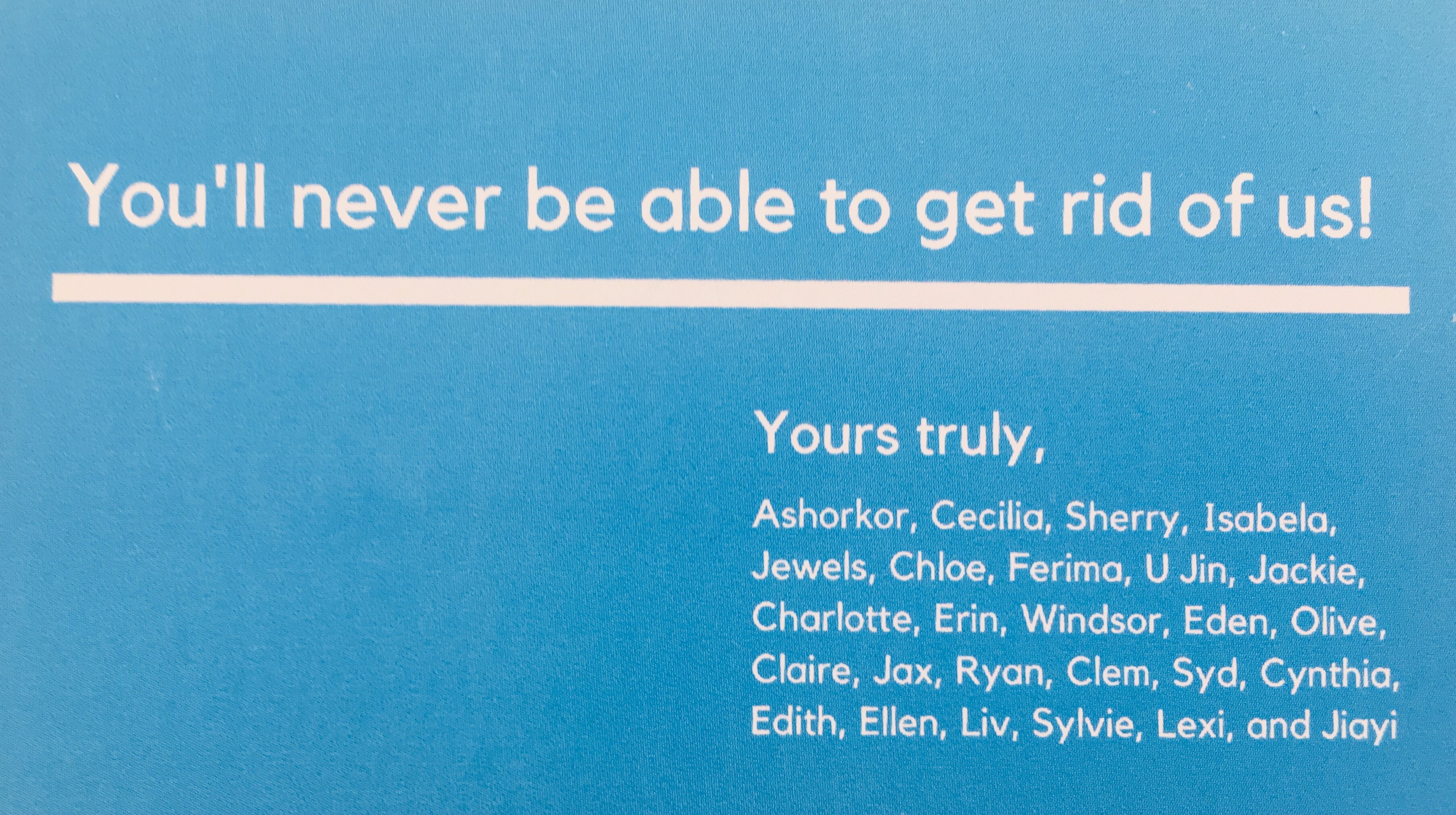 For those of you in the audience who can't see this, it's a business card with the school's owl logo and "Class of 2019" on the front and on the back, the words: "You'll never be able to get rid of us!" (exclamation point) signed "Yours truly," with the names of everyone in the class.
Now, if you didn't hear, this was the senior class prank. Apparently, 500 of these cards were hidden all over the school.
You know, in my time people pushed cars into ponds and filled offices with manure for senior pranks. This is, quite frankly, totally adorable. I hope that 150 years from now, on the school's tricentennial, someone opens up an archives box and finds one of these little cards.
However, one thing I know for sure is that we really can't "put your class in a box," as each one of you defies categorization. From loud and quiet to intelligent, lyrical, and humorous; from artistic and athletic; to spirited, visionary, and goofy: you are always uniquely yourselves.
High school is finally over. Later today you will head down the long driveway, past the horses in the paddocks, past Coleman house and the Stoneleigh-Burnham sign, and out into your future. You will, as we heard on Vespers' night, "set the world on fire."
This will never be exactly the same again. So what I want you to do now, is to make a memory for your own archives. Look around at each othe r-- those who have walked this journey with you. Look at the audience -- at the teachers and families and friends who support you. Take it all in and keep it forever in a special place.
OK, now it's time to get this show on the road.
We have diplomas to hand out! You very important people have places to be and things to do. So welcome, seniors, to this, your graduation day!
Written by Guest Faculty Bloggers

Occasionally we feature guest contributions from members of our faculty. Their voices provide an exclusive view into the classrooms, halls, lounges, and residence halls that make Stoneleigh-Burnham School such a great place to live, work, and study. To find blogs exclusively from our faculty members, use "The Faculty Perspective" category.