I have the privilege each year of getting to say a few words to the senior class whether they want me to or not - and whether I want to or not! This year, I'm very pleased to be able to address this particular class. There are many reasons for this, seniors, but I can tell you - and this will surprise you - that to me the most stand-out characteristic about your group is that you are the only class in my long career to have written itself a mission statement. I had been invited to work with you during your junior year bonding day, and we talked about class goals. When I mentioned that goals often emerge from a sense of mission, you were all over that and worked collaboratively for about 10 minutes before you nailed who you are collectively. Here's what you came up with:The Class of 2018 is a diverse group of growing young women who value not only themselves, but the feelings and lives of those around them. We strive to support each other, encourage school spirit and, above all, be accepting of our differences.
I swear, audience, I had nothing to do with this other than serve as the scribe. Out of this collective understanding, seniors, you grew your goals for the year, and I would contend, for the next two years. They included what follows, and I thought it would be an interesting exercise to reflect on how you've done in achieving these goals.
We will value all opinions in class meetings and class activities. Having attended a few of your meetings, I would say you've done well with this goal. Of course, part of this has to do with the excellent leadership you have had in Frannie and Nana. Though you have been occasionally recalcitrant in getting things done on time, the end result has led to your leading the school in solidarity and with respect.
We will strive to become more like a family in the following ways:
Honor our diversity. No class in my tenure has done this better. You are a diverse group, and you have worked to share your diversity in ways that have ultimately demonstrated the common humanity among you. You have an African-American president, a Chinese vice president, and a Caucasian StuCo president. Your group of senior leaders (what we call OEKs here) is similarly multicultural. The respect with which you have interacted has been palpable, and it has served to create lasting bonds that regularly cross traditional boundaries. You have represented yourselves well as individuals, but also as a unified voice around issues that have mattered to you
Share who we are with each other more openly. I have been constantly impressed by how well you know each other and appear comfortable with one another. This can only be achieved through allowing others to know who you are, by allowing yourselves to be vulnerable together.
Be the friend we want to be. In this area, you referenced the golden rule. I suspect it was broken a few times here and there, but in general you've been kind to one another, even through the grueling days of the college application process, which is most of senior year!
Dare to ask each other for help. It seems that in your vulnerability mentioned above you have not only asked for help but relied on each other for help through thick and thin.
Do more as a whole class, together. The rest of us have certainly felt the power of your united front, though only you know how well you fulfilled this piece of acting more like a family.
And my personal favorite: Bring dessert to class meeting to share. Not sure this one got a lot of attention... but I do know how food-driven we are at this school!
3. We will begin our job as role models to younger students that will eventually take us to senior year To me, you have taken the notion of role modeling very seriously. You have understood the power of a senior class in how it models behaviors and attitudes for the rest of the school, and shapes how the year unfolds. You have acted on your determination to be positive role models - as the people who sit on the couch in House meeting, the Big Sisters, club leaders, RAs, and simply members of this community.
4. We will promote school spirit. If Mountain Day, holiday decorating, the Bachelor video with Clarence (aka Clara) and his lovely bevy of beauties, Big and Littles events, various House meeting announcements, Spearth Day, and some spectacular impromptu moments are any indication, you brought us all to new heights this year. Add to that your resuscitation of the Junior Ring Ceremony, now a new old tradition, and I'd say you've been a recipe for successfully raising school spirit. We all thank you for lifting us up.
5. We will communicate respectfully with the adults in our lives. All reports from faculty and staff are that you have been a delight to work with, that your approach to every activity has been one of respect and care. That you have been a group one could largely rely on to do what you say you're going to do, and that you have built meaningful relationships with any number of adults here at SBS.
And those were just your class goals as juniors. Interestingly enough, your senior class goals, written last fall, mirror almost word for word what you wanted from yourselves as juniors. But a few have been unique to being seniors:
All smile and say hello to our littles in the hallway
Be energetic and fun but not too loud. Nothing is worse than obnoxious, unapproachable seniors
Get into colleges that we like
By the end of the year everyone feels comfortable and able to keep in touch with one another
The measurement of success in this last goal has yet to be determined, but I encourage you to keep it in mind as you begin your college careers next year.
I hope through this review of goals - and the mission statement out of which they all grew - you leave us today with a sense of the collective power of individuals. We have been blessed to have you here, Class of 2018, and we all wish you well as you scatter into the world to do more good work. Like many others (your littles come to mind), Hank and I have felt the love all year in the myriad ways you have been so thoughtful toward us. On a personal note, I am proud to be graduating with you. Thank you, and on behalf of the faculty, staff, and Board of Trustees, I wish you all good things for the future.
Written by Sally Mixsell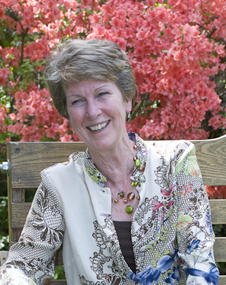 As an alumna (Class of 1969), Sally brings an intimate knowledge of the Stoneleigh-Burnham community to the position of Head of School. She is dedicated to the academic, social and physical growth of each girl, and believes that such development is accomplished by students' engagement in a close community where meaningful participation is key. Sally's contributions to this blog allow parents, fellow alumnae, prospective families, and friends a close view into the life of the school from her perspective.