I have the privilege each year of offering some reflections about the graduating class, and I usually try to focus on the nature of the class and its contributions to the school. Seniors: Though you are a relatively small group, you are powerful; more than half of you have been here 4, 5, or 6 years so we know you quite well and have delighted in watching you grow. If I had to qualify you as a group, I would say you are our philosophical class. There is almost nothing you have accepted at face value, and because of that you have challenged us in good ways (and, in your earlier years, in more typically adolescent ways :). Those of us who have worked with you know that the best challenges come from the heart, in other words from people who care enough to question - and I believe that especially in your work of this year, you have embodied that kind of challenge for us. You want us to be "our best selves," and I appreciate that in you.
Our mission calls for us to inspire students to lead meaningful lives, and you have already heard Siobhan and Megan reflect on how you have made meaning in your being here. As leaders of the school, you have modeled thoughtful and productive change in a number of areas. Through StuCo, you led us through some changes in club formation and the Honor Roll Assembly. As big sisters, you have set a new barometer of what it means to mentor our younger students; never have I heard so many seniors talking so caringly about their "littles" as you, nor the "littles" lauding their big sisters in such affectionate and grateful ways. You have provided a heck of a lot of fun - with overnights, parties, great holiday decorations, and so on. And you have shown your younger peers how to end on a high note, having completed tough exams and created some amazing memories Wednesday night in Vespers.
You are individually impressive as well. I can mention the name of any one of you and people here conjure up a quick image. Jordan, the linguist and sole member of the Stoneleigh-Burnham Ski Team; Nolka, the artist and poet and first-ever online publisher of an original comic book series, so admired, too, as the irrepressible cross-country runner; Sharvari, the accomplished public speaker and - we now know - instigator of funny mishaps; HaoYue, the girl who fooled us all for awhile into thinking that she could neither understand nor speak English, when in truth she could do both quite well; Nat, the dedicated actor, singer and all-round expert on all things Broadway; Emma, the lover of horses and barns and friends; Megan, the class president and accomplished athlete; Katlyn, the scholar-athlete and aspiring doctor; Mckim, who sings, plays the sax and writes poetry to the delight of us all, even in the midst of one of her crying jags!; Claire, our brilliantly graceful dancer and two-time world debater; Jessica, the wonderful artist whose artistic representation of the Tibetan earthquake gave solace to a little school in Tibet we have supported; Yolanda, whose quiet presence is both powerful and comforting; Linda, the equestrian whose understanding of brain function (as I learned when I taught 10th Grade Forum) boggles the mind; Mary, the passionate dancer and world traveler; Charlotte, the school president and STEM advocate extraordinaire; Dvora, the friend who'll give you the shirt off her back, but not her horse!; Siobhan, the Caribbean queen whose words we will always listen to; Sophie, our 2015-16 Sweater Girl and - this is breaking news! - whose IB Extended Essay on bi-valve mollusks' capacity to remediate pollution in tropical ocean waters was just accepted for presentation at an oceanography academic conference this summer in Hawaii!!; Clara, who embodies the paradox of an angelic voice and devilish debating skills - in front of and behind the podium; Harper, the brave actor, singer and philosopher; Vicky, whose modest grace exudes her generous and strong spirit; and Christine, whose occasional absence from special events makes us all more pleased when she does show up.
As a group you are headstrong. You are creative. You are opinionated. You are powerful and caring and smart as can be. You've taken risks, learned from mistakes, led by example, and enriched all our lives. Thank you, especially, for the fine leadership you've modeled this year. That, in my view, is why we have had the thoroughly enjoyable year we have all just experienced. We will miss you, but please head on to college with all the brazen, bold and thoughtful daring you have developed here. I have a piece of paper on my desk that reads, " I love what you have been, but I know I will love what you are becoming even more." Congratulations and best wishes to you all; you will surely do - and "become" - well, and we are so very proud of you all.
Written by Sally Mixsell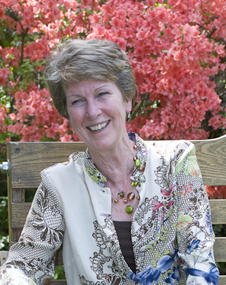 As an alumna (Class of 1969), Sally brings an intimate knowledge of the Stoneleigh-Burnham community to the position of Head of School. She is dedicated to the academic, social and physical growth of each girl, and believes that such development is accomplished by students' engagement in a close community where meaningful participation is key. Sally's contributions to this blog allow parents, fellow alumnae, prospective families, and friends a close view into the life of the school from her perspective.