It was a beautiful sunny Wednesday. My wife was away on an administrators' retreat as her school was preparing to start the year, and I needed to focus on preparing for the upcoming NENTS 2.0 conference (designed for inexperienced teachers who have spent at least a year in the classroom) that I was co-facilitating. I hopped in the car and drove up to Charlottesville.
I parked in the Central Grounds Garage of the University of Virginia and quickly found my way to the Lawn and the beautiful "Academical Village" designed by Thomas Jefferson. A short walk later, I was at Bodo's, where I got hummus on an everything-wheat bagel. Then I hopped from coffee shop to coffee shop, working on my presentation and also writing a draft of a new blog, got stone pot bibimbap (tofu, no egg) at a Korean place for an early dinner, and headed home for a run in the cool evening air. The day was blissful, filled with smiles, kind people, and beautiful buildings. I knew, though, that the city was girding for an uncertain future this weekend as hundreds and hundreds of white supremacists prepared to descend on the city for what was anticipated to be the largest rally of its kind in years, with a strong potential for violence. A sign on the door of a shop on the pedestrian mall proclaimed, "If diversity and inclusion aren't for you, then neither is this shop." I smiled to myself. That shop was most definitely for me.
That shop was most definitely for NENTS, too. Saturday was our first day and Minna Ham and Veronica Jutras of Gordon School spent the morning talking about James Banks's five dimensions of multicultural education: content integration, knowledge construction, equity pedagogy, prejudice reduction, and empowering school culture and social structure. They described how Gordon has intentionally gone about weaving the five dimensions into their school culture and curriculum, and how (like all social justice work) it's an ongoing cycle involving planning, acting, observing, and reflecting (essentially action research). We spent the afternoon talking about the three major lenses of the Classroom Assessment Scoring System (CLASS) developed at the University of Virginia in Charlottesville: emotional support (led by me), instructional support (led by Sarah Katan and Rebekah Jordan of Indian Mountain School), and classroom organization (led by Pam Mulcahy of New Hampton School). After dinner, Minna and Veronica led us through a variety of activities exploring difference and identity, and the simple prompt asking us how the final activity felt led to an amazing, honest, vulnerable conversation in which people dug deep into the complicated aspects of who we and our students are and what that means in a culture of white supremacy (used here in the sense of systemic racism) and patriarchy.
The night before, as I read through my keynote address and paged through the PowerPoint for my afternoon presentation, I noticed that the nazis and KKK had converged on the University of Virginia in a terrifying evening march that boded no good for the rally the next day. And throughout a wonderful day at NENTS, I (and many others) would turn to my phone when on break and follow with increasing horror the events of the day. It reminded me of the day of the Sandy Hook tragedy, when I was working the scoreboard for our school's annual basketball tournament, and could only quickly and fearfully check on the progressively emerging news at halftime and between games.
As is often the case at these moments, we return to the question: what can we do? And here, the answer is actually fairly clear. We can learn about our implicit biases and try to do better. We can confront racism (ableism, anti-semitism, classism, heterosexism, Islamophobia, misogyny transphobia,...) when we encounter it - every moment of prejudice left unchallenged in effect becomes a truth. We can teach our kids about how white supremacy and patriarchy have shaped and continue to shape our society and about diversity and inclusion, and support them in shaping a community where everyone can be their best authentic self. In her EdWeek piece The false Notion of "History" as Past, Christina Torres connects us to Melinda D. Anderson's #CharlottesvilleCurriculum
I leave you with this quote shared by former President Barack Obama on Twitter: ""No one is born hating another person because of the color of his skin or his background or his religion… People must learn to hate, and if they can learn to hate, they can be taught to love… For love comes more naturally to the human heart than its opposite." - Nelson Mandela
Written by Bill Ivey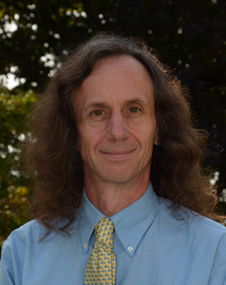 A dedicated member of the faculty, Bill Ivey is the Middle School Dean at Stoneleigh-Burnham School. He teaches Humanities 7 and the Middle and Upper School Rock Bands. Bill is the advisor for MOCA, the middle school student government, and he coordinates and participates in the middle school service program. Among his many hats, Bill also coordinates social media for Stoneleigh-Burnham School.