Students in SBS' Students of Color (SOC) Affinity Group have been highlighting prominent black females in honor of Black History Month. Below is some of the research they've done and shared with the school. Some of these important activists include the founders of Black Lives Matter, and change makers like Ruby Bridges and Septima Pionsette Clark who fought for desegregation in schools and the right to vote for women of color. Read below to learn more about these powerful females.
Opal Tometi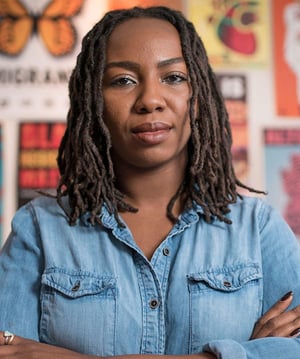 Opal is a globally recognized human rights advocate, strategist and writer of Nigerian-American descent. She has been active in social movements for over 15 years, and is widely known for her role as a co-founder of Black Lives Matter and for her years of service as the Executive Director of the United States first national immigrant rights organization for people of African descent – the Black Alliance for Just Immigration (BAJI).
A millennial trailblazer and immigration policy expert, Opal is respected for her creativity and bold leadership. Her contributions as a leading public figure are grounded in service, and include being a member of the international coordinating council for Africans Rising for Peace and Dignity , serving on the board of the Atlantic Fellows for Racial Equity and Steering Committee of the Pan African Network in Defense of Migrant Rights. Through these types of efforts and more, Opal strengthens the power of Black communities throughout the world to combat structural racism and all forms of injustice.
Tometi holds a Masters degree in Communications and is a racial justice communications consultant. The daughter of Nigerian immigrants, she came of age in the deserts of Arizona. Although often traveling around the globe to support human rights initiatives she currently resides in New York where she loves riding her single speed bike and collecting African art.
---
Patrisse Cullors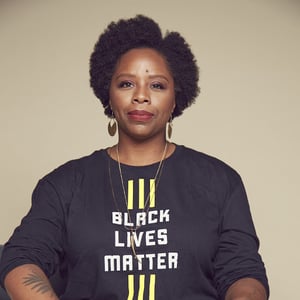 Cullors was born in Los Angeles, California. She grew up in Pacoima, a low-income neighborhood in the San Fernando Valley. She became an activist early in life, joining the Bus Riders Union as a teenager. She later earned a degree in religion and philosophy from UCLA. She teaches at Otis College of Art and Design in the Public Practice Program. She also teaches in the Master's of Arts in Social Justice and Community Organizing at Prescott College.
Along with community organizers and friends Alicia Garza and Opal Tometi, Cullors founded Black Lives Matter. The three started the movement because of frustration over George Zimmerman's acquittal in the shooting of Trayvon Martin. Cullors wrote the hashtag #BlackLivesMatter to corroborate Garza's use of the phrase in making a Facebook post about the Martin case. Cullors further described her motivation for pushing for African-American rights as stemming from her 19-year-old brother being brutalized during imprisonment Los Angeles County jails.
Cullors credits social media as instrumental in revealing violence against African Americans, saying: "On a daily basis, every moment, black folks are being bombarded with images of our death ... It's literally saying, 'Black people, you might be next. You will be next, but in hindsight it will be better for our nation, the less of our kind, the safer it will be.
---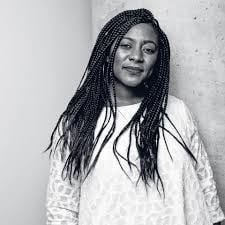 Alicia Garza
Alicia Garza was born on January 4, 1981 and is an American civil rights activist. She is from Oakland, California and grew up in Oakland in a mixed-race household with a white Jewish father and a black mother. She organized the issues of health, student services and rights, rights for domestic workers, ending police brutality, anti-racism, and violence against trans and gender non-conforming people of color. Her most notable moment is for co-founding the Black lives matter movement along with Patrisse Cullors and Opal Tometi.
---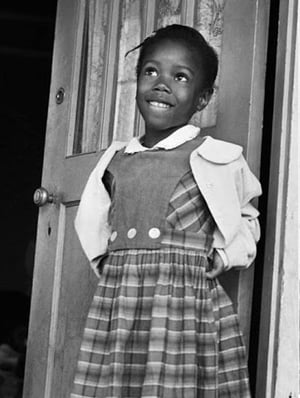 Ruby Bridges
Ruby Bridges was born on September 8, 1954 in Mississippi. After Brown vs. Board, the school district made entrance exams for African American students to see whether they could compete academically at white schools. Ruby and five other students passed the exam. Her father didn't want her to go to the all-white William Frantz Elementary School, a few blocks from their home because of fear for her life but her mother realized that Ruby needed the same education as white people to be successful. Ruby and her mother were escorted by four federal marshals to the school every day that year. She walked past people screaming slurs at her but she later said she only was afraid when she saw a woman holding a black doll in a coffin. She spent her first day in the principal's office due to the chaos created as angry white parents took their children out of school. Barbara Henry was the only teacher willing to accept Ruby, and all year, she was in a class alone. Ruby ate lunch alone everyday but she never missed a day of school that year. Ruby graduated from a desegregated high school, became a travel agent, married and had four sons. In 1999, Ruby established The Ruby Bridges Foundation to promote and create change through education. In 2000, she was made an honorary deputy marshal in a ceremony in Washington, DC.
---
Elizabeth Eckford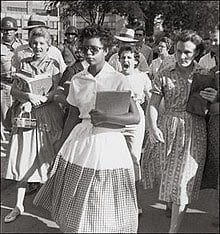 Born: October 4, 1941 (age 78 years), Little Rock, AR
Full name: Elizabeth Ann Eckford
Education: Central State University, Little Rock Central High School, Knox College.
Elizabeth Ann Eckford is one of the Little Rock Nine, a group of African-American students who, in 1957, were the first black students ever to attend classes at Little Rock Central High School in Little Rock, Arkansas, in which the integration of schools at that time came as a result of Brown v. Board of Education.
On September 4, 1957, Eckford and eight other African American students (known as the Little Rock Nine) made an unsuccessful attempt to enter Little Rock Central High School, which had been segregated. The day after the desegregation due to the lack of telephone and communication Eckford set out to school alone as she didn't get any information about the change in location (where the students first get together before heading to school). An angry mob surrounded the school that day. Fifteen-year-old Eckford tried to enter the school, while soldiers of the National Guard, under orders from Arkansas Governor Orval Faubus, stepped in her way to prevent her from entering. The white teenagers chanted "Two, four, six, eight, we ain't gonna integrate." Elizabeth attempted to go into the school through the mob but was denied entrance. Eckford ran to a bus bench at the end of the block.
Eckford described her experience: I stood looking at the school— it looked so big! Just then the guards let some white students through. The crowd was quiet. I guess they were waiting to see what was going to happen. When I was able to steady my knees, I walked up to the guard who had let the white students in. He didn't move. When I tried to squeeze past him, he raised his bayonet and then the other guards moved in and they raised their bayonets. They glared at me with a mean look and I was very frightened and didn't know what to do. I turned around and the crowd came toward me. They moved closer and closer. Eventually, she gave up and tried to flee to a bus stop through the mob of segregationists who surrounded and threatened to lynch her. Once Eckford got to the bus stop, she couldn't stop crying but the black glasses she was wearing that day hide her tears and fear from others. A reporter, Benjamin Fine, having in mind his own 15-year-old daughter, sat down next to Eckford. He tried to comfort her and told her, "Don't let them see you cry." Soon, she was also protected by a white woman named Grace Lorch who escorted her onto a city bus.
---
Septima Pionsette Clark
Born on May 3, 1898, in Charleston, Sout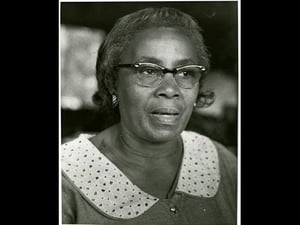 h Carolina
Died: December 15,1987 in. South Carolina's Johns Island.
Septima Poinsette Clark branched out into social action with the NAACP while working as a teacher. As part of the Southern Christian Leadership Conference, she set up citizenship schools that helped many African Americans register to vote. In 1919, Clark also joined with the National Association for the Advancement of Colored People in trying to get the city to hire African-American teachers. By gathering signatures in favor of the change, Clark helped ensure that the effort was successful. Clark soon was directing Highlander's Citizenship School program. These schools helped regular people learn how to instruct others in their communities in basic literacy and math skills. One particular benefit of this teaching was that more people were then able to register to vote (at the time, many states used literacy tests to disenfranchise African Americans). Clark soon was directing Highlander's Citizenship School program. These schools helped regular people learn how to instruct others in their communities in basic literacy and math skills. One particular benefit of this teaching was that more people were then able to register to vote. At the time, many states used literacy tests to disenfranchise African Americans. In 1961, the Southern Christian Leadership Conference(SCLC) took over this education project. Clark then joined the SCLC as its director of education and teaching. Under her leadership, more than 800 citizenship schools were created.