Last night, I was able to to participate in a Twitter #resiliencechat on the topic of "Tapping resilience in the wake of current events around the world," and I left the chat feeling profoundly grateful. That has to start with Sara Truebridge, who facilitated the chat, and Rob Martinez, her co-moderator. They are phenomenally inclusive - for one example, Sara sends out an endless series of tweets each Monday evening tagging individual people who've participated before and reminding them of the chat. They also help create an atmosphere where people can feel safe enough to be quite honest and where support is regularly offered. That doesn't mean chat members receive uncritical acceptance; sometimes, a gentle challenge may be appropriate in order to lead to personal growth, and such moments are generally taken in that context.
I was also left with a profound sense of gratitude for my colleagues at Stoneleigh-Burnham. During the weekend following the attacks in Paris and Beirut, we gathered online to share plans and resources. Every single thought and suggestion was focused on the kids, what we could anticipate they might need, how we could respond in the moment, guidelines to help us support them. Not all teachers participating in the chat had that level of mutual support, and some came from schools that actively discouraged talking about current events. We certainly realized that kids would have different reactions and would need different responses based on their age, awareness of events, and what other things might be going on in their own lives (as Jodi Dean in particular pointed out). But there's clearly a difference between bringing nuance and sensitivity to your response and discouraging any response whatsoever, and it was clear that nuance and sensitivity were givens in observing our school's response.
I was grateful as well for my virtual colleagues who were, as always, a wonderful source of resources and support. I once again mentioned Josie Holford's blog on resources, and someone who picked up on the theme happened to share the specific Mr. Rogers video "Look for the helpers" that Josie had included. I had also turned to new and old friends on MiddleTalk, and their thoughts had very much been in the forefront of my mind while I was discussing the Paris and Beirut attacks with my students. As I shared with #resiliencechat members what I had done in the classroom, the ways my friends had positively shaped my response were so clear.
As always, of course, I was grateful for my students. Their openness and honesty, willingness both to share and to listen, to seek to understand, and to support each other alongside me, moved me deeply. The toughest question emotionally of last night's #resiliencechat asked what was on students' minds, and my answer was, "Main questions were: why? how do you know you're safe?" Brother Christopher Start wrote me ,"oof. How to respond to that?" and I answered (within the 140-character limit!), "I said I had to be honest, I can't guarantee zero risk - but lots of people working (effectively) to minimize." Later, in response to a question about how we introduced resilience into the discussions, I said, "Largely through the 'remember the helpers' and the 'here's something concrete to do' themes." and "I also talked with them about the common theme of working always toward a better world through being our own best selves." Indeed, my students' own idea to make and send cards speaks well to their own instincts to be their own best selves by finding something concrete to do to help.
Each year, the Community Service Club works with advisors to create an "Attitude of Gratitude" bulletin board (this year's edition, documented by Hank Mixsell, will be posted on the school's Facebook page Wednesday night). Often, crucible moments (a term I learned from JoAnn Deak's work) bring out our reasons to be thankful, and last week was a perfect example. As I said near the end of the chat, "I continue to be amazed & grateful how lucky I am to be working in my school. Not the only great one by any means. But one. #resiliencechat"


Written by Bill Ivey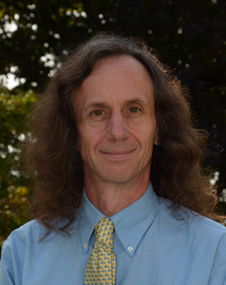 A dedicated member of the faculty, Bill Ivey is the Middle School Dean at Stoneleigh-Burnham School. He teaches Humanities 7 and the Middle and Upper School Rock Bands. Bill is the advisor for MOCA, the middle school student government, and he coordinates and participates in the middle school service program. Among his many hats, Bill also coordinates social media for Stoneleigh-Burnham School.