By the time I got to our usual table for Monday's Middle School Advisory Lunch, three of my advisees had already sat down and were deeply engaged in conversation. As new advisees arrived, they joined in, and as I listened in, smiled, and nodded, I couldn't help but think that everyone was in a good mood today and also that through the year everyone had become really, wonderfully, comfortable with each other.
Not long after that, Renée looked across at me and, with a touch of wistfulness, asked, "Wait. Is this our last advisory lunch?" As Jacquelynn said, "No!" and Stella stuck out her lower lip while her eyes reflected sadness, I responded that we had one more in a week and that one would be our last. I also commented that we wouldn't have a lot of time during Wednesday's Advisory due to an all-school meeting, and suggested we come up with something special to do next week. We settled on grabbing our main meal from the dining room and eating together outside; I would bring ice cream and toppings. "Ben and Jerry's cups!" urged Renée, and I smiled and said that was exactly what I was thinking.
With year-end rituals on my mind, and wanting to clue in first-year students to know what to expect, I mentioned that this week's Morning Meeting would need to be the prompts for the annual Middle School Poem I read to close out the 8th Grade Moving Up Ceremony. The poem is built from individual students' responses to prompts on what they were like when they first came to our school, what they're like now, what their favourite parts of the year were, what they're looking forward to, and what they'll always remember. "Oh, I love that poem," said Renée. "It's so sweet." I said I loved it too, and always looked forward to seeing what individual students wrote in answer to their questions. "I'm not ready for it to end yet," commented another advisee. A quiet moment followed as we all became lost in our own thoughts as the last day of school rushed toward us with ever-increasing, and yes, not entirely welcome, speed.
It's like when you've been reading a really wonderful book and the approaching ending leaves you with mixed feelings. You want to know how it all comes out and yet you don't want to leave that world. Thus it is that Humanities 7 students who have been working on serial stories since the beginning of the year have been working extra hard to complete those stories. Some of them are writing unbelievably long entries each week, some are writing multiple entries each week, some are revising earlier parts to facilitate a neater ending in the present, and some are just manipulating the plot to the greatest extent possible. Whatever technique these kids choose to finish out their stories, when each individual student who chooses to read her last entry does so, there's always a chorus of cheers followed by a plaintive voice saying, "But I didn't want it to end." And I can't help but picture one student whose face, absolutely lit up with joy at the positive reaction to her story, suddenly fell as she said, "I'm really going to miss it."
Humanities 7 students are very clearly and deliberately wringing every possible ounce of joy out of following the ritual routines the class has developed and enjoying the spontaneous moments those routines create. Middle School Rock Band has held their final rehearsal, the notes from their joyous performance last Friday still echoing in our heads. Upper School Rock Band is intensely wrapped up in preparing for their own final concert, and the two Seniors who have been members for four years are set to led the group through the very last piece of the year, "Drops of Jupiter," for the dance performance the night before graduation.
During one rehearsal, Heather asked, "When will it be time to talk about what the song means?" "Well," I said, "since you just asked the question, I'm thinking now would be good." She went on to explain how she thought the song was about leaving, and searching, and trying to find yourself in the process. She looked down and shook her head as Olivia looked on with compassion, empathy, and understanding, and said, "Kind of like graduation."
Of course, our school does its best to support students in developing a strong sense of self while they're here. My hope would be that graduation is really about moving on out into the world and seeing how you fit in, "looking for yourself out there" in the words to the song.
So when the endings have completely run their course and the last car packed with the last bags moves slowly down the driveway, we can look back - and look forward - and draw on everything we learned together. We have changed ourselves, and each other, permanently. Whatever else happens, I hope and trust none of us are too afraid to fly, that the wind will sweep us off our feet, and that we will all get the chance to dance along the light of day. (Train)
With thanks to Sarah Thomas, whose honesty and openness in facing her own ambivalence at this time of a year helped unlock this piece.
Written by Bill Ivey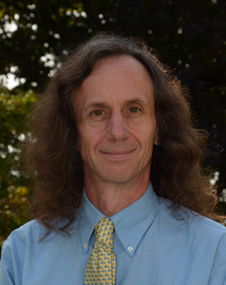 A dedicated member of the faculty, Bill Ivey is the Middle School Dean at Stoneleigh-Burnham School. He teaches Humanities 7 and the Middle and Upper School Rock Bands. Bill is the advisor for MOCA, the middle school student government, and he coordinates and participates in the middle school service program. Among his many hats, Bill also coordinates social media for Stoneleigh-Burnham School.