Trigger warnings: suicide and other untimely deaths.
Without going into details, let's just say it has not been a week that has reassured me for the future of humanity - and I use the word "humanity" loosely. Worse yet than the steady flow of sad and outright depressing news that streamed past me were the reactions. Very few allowed for nuance; blanket condemnation was far too frequently the order of the day, apparently issued by morally pure people whose views could save the world if the rest of us would all just realize the error of our ways and agree with them.
One argument that cut particularly deep was whether some people who died young were more deserving of respect and grief in death than others. You'd think we could all agree that untimely deaths are a tragedy whatever the nature of that death, whether or not prejudice is involved, whatever someone's religion might be. But apparently not.
One of the Facebook groups I follow is the Jessie Rees Foundation: Never Ever Give Up. Jessie died just over three years ago of cancer, at the age of 12. Her father manages the foundation, which distributes "Joy Jars" to pediatric cancer patients. He writes to Jessie regularly on the page, and has published a book from which the profits go to the foundation.
Recently, Jessie's Dad shared the story of Kylie Myers, a young cancer patient whose family had established her own page. Kylie loved the theatre, and had been given tickets by the Make-a-Wish Foundation to not only attend a showing of Aladdin but also have a walk-on part. I clicked to follow her page and her story. However, just one week later, she was too weak to attend the show. Her family gave her a kitten, and they posted a picture of her with the kitten and a bright smile. The next day, she was struggling to breathe, and she passed away on Valentine's Day. On Friday the 13th, her father wrote, "In the cancer community, there is this cute expression that kids who succumb to the disease 'gain their angel's wings.' This may sound incredibly crass, but Kylie will die soon. She won't gain wings. We can't make ourselves feel better about it by packaging it in semantics. She will die because with all the money our government spends, children with cancer are not a priority. How can that be?"
The palpable grief of both of these families was echoed by the two-year anniversary of the suicide of one of my son's friends. Poetry, photos, and songs from family and friends flooded their own Facebook page, and you could tell both that he continued to be actively part of their lives and that he had left a deep and gaping hole that will never be filled.
All of these families feel that deep and gaping hole. All of them are keeping their lost loved ones and their memories of them close to their hearts. All of them have and deserve our support and concern.
As would all families. Period.
I'm not denying for a moment, of course, the role prejudice can play in our collective national reaction to deaths. Parker Marie Molloy shared a piece on Slate earlier this week entitled "Trans Women of Color Deserve to Be Mourned as Much as Leelah Alcorn." In it, Ms. Molloy observes that following her suicide last year, Ms. Alcorn has become perhaps the most talked about transgender person in the past six months, while transgender women of colour have been murdered at the rate of about one a week since Ms. Alcorn's death, to virtually no media attention whatsoever. Ms. Molloy, I should note, does not fall into the trap of turning this into a competition for empathy, writing, "None of these views suggest that we should care less about Leelah. Instead, they simply argue that we need to care more about the epidemic of trans women of color who are lost to violence. " (Molloy)
On those days when I encounter too many of these stories, or just one that is too intense, and I find myself sitting at home feeling overwhelmed, I know that among many survival strategies, I can always think of my students to rekindle my hope and reconnect with my inner optimism. One of my Humanities 7 students, for example, wrote of Leelah Alcorn: "In early January there was a day just for her. I saw many people in my school that had their ring fingers painted pink. And it touched my heart so much to see so many people supporting her." This followed a paragraph in which it gradually became clear that her heart had been sufficiently touched for her to learn more about Ms. Alcorn's life and its significance, for her to feel both sorrow and empathy, for her to emerge from the experience with a better understanding of the transgender population.
She also wrote, "I pray for a world that is not yet perfect, but is pretty close. I pray for a world where every tree stands tall. A world where things like prejudice, racism, and homophobia are just myths. Where everyone is accepting and loving."
Let us add our own spirits, voices, and actions to her wish, that it may come true.
(One of my earlier blogs, "Please and thank you," says, "It's important to know the warning signs (of suicide), and to be aware of resources on which we can draw, including suicide hotlines and trans support hotlines." Please, please, take care of yourself and others and consult these if you have need.)
Written by Bill Ivey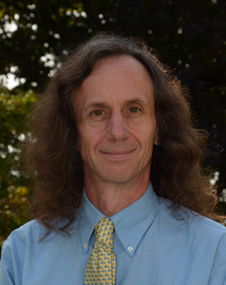 A dedicated member of the faculty, Bill Ivey is the Middle School Dean at Stoneleigh-Burnham School. He teaches Humanities 7 and the Middle and Upper School Rock Bands. Bill is the advisor for MOCA, the middle school student government, and he coordinates and participates in the middle school service program. Among his many hats, Bill also coordinates social media for Stoneleigh-Burnham School.