Imagine a room full of thousands of middle school teachers, our students at the forefront of our minds, singing "I hope you dance" along with Tia Sillers, the co-composer, various Nashville-area musicians, and Ms. Sillers's brother-law, Monte Selby, who had chosen to sing his keynote address at the 2006 National Middle School Association Annual Conference. It was deeply moving, and something I can still very clearly play back in my mind.
So when I heard that Monte Selby was going to be at the New England League of Middle Schools Annual Conference this year, I was delighted. As a Board member, I wanted to leave space at his keynote luncheon for other participants, but Monte would also be giving a couple of workshops, and I figured I could get to at least one.
A former teacher, principal, and college professor, Monte now travels around the country giving workshops wherein he works with students to co-write and then record original songs. In his NELMS workshop, he talked about working with one particular kid who commented that people thought he was so stupid people would say he didn't even know that two and two make fish. Wanting to help this kid find affirmation, Monte started asking questions, listening, and learning - for example, learning that if you write the number two backwards and then connect it to a properly-written number two, it looks exactly like a fish. Monte began exploring with the kid what were positive properties of fish, and brainstorming other similar number-picture puns - for example, three plus three makes whale. In the end, the song was all about how people might denigrate what they see on the surface without ever knowing the positive qualities that lie beneath.
I love my students, and as I contemplated two and a half days away at NELMS (followed immediately by a Saturday conference with GLSEN Massachusetts), I knew I was really going to miss them; as excited as I was about the conference, and about seeing old friends, I also knew that my place is with the kids. Of course, the way I think, they were never really that far away. And so, as I sat in sessions on student-directed scholarly research and capstone projects, I found myself imagining what our students might come up with within, for example, the framework for student-led STEAM research. There were nine phases: research and note-taking, research and project design, starting the research project, building an engineering/lab notebook, writing the proposal, statistics and graphical representations, designing a prototype and conducting the experiment, presenting the research project, and analyzing the results. The Capstone presentation provided another useful framework for authentic, long term projects: create teams, identify problem, develop essential questions, research, college and analyze data, organize information, develop a possible solution, select and create an authentic presentation, and self-reflect on college and career-readiness skills that have been developed. These processes led, for example and respectively, to a team of students designing a sensor that would warn people via an iPhone app if their car's interior temperature rose above a certain level, and to a team of students presenting a proposal to their town's Zoning Board. When given the chance to follow their passions, middle school students are capable of so much more than most people realize!

Working with three other teachers on building a Rube Goldberg contraption during another STEAM session offering by the National Inventors Hall of Fame, I once again found myself wondering what kids might imagine and build (also thinking back to my visit a year ago to North Branch School, where building a Rube Goldberg machine is an annual all-school project). Or how they might respond to "Pop Culture in the Classroom." And so on.
Both keynote speakers, Kim Campbell and Jack Berckemeyer, were as skilled at blending humour and insight as we knew they would be. Jack's moving tribute to his father, whose love, faith, and pride in him instilled an attitude of life-long optimism, left more than a few people reaching for Kleenex (including Jack himself), and left us all acutely aware of the power of believing in those around us.
I ended the conference by attending a session on "This We Believe" facilitated by Erin Scholes, the AMLE (Association of Middle Level Education, formerly National Middle School Association) Eastern Regional Trustee. After giving us a brief history of this foundational work in middle level education, she gave us all the chance to interact with each of the 16 characteristics of successful middle schools, which are grouped into three areas: curriculum, instruction, and assessment; leadership and organization; and culture and community. She had 16 pieces of chart paper set out, each with thought-provoking questions, and we circulated at will from paper to paper, reading and reacting to what other people wrote, adding in our own thoughts as well. It's always enjoyable to witness people realizing the power of "This We Believe," to see how schools are putting it to work, and of course to think about how we are doing. Having done a fairly intensive check-in last year with my Humanities 7 class, and having discussed it with the full faculty this fall as it had been one of our summer reading, I knew we had it pretty well down in many ways. But there are always things you can do to improve.
In the end, I could not have done better for myself and my students than to immerse myself for two and a half days by the calendar (although all good conferences impart a sense of timelessness) surrounded by people who know and love middle school kids and have their own expertise to share. Looking around at what policymakers have been doing to public schools for over a decade now, and how middle schools in particular are too often ignored and neglected, it's easy to get pessimistic. But between Monte, Kim, Jack, Erin, and countless others, I found myself leaving the conference with a profound sense of hope and optimism. There are wonderful things happening in middle schools these days, and people eager both to share and to learn about those things. What more could you ask for?
Especially when, infused with that hope and optimism, you're about to return to the classroom and be back with your kids.
Written by Bill Ivey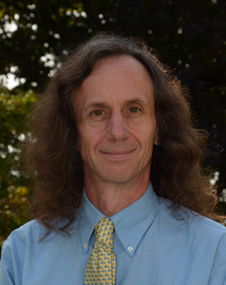 A dedicated member of the faculty, Bill Ivey is the Middle School Dean at Stoneleigh-Burnham School. He teaches Humanities 7 and the Middle and Upper School Rock Bands. Bill is the advisor for MOCA, the middle school student government, and he coordinates and participates in the middle school service program. Among his many hats, Bill also coordinates social media for Stoneleigh-Burnham School.