One of the dominant themes of the 2015 Teaching and Learning Conference was cultural competence, and for good reason. Students of colour are systematically underserved by our system, with systemic racism within our society leaving schools whose students are predominantly of colour underfunded, underresourced, and subject to a far higher teacher turnover rate than average. As Renee Moore has noted, post-Brown desegregation arguably served black students less well than the separate and not-remotely-equal system that preceded it, and we have not yet repaired that wrong. And as José Vilson has noted, the profession is becoming increasingly white even as our student population is becoming increasingly of colour. The percentage of black male teachers in particular has fallen from an already low 3% to 2%, with no signs of an imminent upsurge.
Clearly, we need to serve students of colour better, we need to do a better job of attracting and retraining teachers of colour, especially men, we need to do a better job of ensuring all teachers understand and respect fully each individual child in their classroom, and we need to take a hard look at how our schools are funded. If equity is our goal - and this should not be an "if" but rather a "since" - we need to do all this and more; we need a comprehensive anti-poverty program at least equivalent to LBJ's War on Poverty, and once it is finally in place, we need not to undermine it and then (based largely on dubious statistics) blame it for failure.
Seeking to build my own cultural competence, and believing deeply in advocating for social justice, I was present for the plenaries on "Civil War to Civil Rights" and "Rabble Rousers," a panel of authors including Mr. Vilson, and a session with Dr. Pedro Noguera and Alan Blankstein on teaching for equity - and wasn't able to take advantage of all the opportunities I saw. Panels included people of colour (men and women, black and latin@), and a person representing her late sister who had advocated for the disabled. In fact, social justice themes infused the conference. This does not mean for a split second we have reached the prize of equity, of course, but equally clearly, more and more of us are aware of the need to be inclusive and diverse if we are to make legitimate progress.
I believe 100% in the need for greater cultural competence and greater attention to racial diversity and racism itself (systemic, individual, and microaggressive), and I was both delighted and deeply moved to see this focus at this conference. At the same time, I found myself more than a bit uncomfortable on one front. Seeking further sessions on diversity, I had scoured first the website and then, once I arrived, the program book for sessions that dealt with LGBT needs. There was but one, offered by the National Education Association, promoting a five-day LGBT support training program available to its members. I genuinely and sincerely applaud the NEA for both developing and presenting on their program, but the session was nearly pointless for me, and anyone else not a member of that union, to attend. No panel that I know of had people who were not cisgender and cissexual. Approximately 10% of the population, in other words, was nearly completely invisible.
I'll concede there may not have been any other compelling LGBT session proposals for conference officials to consider, and maybe there simply weren't any LGBT experts on Civil Rights or Rabble Rousing available. But permit me just a touch of skepticism. For one thing, I found repeated instances of phrases such as "not only girls but also boys" telling.
The 2015 Teaching and Learning Conference, to my thinking, represents a very strong step forward among large national events in promoting the very serious need for cultural competence and for us to do genuinely anti-racist work. I absolutely and unreservedly applaud them for their part in that progress, and people such as the #educolor Twitter group for their own role in helping bring about such a shift. But there has to be a way, in doing social justice work, to continue down that path without leaving out LGBT people. In point of fact, that's what intersectional feminism would demand.
Yes, I realize you can't make every single panel and every single session representative of every single axis of diversity.
But surely, even though (or perhaps because?) we're clearly doing much better than we were, we can do better yet.
(P.S. A friend once referred to me as her "LGBT brother-in-arms," which I found deeply moving. I hope, with this posting, I am living up to her faith in me.)
Written by Bill Ivey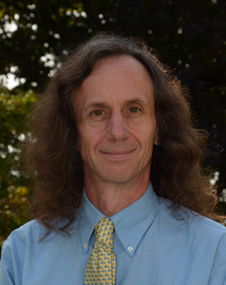 A dedicated member of the faculty, Bill Ivey is the Middle School Dean at Stoneleigh-Burnham School. He teaches Humanities 7 and the Middle and Upper School Rock Bands. Bill is the advisor for MOCA, the middle school student government, and he coordinates and participates in the middle school service program. Among his many hats, Bill also coordinates social media for Stoneleigh-Burnham School.