Good afternoon, everyone, and welcome back to Stoneleigh-Burnham! I saw some of you last night at the Reception and thank the Alumnae Board for hosting such a good time. I also enjoyed dinner with the mighty class of 1967 last night. For those of you who are just arriving, we have a lot in store for you and look forward to catching up.
I usually take this time at Reunion to bring everyone up to date on what's been happening at our school. What are we thinking about? What does it feel like to be a student at Stoneleigh-Burnham these days? How has the world changed, and what does that mean to this school? And finally, in what ways can alumnae ensure the future of this wonderful place?
Let me start by saying that a lot is at stake these days for girls in the world, and, more than ever, we offer safe space for young women to feel free to explore who they are, at the core, without burden of what boys think, or whether or not their government approves of their going to school, or being gay, or feeling worthy or equal, or speaking freely.

Today Stoneleigh-Burnham is a more diverse community than we were in your day (whatever day that was). Many of the girls who attend this school now come from all walks of life, from all corners of the world. We offer French, Chinese and Spanish as our world language options, and girls who study any one of these languages go to school with others who are native speakers. They are from Mexico, Spain, and Honduras, China and Taiwan, the Ivory Coast, France, and Martinique, to name a few.
My favorite part of the Stoneleigh-Burnham commencement ceremony these days is the moment when the senior class president welcomes the parents and other guests to graduation. As the class president is coming to the podium, a group of her classmates goes to the side of the stage where, one by one, they translate the president's words of welcome into the language of their family members in the audience. This year, in a graduating class of 22, we welcomed our guests in 10 different languages.
This all sounds somewhat fairy tale-like, and it is at some level. However, putting adolescent girls into an environment of such dense diversity has its challenges. It's hard to figure out how to get along with people who are different from ourselves. Some of us can attest to how easy it was when private schools were bastions of affluence, and only relatively wealthy families could afford to send their children to schools like ours. Though there were personality differences to deal with, most of us came from a very similar place culturally.
Our girls today deal with real difference - cultural, linguistic, racial, religious, and - according to the National Association of Independent Schools, the greatest slice of diversity we deal with - socio-economic status. At about the time I was starting my career in education, many independent schools were working to provide access, not just to those who could afford it, but to those most worthy by virtue of their potential. We did this really badly in the beginning, assuming our schools could "teach" others to integrate into our culture. Today, Stoneleigh-Burnham, and many other boarding schools, commit to the notion that those who come from various walks of life bring their own gifts that, together, create a richer and more robust culture in our schools. I am very proud to say, for instance, that 50% of our students are on some form of financial aid, 38% of them are from outside the United States, and a fair number of our American students have parents or grandparents who were not born here. I think every day how very lucky we are to have such diversity in our small community. Our girls have a biding appreciation for the opportunities that exist here in ways I know I never felt as a student - because we didn't have such different stories to tell each other about ourselves. For our current students who come in not understanding their privilege of opportunity, they are soon reminded by their peers.
Our girls from Afghanistan, Syria and Nigeria have shared their stories of not being allowed to even go to school; in some cases of literally hiding under the skirts of their mothers in order to sneak into a school - or of being second class citizens, just by virtue of being female. And here they are at Stoneleigh-Burnham, not only able to go to school but able to hold leadership positions and feel proud to be female. Our girls from underserved neighborhoods around the U.S. are happy to feel safe when they walk out our doors or ride bikes into Greenfield. Our girls from China feel the power of having an education that not just allows, but insists, that they have an opinion. And our girls from Greenfield feel privileged as well to attend a school where they drive down the street from home and enter into a world of multicultural dimension. Our students feel the weight of privilege, not in entering an "elite," monied environment here, but in acknowledging that not everyone gets to have an education like this, but wouldn't everyone like to? Be in small classes. Feel part of a small community where it's possible to know each other quite well. Grow among adults who care holistically about the person they are becoming.
Many of you can remember the days of trying to "get away" with stuff under the noses of your teachers and administrators. On some level, that was fun, though not too productive. Today, we don't deal with much of that, and I think it's testament to the fact that our students do indeed recognize something very special here that they want to preserve. It's a much scarier world now than it was when most of us were in school, and part of our role is to help the girls feel prepared to navigate what's out there.
Along these lines, we have a group of students and adults called SOS - Support our Students, whose members are trained by our school counselor to be available to students who need a helping hand. I speak at Housemeeting early each year to outline laws and school policies meant to protect our students, most specifically about bullying and statutory rape. It's not about "turning someone in" or "ratting out" a schoolmate anymore; it's about worrying about her safety, and having the sense to involve adults who can help. This all sounds well and good, but of course we're still dealing with adolescent girls who are just trying to grow up. Things do sometimes go awry. Dealing with human lives is, in and of itself, a messy business! And so the quality of education we provide matters in that it teaches perspective. It presents options. It identifies resources. It builds one's network. It opens eyes.

Steven Omamo, father of one of our juniors, flew from Rome, Italy - where he is based with the World Hunger Program - to speak to our community on Spearth Day (our celebration of spring and Earth Day). Dr. Omamo calmly walked us through the kinds of communities the World Hunger Program helps, literally, to keep alive. He showed us photos of what hunger looks like in the faces of young children and families around the world struggling to live, in the hope of a bite to eat or a drink of clean water. It was, without being gruesome, an amazingly powerful presentation. When one of our students asked what she could do to help, Dr. Omamo's response was, "Stay in school and get a good education." It was a powerful response.

What is it about a good education - a Stoneleigh-Burnham education - that helps us make a difference? Well, the exposure we give our students to girls from all over the world helps them know that not all Mexicans are dirty drug dealers, that not all Chinese are dirty crooks, that African-Americans struggle with assumptions that most of the rest of us in America do not, that Africans do not feel the same marginalization that African-Americans do, that LGBTQ youth struggle with the same adolescent insecurities as anyone else - and then some, that women should be given equal privilege in the world, that not all Americans drive Cadillacs or eat at McDonalds or live in splendor.
Our curriculum these days, from grade 7 to 12, is steeped in integrated learning, critical thinking, and reflective processing - helping girls learn that their opinion is valid - but so is that of the girl sitting next to them, as long as she can support it! Our debate and public speaking program, including the 10th grade requirement in Rhetoric, teaches girls to have an opinion and express it succinctly in both writing and speaking. Our athletic program, based on the words of Bonnie Benn Jesser '63, teaches players to "win without boasting, lose without excuse." Our Community Service Club, in which approximately ⅓ of our students choose to be involved, stretches girls outside the walls of Stoneleigh-Burnham to learn the various ways communities need assistance - and how we can help.
We are charged by our mission to "encourage girls to lead meaningful lives based on honor, respect and intellectual curiosity." We assume that a Stoneleigh-Burnham girl will graduate "with the confidence to know that her voice will heard." We are acting on our mission more effectively with each passing year.
Our new strategic plan calls for even more student voice in the overall experience of a Stoneleigh-Burnham girl, and so this year we created adult and student task forces that each examined a specific area of the school relative to student experience. We are making changes for next year based on the findings of these groups. We also created eight senior leadership positions wherein seniors work with the adults in charge of particular areas of the school: student government, academics, athletics, big and little sisters, service, diversity, student activities, and health and wellness. What a difference increased student voice has made in these areas! Moving forward, we will adjust our life skills curriculum to address leadership development more explicitly, which is also in line with our mission.
When I think of developing "voice," I cannot help but invoke the words of one of our graduates who was chosen as class speaker at her 2013 graduation, who two years later was invited by the class of 2015 to open and close their ceremony, and who just about 10 days ago was the class speaker at her college graduation at NYU Abu Dhabi; that's right, Abu Dhabi. That speech is being shared liberally on Facebook lately (I myself shared it!) as it is a powerful statement from a remarkable personality. Nafisatou Mounkaila, a Muslim woman from Harlem with roots in Cameroon, is clearly an impressive and unique individual. She is also, as you've heard, a Stoneleigh-Burnham alumna. Nafisatou's mother, an immigrant who has done very well by her daughter, never came to SBS; she couldn't afford to. But her daughter has taken advantage of every opportunity she's been given to grow and learn and help the world. Nafisatou feels very deeply the privilege of her education and the potential she has as a result to make a difference.
In her recent speech, Nafisatou asked her audience, "Can we taste our pampered privilege? Don't request earplugs when the cries of complacency ring through the silence. Instead, ask yourself if you can see how many fights for genuine freedom are going on right now." I loved this and have thought about it through the lens of Stoneleigh-Burnham. We alumnae have all been given the gift of pampered privilege by virtue of having been afforded an education like this. I, for one, get to see how that plays out here on a daily basis, and I tell our girls often how very lucky they are to be given such an opportunity. But the real question, for those who are students now and for those of us who were here before them...the real question is, What are we going to do with this opportunity we've been so lucky to have been given?
Nafisatou goes on in her speech to say, "We've all enjoyed privilege, but it does not mean inherent superiority. We are better than no one but our former selves. We have had more doors open to us, we have more skills than some. And we have an obligation." Knowing that I will be retiring a year from now, I feel the limitation of time for me to inspire my fellow alumnae to feel the obligation to support the young women coming behind us. Here is a place that is doing remarkable things for the young women of today. Please support them. Please help worthy but underserved girls like Nafisatou be here. Please help us build the buildings we need to aptly reflect the incredible programs we have developed. Please help us continue to provide perspective for young women to know themselves, believe in themselves, and act on their "pampered privilege." Please support the deep and dedicated efforts of our faculty and staff to provide the best education possible to our students. Please see that you have your own opportunity to change the world, one girl at a time, by supporting your school, right here and right now.
Thank you.
Written by Sally Mixsell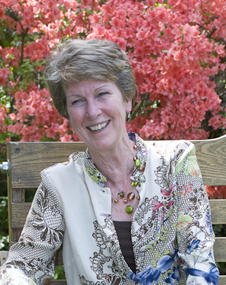 As an alumna (Class of 1969), Sally brings an intimate knowledge of the Stoneleigh-Burnham community to the position of Head of School. She is dedicated to the academic, social and physical growth of each girl, and believes that such development is accomplished by students' engagement in a close community where meaningful participation is key. Sally's contributions to this blog allow parents, fellow alumnae, prospective families, and friends a close view into the life of the school from her perspective.