"Excuse me, ma'am?" I turned to see a woman approaching me as I sat working at Rao's coffee shop. "Yes?" I said. "Can you please give me directions to (we'll say it was La Veracruzana)?" I did, and she thanked me, acknowledged my "You're welcome," and turned and left. Clearly, she was either open or oblivious to the contrast between whatever it was about my appearance (hair? clothing? something else?) that had caused her to "ma'am" me and my baritone voice. Myself, at this point in my life, I respond naturally to either "ma'am" or "sir," reasoning that in either case, someone is addressing me respectfully.
Respect is the key word here. It's what underlies most successful human interactions, and what is most often missing when dysfunction takes over. It's a firm underlying principle in each of my classes. I expect respect not only for each other (which they almost invariably show anyway) but also for fictional characters, reasoning that if we are generally talking about them as if they were real, we might as well carry it to the logical extreme.
Of course, respect for people who are transgender or otherwise gender transgressive is not an automatic given in this world. Indeed, as of 2012, transgender people were 28% more likely than cisgender people to experience physical attacks, and the situation was even more dire for trans women of colour, who make up a wildly disproportionate and depressing 87% of the cases where those attacks escalate to murder. (Bolles) Many white people who are members of or allied with the transgender community recognize and deplore this fact.
International Transgender Day of Remembrance takes place on Nov. 20 and once again, I attended the Northampton service. In welcoming us, Yohah Ralph acknowledged the difficulty and weight of the accumulated tragedy of over 220 transgender people having been killed this year, some of whom were never identified, some of whose families never knew or cared. He asked that, to keep the atmosphere from weighing us down too much, each participant in the service speak about their dream for the future. Most said their dream was for everyone, regardless of gender, to be able to live freely and without fear as their authentic selves.
That shouldn't be asking too much.
The Stonewall Center of the University of Massachusetts was a co-sponsoring organization of this year's TDOR, and the Director, Genny Beemyn, said that their own dream was that we wouldn't be gathering together next year. They acknowledged that was virtually certain not to be, nor was it likely to be for many decades to come.
You may have picked up on the use of the pronoun "they," and that is indeed Genny's preferred pronoun. In Humanities 7 class one day, the question of whether "they" could be singular came up. Some students were firmly advocating that it had to be plural, while one other was quietly if hesitantly demurring. Thinking that she might possibly know a trans person (here in the Valley, the odds are definitely higher than in many parts of the country) who preferred the pronoun "they," I stepped in to support her, stating that while "they" had traditionally been plural (this to acknowledge the good intentions of students arguing that point), people of different genders were in fact increasingly choosing to use it as a singular pronoun. She smiled back at me as several other students paused to give me a curious look. I nodded to affirm my statement, everyone relaxed, and we all moved on.
If we are truly to work toward a world that embraces people of all genders, it will be built through the gradual accumulation of respectful calls for respect, respectfully received. Hopefully, my students will help lead the way as they grow into adulthood and find their place in the world. It would not surprise me for a second if they do.
After all, living life as your authentic self is at the core of our mission, and respect is at the heart of each element of our honor code.
That is a very good place to start.
Written by Bill Ivey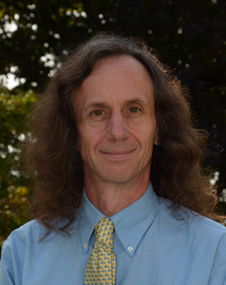 A dedicated member of the faculty, Bill Ivey is the Middle School Dean at Stoneleigh-Burnham School. He teaches Humanities 7 and the Middle and Upper School Rock Bands. Bill is the advisor for MOCA, the middle school student government, and he coordinates and participates in the middle school service program. Among his many hats, Bill also coordinates social media for Stoneleigh-Burnham School.