Transgender Awareness Month comes right on the heels of National Bullying Prevention Month, and in many ways that makes sense, as transgender people are disproportionately affected by bullying (as with street violence). GLSEN reports that fully 82% of LGBT kids have had problems with bullying, 44% specifically due to gender identification (reported on the nobullying.com website). GLSEN's 2013 National Climate survey is available by download for anyone who might be interested.
In an age where definitions of different genders are becoming as fluid as some people's sense of gender itself, it can be hard to keep up with the latest terms. For starters, (biological) sex is not the same as (social) gender, and 1-2% of people are born neither female nor male but rather intersex. Additionally, even though "transgender" refers to someone whose gender identity differs from that assigned to them at birth, not everyone who might fit that definition automatically chooses to identify as transgender. Moreover, though some transgender people (such as noted teen activist Jazz Jennings, here in an interview with Katie Couric) feel they were always girls trapped in a boy's body or boys trapped in a girl's body, not all transgender people feel that way or even identify within the gender binary. Partially blurring the binary are bigender people and androgynes, and within the Native American tradition, two-spirit people. But other transgender people might identify as polygender, agender, genderqueer, or just plain nonbinary, and still others avoid terminology altogether. Some may have a stable gender identity while others might be more fluid. Facebook, as many people know by now, offers a menu of over 50 gender choices, and even then, it is not 100% comprehensive.
Currently, among the most common pronoun choices used by trangender people are he/him/his, she/her/hers, they/them/theirs, and ze/hir/hirs. As with gender itself, though, there are a wealth of pronoun choices that exist. The only way to know what pronouns a transgender person uses is for them to tell you. It's certainly okay to politely ask; many colleges routinely do so now during Orientation and in the day-to-day of their offices.
Because of the acronym "LGBT," people often assume trans people are not heterosexual, but your gender actually has nothing to do with your sexuality. Transgender people can be heterosexual, homosexual, bisexual, pansexual, polysexual, asexual (both romantic and aromantic), and any other variety of sexuality of which you can think.
In a recent talk at Mount Holyoke on her life as a trans woman, Jennifer Finney Boylan told listeners, "Let your story be known. It's impossible to hate anyone whose story you know." Ms. Boylan walks the talk, having published a number of beautifully written and at times painfully honest books on her life including the iconic She's Not There: A Life in Two Genders and the sequels I'm Looking Through You: Growing Up Haunted: A Memoir and Stuck in the Middle With You: A Memoir of Parenting in Three Genders. For people looking for books for younger readers, Luna by Julie Anne Peters is the fictional story of a transgender teen told from the point of view of her younger sister, and I am Jazz, written by Jazz Jennings along with Jessica Herthel and based on Jazz's own life, is the story of a transgender girl written for elementary-age children. As transgender people are becoming more visible, so too are choices of good books about transgender people becoming more common.
Though I don't personally identify as transgender, I do have a vague sense of what it might be like. My own gender expression, as I've written before, is essentially a projection of my authentic self, kept as free of gender typing as possible, into a heavily gendered world. In that world, some people see me and greet me with warm and genuine smiles. Others laugh out loud, cringe with discomfort, or look me over with disgust. Still others simply treat me as they would any other person. The result is that I sometimes feel both relaxed and on guard. Relaxed, because I'm comfortable both with the look and with the effect of shaking up gender norms. On guard, because I never know when things might suddenly and without warning turn ugly.
Those emotions should be incompatible.
Patriarchy is why they aren't.
So in the end, as with so much in this world, it all comes down to respect. Respecting each other's personal sense of our own gender identity and the associated gender expression we choose. Respecting the terminology we each choose to use. Respecting the possibility of good intentions behind the occasional slip-up. And ultimately, respecting our joint and fundamental humanity.
No matter what gender we might be.
Written by Bill Ivey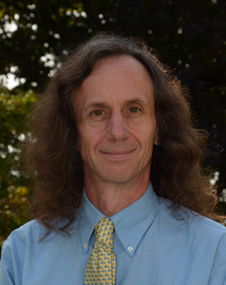 A dedicated member of the faculty, Bill Ivey is the Middle School Dean at Stoneleigh-Burnham School. He teaches Humanities 7 and the Middle and Upper School Rock Bands. Bill is the advisor for MOCA, the middle school student government, and he coordinates and participates in the middle school service program. Among his many hats, Bill also coordinates social media for Stoneleigh-Burnham School.