(title credit from a song in the Disney movie Aladdin and the King of Thieves)
It's a question 90% of us or more never have to ask. People who are both heterosexual and cisgender (essentially, being comfortable in a gender identity that matches the sex written down on our original birth certificate) never have to go in the closet in the first place. For the rest of us, though, the question may be somewhat stickier. And on National Coming Out Day every year, while some people come out or reflect on and celebrate their earlier coming out, others contemplate it, and still others hold tight to the door's handle to ensure it remains firmly closed.
It's a given, of course, that absolutely no one has the right to force the door open for anyone else. And it's equally a given that when a person comes out to selected people, they need to respect if that person wants to remain closeted in other places. Family dynamics, workplace atmosphere, local cultural attitudes, and more can all can make it more or less risky to come out, and none of those contexts is absolutely uniform across all members of a given community.
Robert Eichberg and Jean O'Leary founded National Coming Out Day on October 11, 1988, to celebrate the one-year anniversary of the National March on Washington for Lesbian and Gay Rights. (Wikipedia) On that date in 2013, The Atlantic published an article by Preston Mitchum entitled "On National Coming Out Day, Don't Disparage the Closet." He observed, "The coming out experience can be a precarious time in a person's life, particularly when one belongs to multiple marginalized communities." He acknowledges that "Ultimately, coming out is important because it makes the LGBT community more visible, particularly for black LGBT individuals..." but adds that "... focusing so intensely on coming out places the burden on the individual to brave society rather than on society to secure the safety of the individual."
So how do we secure the safety of the individual? In particular, how can that happen when some religious traditions believe homosexuality is a sin and we also want to respect each person's individual freedom of religion and their personal beliefs? The question takes me back many years ago to when I was teaching elsewhere, and one of the teachers assigned a project in which kids were to make a poster showing their own personal nine circles of Hell. One student placed homosexuals in her fifth circle, and as several of the students had gay or lesbian parents (no student had, to my knowledge, come out at that point in time), the faculty were concerned. One teacher agreed to talk to her, and it turned out that, while she did indeed hold the religious belief that homosexuality was a sin, she also felt (again, for religious reasons) that every single person deserved to be treated with love and respect.
We have seen the benefits over time of gays and lesbians coming out, serving as examples, and clearing the way for others, and we are currently seeing what seems to be the beginning of such a pattern among the gender non-conforming. Yet, not all of us were cut out to play that role, and we each need to make the best possible decision for ourselves in our own personal circumstances. With that in mind, if our entire country can agree to hold the core values that everyone is entitled to their own beliefs and everyone is also entitled to be treated respectfully, that can be the starting point as we move forward toward the ultimate goal that all of us act upon those core values to the very best of our ability.
Written by Bill Ivey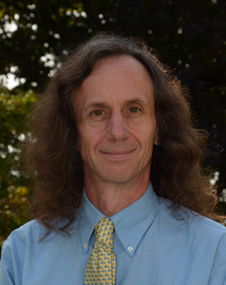 A dedicated member of the faculty, Bill Ivey is the Middle School Dean at Stoneleigh-Burnham School. He teaches Humanities 7 and the Middle and Upper School Rock Bands. Bill is the advisor for MOCA, the middle school student government, and he coordinates and participates in the middle school service program. Among his many hats, Bill also coordinates social media for Stoneleigh-Burnham School.