"Bra-burning. Man-hating. Angry and unattractive. Such stereotypes have shadowed the women's movement over the past few decades — and a slew of young, fashionable celebs are working to clarify feminism's true definition." (Fairchild) Setting aside for another day the question of why such a stereotype may have come to life and remained, in the face of mountains of evidence to the contrary, so persistent, Caroline Fairchild raises a good question in her article "Will young celebrities make feminism 'cool'?" Besides noting Emma Watson's epic speech at the UN launching the "He for She" campaign, Ms. Fairchild mentions Taylor Swift's recent realization that she has been a feminist all along and Beyoncé's performance at the VMAs backed by the word "feminist" in huge block letters.
Feminism, many analysts note, has been waging an uphill battle for years to define itself as being in general far more inclusive than it is typically portrayed. I've certainly seen many students over my three decades here echo Ms. Swift's sentiment when she said, "As a teenager, I didn't understand that saying you're a feminist is just saying that you hope women and men will have equal rights and equal opportunities. What it seemed to me, the way it was phrased in culture, society, was that you hate men. And now, I think a lot of girls have had a feminist awakening because they understand what the word means." (Swift, quoted in Thomas)
Certainly, many of my students admire Emma Watson (both for who she is and for having played feminist icon Hermione Granger in the "Harry Potter" movies), and certainly students in rock groups down through the years have proposed Taylor Swift songs. But more and more every year, my students have also been raised with a healthy skepticism for the media. I wonder to what extent that will limit the effect that these, in effect, celebrity endorsements will have on them - granting, too, that I want them to be individual, critical, free-thinkers in the first place. Time will tell on that point. But if Ms. Watson's speech, Ms. Swift's declaration, Beyoncé's performance, and other such examples of celebrities embracing feminism can lead to further conversations, that's a great place to start.
Themes of equality, equity, and justice will of necessity run through those conversations. Statistically, equality is of course the easiest to measure: when females and males each make up approximately 49% of any profession where size and physical strength do not matter (intersex people making up the remaining 1-2%), when people of all genders receive the same pay for the same job (assuming the same experience), and so on, we will have statistical equality. Whether that's achievable without working explicitly for equity (fair not necessarily being equal) is another question. And given historical oppressions, working toward equity must go hand in hand with working for justice (see Rutgers Professor Brittney Cooper's outstanding article in Salon for a thought-provoking examination of this). Through that lens, it's easy to see that not just diversity of genders but also diversity of race, sexuality, class, age, abledness, and more come into play, along with the continuums of support and oppression, privilege and marginalization that come with each of those axes of diversity.
In short, as I wrote the other night during a Twitter chat, we have to fight relentless hierarchies (and associated binaries).
All are welcome.

n.b. Thanks to Jane Mellow, Director of our Learning Center, for introducing me to the "Crafty Girls" font, which adds an extra layer of fun to drafting blogs on feminism!
Written by Bill Ivey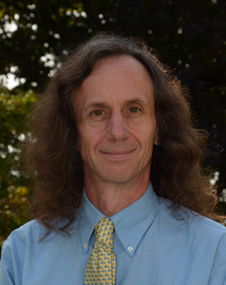 A dedicated member of the faculty, Bill Ivey is the Middle School Dean at Stoneleigh-Burnham School. He teaches Humanities 7 and the Middle and Upper School Rock Bands. Bill is the advisor for MOCA, the middle school student government, and he coordinates and participates in the middle school service program. Among his many hats, Bill also coordinates social media for Stoneleigh-Burnham School.