(A conversation between Shawn Durrett, Dean of Faculty, and Spanish teacher Jessica Durfey)
You're starting your 10th year at SBS. What has kept you here for so long?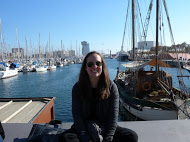 The community is so tight-knit and because of that there's such a comfort... it makes teaching a lot easier and more rewarding.
What do you like about being a house parent?
I like having the opportunity to see the students outside of the classroom - it doesn't necessarily have to be Spanish-related things, but it's definitely a perk to be able to do Spanish activities and Spanish night with them. I like to get to know them as people. I think they also respect me more knowing me as a person.
Tell me how and when you first got seriously interested in Spanish.
I became interested in Spanish myself as a high school student, which is nice, because I can relate to students. I remember I had this really quirky teacher and it was the first time that it wasn't just a class - it was people, it was a culture - to me it was more manageable than math, than problems out of a book. I actually don't remember many of my other teachers, but for Spanish I remember every teacher. I loved Spanish so much that I applied to college as a Spanish major and started right away. I had some amazing teachers at the University of New Hampshire. I lived in Granada, Spain while I was studying. I ended up staying for another two years after college for grad school, and lived in Costa Rica during grad school.
What's it like teaching Middle School beginning Spanish students?
In one word, it's fun. They are sponges. They grasp it and go with it. Their energy makes it easy to do fun things. They're creative.
On the other end of the spectrum, what's exciting about teaching the highest level of Spanish in the IB program?
I love teaching IB because at that level, they do a great job communicating with the language. I love getting papers from them where they're able to be critical and express their opinions. We can dive into some pretty cool topics. We just watched a movie called "The Mexican Suitcase," about some negatives found in Mexico. The photos were taken during the Spanish Civil War, which was a very difficult time for the country and still remains a sensitive topic. My students did an amazing job reflecting on what this movie meant and it was great to see them take something away from it.
In your opinion, what makes SBS girls unique?
They're not afraid to talk and say their opinions. It makes classes more genuine. People aren't saying what they think others want them to say. They're also very open-minded to seeing more sides of an argument, like when studying history or culture.
Tell us more about the trip to Costa Rica that you're offering to students in March.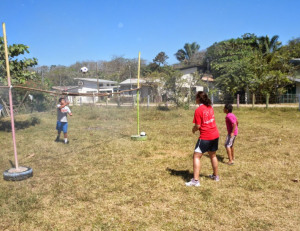 We did a trip to Costa Rica a couple years ago and it was so amazing that we wanted to do it again. We're going to small town, Puerto Viejo, and we'll try to immerse ourselves in the town. Girls will get to see how other people live. We're going to go to a school and work with kids. Depending on what the SBS students want to do, we'll do some sort of service project or work with animals. There's a sloth sanctuary and a jaguar rescue center there. We'll also go to the beach.
How have your international experiences impacted you personally and influenced your work as a teacher?
Living with families abroad was pretty intense. I put myself in a difficult situation and then saw myself through it. I basically became fluent there. I definitely realize that living abroad isn't easy, and that it's different for everyone. It's helped me in my work with the International Program at SBS. I always try not to assume anything about the students.
What are some things you like to do when you're not working?
I love to run, and we have a nice group of teachers who run together. And thanks to living abroad, I love to travel, and luckily my husband Dave does too. My biggest dream is to go to Chile and Argentina. That's always on the list. Domestically, I'd love to go out to the West Coast to Oregon - check out the beaches and the forest, and go camping.
Written by Guest Faculty Bloggers

Occasionally we feature guest contributions from members of our faculty. Their voices provide an exclusive view into the classrooms, halls, lounges, and residence halls that make Stoneleigh-Burnham School such a great place to live, work, and study. To find blogs exclusively from our faculty members, use "The Faculty Perspective" category.