I try to be on the lookout for chances to react to blogs, knowing (as Bill Ferriter has pointed out on more than one occasion) that one of the highest compliments I can pay a blogger is to leave a comment or even write a whole new blog in reaction, thus showing how much of an impression they've left on me. So when Brianna Crowley opened one of her blogs at the Center for Teaching Quality with a writing prompt from a 30-day blogging challenge for teachers, the temptation to write my own blog based on the same prompt was strong.
Until I really absorbed the prompt: "Write about one of your biggest accomplishments in your teaching that no one knows about (or may not care)."
You see, it creates not one but several problems for me. First, I have difficulty committing to submitting my accomplishments to any sort of hierarchical ranking. I hate hierarchies to the point where, earlier this year, when I said in an all-school meeting that my orientation group was "the best," Sally looked at me with shock and surprise and said, "Bill Ivey, did you really say that?" Somewhat taken aback myself, I joked that Sharon Weyers, who was sitting behind me, must have performed some sort of ventriloquism.
Second, I don't like talking about my accomplishments in teaching. I don't even like using the word "teaching," to tell the truth, preferring to focus on the word "learning" since there is quite literally no teaching without learning and I prefer the focus to be on the students anyway.
And third, as a fairly frequent blogger and someone who loves to tell stories about my students, trying to come up with something that no one really knows about is tougher than one might think. And something that no one really cares about? Well, if no one cares… why even bother mentioning it?
So that all left me at loose ends. I decided maybe I should sleep on it. So I did. For several nights. Until finally, inevitably, a moment gradually came into focus.
It was one of those times when the seventh graders, fascinated as they are with their emerging adulthood and open as they are about the continuing role their parents play in shaping that transition, begin talking about how that's happening in each of their families for specific issues. In this case, the topic was make-up and how their parents were handling questions of when, and what, and how. Some of them were still waiting for their parents to give the green light in the not-too-distant future. Others were allowed to use certain products only, and still others were free to find their own path. And one girl spoke up to tell about how her mother had actively encouraged her to start using make-up, to highlight her best features.
Only, this class had seen the documentary "Miss Representation" earlier in the year. So this particular girl reacted to her mother's suggestion by saying she wasn't sure she even wanted to use make-up. Her mother asked why, so she told her about what she had learned from the film. Laughing, she explained that by the end of the conversation, her mother had completely reversed her position, saying, "You're never going to use make-up!"
As a gender activist who supports feminist ideals, I always work hard to walk a fine line between ensuring my students are aware of gender-based stereotyping and inequalities in our society and giving them space to form individual opinions, developing their voices and becoming their own best selves. You hope some of that sticks and has an effect that goes beyond the walls of your classroom and the months of the school year during which you're actively working with these kids. Here, then, was proof of at least one time that it had happened just as I would hope. At least one of my students had thought for herself, come to her own conclusions, spoken up for herself, and ended up changing someone else's mind.
I want nothing more in life than to leave the world better than I found it. I feel that most acutely with my family, that if I can't build a strong and loving relationship with them, then nothing else even matters. But once that's in place (and it is), building a better world for my students and, at least equally importantly, empowering them to build a better world becomes the top priority.
The poet Taylor Mali, himself a middle school teacher at one point in his life, once wrote, "So I finally taught somebody something, / namely, how to change her mind. / And learned in the process that if I ever change the world / it's going to be one eighth grader at a time." (from "Like Lilly Like Wilson")
I know just how he felt.
Written by Bill Ivey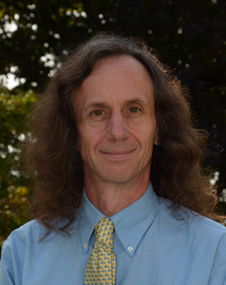 A dedicated member of the faculty, Bill Ivey is the Middle School Dean at Stoneleigh-Burnham School. He teaches Humanities 7 and the Middle and Upper School Rock Bands. Bill is the advisor for MOCA, the middle school student government, and he coordinates and participates in the middle school service program. Among his many hats, Bill also coordinates social media for Stoneleigh-Burnham School.