by Charlotte Hogan, EL Teacher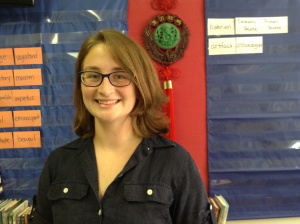 After a successful but often hectic first year of teaching and a month of intensive work with Beginning-level English Learners, I, thankfully, did not experience the burnout that some new teachers feel (or, that my college professors warned us about). I did not feel frustrated, or defeated, despite the many episodes of my first year that hadn't gone as gracefully as I hoped. My friends and family have asked me since the end of the school year how it went, and I often reply, "I'm excited to get a chance to do everything over." One problem. How do I know what to change about my teaching?
Two fellow SBS teachers, Rebecca DeMott (math) and Timothy McCall (history), and I (English language) made the trip on August 8th down to The Pomfret School for a weekend that would hopefully help us find the answer to that very question. The New England New Teachers 2.0 (NENTS 2.0) conference is geared toward teachers with just a few years of experience. We know the basics--we've handled the awkward, the distressing, and the heartwarming. We've navigated living alongside our colleagues and students, and we have big ideas about schools and education. Group us in a mass of about 30 participants from various boarding and day schools in New England, and we've collectively seen it all.
To prepare for the conference, each participant had to videotape a class, upload it to a private YouTube channel (for PD purposes, only), and read a book called Brain Rules, by brain scientist John Medina (which I highly recommend to any person with a brain). Since I am interested in making my classes more interactive to encourage students to practice their English, I chose to record a class period with some whole-class instruction and discussion, paired work, and individual practice. Watching it on my own made me a bit uncomfortable, as any person who's ever seen herself on video can imagine (do I really say "right" that much? Apparently.).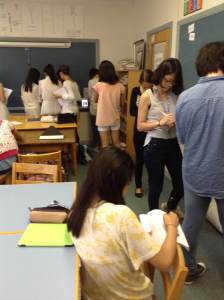 During the conference, we each played our taped classes on a big screen in front of experienced master teachers, and a group of participants from varying subject areas. We observed specific behaviors from the teacher and the students using the CLASS system, and brainstormed how the teacher could better meet her goals. Sharing video is beneficial for all who watch, in the same way that visiting other classrooms can give teachers fresh ideas. However, the class on film can be paused to allow observers to give even more specific feedback, and discussing the classroom environment from behind a camera lens removes the distractions of live visits. The forum for teacher talk that ensued was respectful, yet participants were unafraid to point out how each class could be better. All parties understood the importance of growth as a professional teacher, and that far outweighs the embarrassment of a lesson that goes awry. Learning to offer and receive constructive feedback on something as personal as our teaching practices was a growing experience in itself.
During my sharing time, the cohort was able to make significant changes to my lesson and help me think differently about my teaching. My original lesson's goal was to help students write effective introductions to their essays. However, it lacked a certain level of student engagement and ownership. Instead of merely presenting what an effective introduction should look like, my colleagues suggested that students decide for themselves. So, in the new lesson, I would provide two examples of introductions and make the students determine which was better and why. They would then participate in group writing at the chalkboard, to engage different learning styles and create movement in the classroom. By placing all of the cognitive work on the students, my lesson would become more engaging, and ultimately would help students develop their English skills in a deeper, more meaningful way. This improved lesson would not exist if I did not seek the feedback of teachers and experienced professionals in my content area. I was eventually able to mold my cohort's suggestions to fit my students' needs and my personal teaching style.
The question that my colleagues and I had, "How do I know what to change about my teaching?" has no simple answer. Actually, the answer is that there are an infinite number of answers. There are endless possibilities for improvement, even for teachers who have been practicing their art for 50 or more years. The NENTS 2.0 conference inspired me, not to use a magic-bullet curriculum or class format (although I have some exciting ideas to try this coming year), but to open my mind to the limitless creative power that I have as a teacher, and that we have, as the entire SBS faculty in collaboration with one another.
Written by Guest Faculty Bloggers

Occasionally we feature guest contributions from members of our faculty. Their voices provide an exclusive view into the classrooms, halls, lounges, and residence halls that make Stoneleigh-Burnham School such a great place to live, work, and study. To find blogs exclusively from our faculty members, use "The Faculty Perspective" category.