Back in the early 2000's, when I was a member of the old MiddleWeb listserve, one of the teachers on the list shared that she had been diagnosed with one of the more aggressive forms of cancer. The group rallied to her support, and she continued to share her journey with us as she could, from the classroom for as long as she was able to. Then her account went silent for a while, and eventually a listmember shared the sad news that she had quite recently died. Her funeral was the upcoming weekend, and listmembers travelled from up to several hours away to attend, share with her family what she had meant to us, and support each other.
Such is the power of social media. Few if any of us ever met her in person, yet unquestionably we cared deeply about her. Her family confirmed we, too, had been one of the joys in her life.
Recently, Bill Ferriter wrote a powerful blog post looking at the current social media landscape. In it, he observes, "Early on, the folks that used social spaces for networking seemed genuinely interested in learning WITH each other. Now, it seems like people are only interested in learning FROM each other." It got me thinking as to why that might be true.
Although anybody could join listserves, they were something of a protected space in that you had to sign up to participate. Emails from listmembers appeared in your inbox, and you could respond as you saw fit. It's something like having a private room in a restaurant. It helps create an atmosphere that facilitates honesty and trust.
Most modern social media spaces, on the other hand, are more like taking a table along the sidewalk. Random people can and do hear anything you say, and it's just plain harder to build a close relationship in that context. Additionally, comments sections on many websites have become relentlessly vituperative, and trolling has proliferated to the point where I see Twitter users I follow telling people "What are you doing in my mentions? Blocked." on a near-daily basis. That doesn't make it any easier to join in conversations, both for fear of not hurting someone inadvertently and for fear of being subsequently targeted oneself.
So what are we going to do about it? Lamenting the "old" days will get us exactly nowhere. And, as Bill said, "There's a person behind every avatar who deserves to be valued and recognized and appreciated and challenged."
Actually, though, that's the key. Keeping in mind the person behind the avatar. Note too, that Bill didn't write "and with whom you should invariably and sycophantically agree." It's absolutely fair to challenge people, to stretch their thinking, as long as it's done respectfully and with love. I would hope other people would do the same for me. Often, in fact, they do!
Earlier today, I ran into Cathy LaDuke, the Athletic Director at my wife's school. As we were catching up on things, she said she had been meaning to thank me for getting her involved in Twitter chats. She talked about how much she enjoyed them, how much she got out of them - and about the connections she'd made. She loved the way #TABSchat moderator Scott MacClintic always noticed and commented on her photographs. She's even presented on Twitter chats for the Chatham Hall faculty, and has good ideas to get even more people involved.
Myself, there was one morning this summer when I randomly got involved in #satchat to make a point that so many discussions focus on urban vs. suburban schools that often the needs of rural schools and districts get left out of the conversation altogether. Next thing I knew, I was being invited to participate in #RuralEdChat on Tuesday night, and not long after, I found myself connecting via my phone while my wife and I were travelling through rural Pennsylvania (and yes, she was at the wheel). It was a great chat, warm and welcoming and stimulating, and I've continued to come back.
So it really can be done. As Bill concluded, "Together is built one interaction at a time, y'all -- and together is a lot more meaningful than the lonely places that our social spaces have become."
Written by Bill Ivey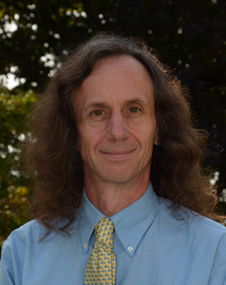 A dedicated member of the faculty, Bill Ivey is the Middle School Dean at Stoneleigh-Burnham School. He teaches Humanities 7 and the Middle and Upper School Rock Bands. Bill is the advisor for MOCA, the middle school student government, and he coordinates and participates in the middle school service program. Among his many hats, Bill also coordinates social media for Stoneleigh-Burnham School.