"When we said we wanted more women in Science this is not what we meant." The author of this tweet was reacting to Science magazine's most recent cover, designed for an issue on AIDS and HIV prevention, which featured a picture of sex workers in short, tight dresses and heels, cutting their heads out of the picture and thus objectifying and dehumanizing them.
The response of Jim Austin, one of the editors of the magazine was, "You realize they are transgender? Does it matter? That at least colors things, no?" to which the rejoinder was, "It's not clear from the cover image. I don't think it's ok to sexually objectify transwomen, either." Later on in the conversation, Mr. Austin responded to the comment "To me it's just another dehumanizing male gazey image." by writing, "Interesting to consider how those gazey males will feel when they find out." He also wrote, "Am I the only one who finds moral indignation really boring?" to which the response came, "If you were, the world would be a much better place."
Indeed it would.
To the partial credit of the Science editorial staff, they did eventually realize and make some attempt to apologize for their mistake, with Editor-in-Chief Marcia McNutt tweeting, "From us at Science, we apologize to those offended by recent cover. Intent was to highlight solutions to HIV, and it badly missed the mark." and making a longer, unfortunately more ambiguous and less, how do I put this, apologetic statement on her blog. Mr. Austin, however, rather than personally apologizing for his own outrageous statements, merely retweeted Ms. McNutt's own "apology." Speaking of badly missing the mark.
Science notwithstanding, transgender people are increasingly visible in our society and in an increasingly positive way. The recent TIME magazine cover and article on Laverne Cox is a great example, and Katy Steinmetz's interview was both insightful and humane. She asked Ms. Cox what she thought people should know about being transgender, and Ms. Cox's reply was: "There's not just one trans story. There's not just one trans experience. And I think what they need to understand is that not everybody who is born feels that their gender identity is in alignment with what they're assigned at birth, based on their genitalia. If someone needs to express their gender in a way that is different, that is okay, and they should not be denied healthcare. They should not be bullied. They don't deserve to be victims of violence. … That's what people need to understand, that it's okay and that if you are uncomfortable with it, then you need to look at yourself."
Perhaps it's the communities where I hang out, but I do see progress toward the vision Ms. Cox laid out so eloquently. Jazz Jennings, whom we first met at age seven in a 20/20 report with Barbara Walters and who, at age eleven, filmed a follow-up show (part one here) as well as a message to President Obama, has co-written a children's book entitled I am Jazz and maintains a Facebook page called "Jazz A Corner for Transgender Kids." Coy Mathis's parents supported her and successfully fought for her right to use the girls' bathroom in her public school. Just as many young people today, unlike in the past, were raised in families where parents understood and respected the possibility that they might be any of a variety of sexualities and made it clear they would support their children no matter what, you're increasingly seeing families raising their children to resist gender boxes and adopt the gender expression of their choice, respecting the possibility that their kids might in fact not actually be the gender assigned to them at birth. The community Inês Almeida has built at Toward the Stars is one shining example.
There's no question we have a ways to go. Transgender people are still disproportionately subjected to prejudice, objectification, bullying, and violence, especially transwomen of colour. Still, with all that, Ms. Cox has also said, "I do believe in the humanity of people and in people's capacity to love and to change."
Me too.
Written by Bill Ivey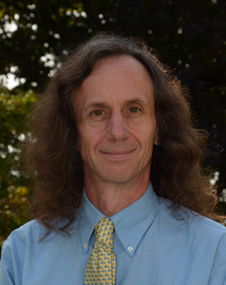 A dedicated member of the faculty, Bill Ivey is the Middle School Dean at Stoneleigh-Burnham School. He teaches Humanities 7 and the Middle and Upper School Rock Bands. Bill is the advisor for MOCA, the middle school student government, and he coordinates and participates in the middle school service program. Among his many hats, Bill also coordinates social media for Stoneleigh-Burnham School.