Last year at registration, as I met my new students and their families, I heard over and over, "She'll be quiet in class but don't let that fool you - she's a deep thinker." As someone who had myself been quiet in class as a student, I completely understood that silence does not mean absence of thought. However, by lunchtime, I'll confess I was beginning to wonder just who would speak up in class - or, more to the point, how I would manage the class so that everyone was contributing if introversion was such a dominant dynamic. I ended up using a greater percentage of small group work for certain kinds of discussions than I might in a typical year, and things went well - indeed, this class achieved an extraordinary and deeply moving level of trust and honesty by the end of the year, and also helped cement and expand our reputation as a feminist school.
So when Sally, our Head of School, announced that this year's summer reading book would be Quiet: The Power of Introverts in a World That Can't Stop Talking by Susan Cain, I had high hopes. Yet, beginning right from page one where I highlighted the question, "How could you be shy and courageous?" and noted, "These are not mutually exclusive by any stretch of the imagination," I developed a complicated relationship with the book. Nonetheless, I definitely found take-aways that can help me in my work, and of course I look forward to discussing it when teachers return in August.
One of the themes Ms. Cain develops is the concept of finding your sweet spot, a way of being where you find the best possible balance of introversion and extroversion for yourself and work to spend as much time there as you can. However, she recognizes that sometimes we are all called on to leave our sweet spot, raising the question, "When should you act more extroverted than you really are?" (p.205) The corollary, of course, would be "When should you act more introverted than you really are?" and as a school where we work to support each student in becoming her own best self, part of our mission could indeed be helping our students learn where their sweet spots are, how to recognize when it might be best if they acted more introverted or extroverted than they normally would, and techniques to help them handle the discomfort caused by leaving their sweet spot. I would love to know what my colleagues think about that and discuss how we might best go about supporting our students in this way.
Ms. Cain also writes about the effects of different cultures, looking in particular at the Asian-American community in Cupertino, CA. While one might argue that she overlooks the effects of economic privilege (Cupertino's median household income was $128,487 in 2012, vs. $51,371 nationally), she does make a sincere effort to avoid what she calls "rigid national or ethnic typecasting." She notes, "Though Eastern relationship-honoring is admirable and beautiful, so is Western respect for individual freedom, self-expression, and personal destiny. The point is not that one is superior to the other, but that a profound difference in cultural values has a powerful impact on the personality styles favored by each culture." (p.190) If we are to be a true global community, I believe, we need to ensure we recognize and embrace the different ways of being our students bring with them, supporting and learning from each other and becoming comfortable with navigating within these different frames of reference.
That is not to play down the importance of our mission to help girls and women develop and use their unique voices, of course. Voice may spring from within oneself but it is also shaped by and emerges into specific cultural influences. There are risks there, of course, but possibilities too. As my 2012-2013 Humanities 7 class once observed, "But even if we are being shaped by our families and the world around us without our knowing it, is that necessarily a bad thing if we are comfortable with who we are now?"
With that in mind, I continue to believe that Quiet suffers to some degree from the influence of patriarchy. For one example, a friend of the author's, Alex, is noted for having learned pretend-extroversion as a seventh grader by studying social dynamics "especially male dominance poses" and by leveraging his strengths. "I learned," he says, "that boys basically do only one thing: they chase girls. They get them, they lose them, they talk about them. I was like, 'That's completely circuitous. I really like girls.' That's where intimacy comes from. So rather than sitting around and talking about girls, I got to know them. I used having relationships with girls, plus being good at sports, to have the guys in my pocket." And when that wasn't enough, "Every once in a while, you have to punch people. I did that too." (p.210) Far from viewing Alex as an exemplar of learning how to live outside one's sweet spot, I viewed him as someone who was fundamentally manipulative and who both bought into and exploited stereotypes to further his own ends. As a gender activist and girls school educator, I was appalled by such behavior. I do recognize, though, that if I got to know Alex better as the multidimensional person he is today, it would probably shift my thinking from where it stands now.
At any rate, I do have the ability to filter the book through my own lens, and pull out from it the parts I find genuinely useful. And there's no question that there are many important lessons here, especially for introverts of course but also for extroverts. I can even see how valuing and empowering introversion, as Ms. Cain advocates, could help undermine patriarchy. Ms. Cain herself notes, "Introverts living under the Extrovert Ideal are like women in a man's world." (p.4) So I'm looking forward to our discussion of the book in August and finding out where it takes us next.
Written by Bill Ivey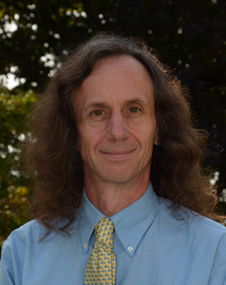 A dedicated member of the faculty, Bill Ivey is the Middle School Dean at Stoneleigh-Burnham School. He teaches Humanities 7 and the Middle and Upper School Rock Bands. Bill is the advisor for MOCA, the middle school student government, and he coordinates and participates in the middle school service program. Among his many hats, Bill also coordinates social media for Stoneleigh-Burnham School.