This year's Commencement speaker, chosen by the graduating class of 2014, was visual artist and MacArthur Felllow Anna Schuleit Haber. Ms. Haber has graciously given us permission to post her full speech here. "Believe the Bird" was delivered at Stoneleigh-Burnham School's 2014 Commencement Ceremony on Friday, June 6th in Greenfield, Massachusetts.
BELIEVE THE BIRD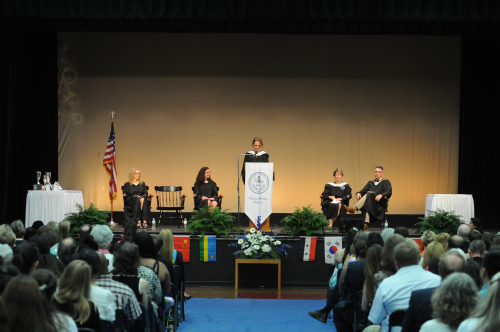 A squirrel appears on a lawn and sees a nut lying out in the open. Carefully, it looks around and assesses its surroundings. When it feels ready and safe, it moves into the open, aiming for the nut. It reaches it, scoops it up and hurries back to safety. In his book on the brain, "The Master and His Emissary", Ian McGilchrist describes the kind of attention the squirrel uses here as "open attention".
Later, when the squirrel sits down with the nut, to crack and break it down, it uses an entirely different attention, a kind of attention that can be understood as "narrow attention". Both are needed to navigate through this world; both are indicators of the interactions between the two hemispheres of our brains: left and right. The right brain hemisphere is connected to open attention: our skill of taking in an entire scene and making sense of it. The left brain hemisphere is responsible for breaking things down and categorizing everything.
Dear graduating seniors, dear parents, trustees, faculty members, families, and friends — I am honored to be here with you today and to celebrate your graduation. For the past few days, I was sitting in the garden of a friend, thinking about this special day and about you, and I decided that I would speak to you about attention, and types of attention, intuition, about the time during and after high school, and—most generally—about happiness in life.
Walking across a campus like this reminds me of being a student like you. When I was in boarding school, an ocean away from my family and childhood friends, my days seemed to be made of nothing but school matters: assignments, books, late night studies, basketball practice, bakery duty, stacks of vocabulary cards, so many words that I didn't know. High school in a boarding school, away from home, equaled more than high school had ever meant to me up to that point: it was a sense of school as pure possibility. An opening of the self. It was, to me, the highest version of high school: higher than any place I'd known before, a place of higher learning, higher knowledge, and high growth.
In boarding school I finally became a curious student. And you, too, might have been feeling this same progression in you: that over time you have become, in fact, the kind of student for whom this place was originally created, for whom it had been made ideal. For whom all these buildings had been built and for whom the curriculum had been developed. Each of you is a young woman with a full-fledged story from where you come, who your people are. A story with details, and details with facets of humanity, each one of you different from the next. This place was created for bringing life stories like yours together and making more layered, more evolved, more deliberate stories out of each of you, stories of conscious growth. A place for a community of girls, a place for you who graduate today.
When I was here last October and met so many of you, I felt that this was a special place. I loved your energy. It made me think that high school is truly a place that puts the student at the center of the universe and surrounds him or her with the possibilities of life and knowledge, a place for you to learn to embody the personal and to then to head out to touch the world with and through your life —your lives.
After today most of you will go on to college, and you might think it's similar, but it's not. College is bigger, less intimate, more speedy, more layered, crowded, and complicated. Somehow, as you move from high school towards the next step in your journey, you become a more public person. Your career starts. High school is the necessity on which everything gets built, but it isn't your outward career yet. It is your private career, your chance to learn who you are. You've had a most exquisite chance here on this campus, of learning more than the basics. Now things will speed up, and speed you into the lanes of adulthood, which are speedier, riskier, and less neat.
And so I want you to pause here for just a moment longer, pause and celebrate inwardly and with each other, and then take the best of what you've been building and making here at this school, during this time, as an investment into the self that you are poised to become: take all these treasures with you as you start your career as an adult student, an adult woman, and a citizen of this world. Once you're out there in the world, with your treasures of high school under your skin, all the details of your education thus far, I encourage you to make passionate choices that honor this foundation that you have created for yourselves. Choices of schools, friends, majors, direction, and — style. Why do I mention style? I don't mean the way you dress, I mean the style of self: what kind of woman are you evolving into, what kind of mind are you cultivating, what type of personality are you beginning to be? Whatever the answer, whatever your style and your direction, your very own arc of a journey, I am happy to say that ALL of you will be needed.
That there is a place for each and every one of you out there in the world.
As you graduate here today, you are freer than you have ever been in your life before. More free to make your own choices. After today, you will be seen as adults in almost every sense. You will be expected to be responsible and mature, as people will rely on you. Strangers might ask for your help when you don't expect it, more than before. The world will simply assume that you have gained the basic tools to navigate through this life, which is not basic at all, but complex.
As graduating seniors, your schedules had already became as full as you thought they could possibly be, and you made it through, and here we are. you have all been "big sisters" to younger students at the same time, you have been mature and responsible for and with others around you, as you grew to be the oldest. Now you will leave here and feel young all over again, in college, or in whichever job you pursue. You might realize that you're the youngest again, actually. And life might suddenly appear quite large and vast and disorganized around you.
And it is.
So—when you find yourself in a tight spot or crisis, which sooner or later you will, I would like you to try something: try to practice a sense of open calmness before zooming in. Try to first collect and balance your mind and body for a moment, like the squirrel taking in the wider context. Locate yourself within yourself. Then step forth.
When, on the other hand, you find yourself hungry or tired, too tired to be glowing or helpful, don't be ashamed to withdraw and recuperate. And to do so, you will have to learn to be clear: first with yourself, then with others around you. Clear about your needs, and then kindly straightforward. Learn to take efficient, simple care of yourself. Nobody will be better at this task than you.
And when, perhaps, you find yourself feeling lonely, try this: reach out to someone without expectation, rather than waiting to be reached for. Sit down and write a letter by hand. Go for a walk along a babbling creek, off the beaten path, without your phone. Notice your loneliness with that same open attention, and treasure it. That sounds very hard and strange, but it's the truth: it, too, is one of your treasures.
When you find yourself bored, ever, try this: be curious about something outside of yourself. Pick something beyond your usual horizon and marvel at it. Divert your attention and let something unlikely into your mind, something to re-arrange your thought patterns and your mind's habits. The writer Samuel Beckett pushed the boundaries of language, concept, composition in his writings. And he did so by positioning himself in a beginner's spot: he wrote many of his works in French, rather than in his native English — and he attributed this to his "need to be ill-equipped." Having been ill-quipped many times in my life as an artist, I can tell you that this is true: if you're not quite certain of how to do something, but if you commit yourself to the process of it, you will, wonderfully inevitably, make discoveries. And making discoveries is a fundamental ingredient of creativity.
When I was a painting student at RISD I discovered that I enjoy the stretch of time that passes between having an idea, a plan, and realizing it. That the uncertainty of the journey of creating something, the lag between first motivation and later outcome, can be enjoyable, even thrilling. If you are on the path to becoming an artist, too, or any other creative job, I invite you to watch how other artists and makers, older than you, manage to stay true to themselves through that creative uncertainty, i.e. the interaction between right brain open attention and left brain focus and analysis. Look for smart people who know more than you, watch them and see how they work, how they move through the world.
And when something you're witnessing is great, truly great, when the hair on your neck stands up in admiration for something or someone, make sure to take notice. Learning to pay compliments if inspired, is as important as learning to give honest feedback if asked. Try to become an athlete in your own field, however un-athletic it may be, and by that I mean dedicate yourself to practicing your stuff, over and over and over. When you need help, look around—ASK. Then offer your help back to others who cross your path needing help. They will. There will undoubtedly be times to give back, and it's rarely to those who once gave to you, but usually to others, in other ways.
Three and four generations ago, our women ancestors in this country, and many countries around the world, began to fight for their right to vote and didn't give up, a struggle that is hard for us to imagine today. We take for granted their then newly-won right to participate as equals in governments and society, and our natural inheritance of it. As women we all have been given the fruits of women's struggles of the past, so I would like to ask you graduating girls particularly, to never miss an election: to go out and vote for what you believe in, who you root for, who represents you. Like so many other female writers and artists, Virginia Woolf struggled to shake off her sense of the confinement of her imagination, her creativity, asking herself: "What IS a woman? I do not know… I do not believe anybody knows until she has expressed herself in all the arts and professions open to human skill."
Along those lines I want to invite you, in your lives, too—to go, if necessary, against the tide. The women who fought for our rights in the past, for us to vote and to be equals in the arts and all other professions, went against the tide. Conditions would never have changed if they had waited for someone powerful to make the changes for them. So don't miss a chance to engage in dialogue about difficult things — and that's usually not when difficult things are easy, but when they are difficult to discuss. Point out and pause for injustice whenever you come across it in your lives.
If necessary, go against the tide.
But truly, and most of all, and in all of this: I would like to invite you to be infectious with a good, open attitude. Having a good attitude is not a minor secret skill, something hidden under the surface of your personality, but it is completely and utterly visible to anyone who comes anywhere near you. If you don't know how to do it, watch those who have mastered this art, and then practice it like the French Horn, or third level dressage. You can actually, really truly learn how to light up a room, and not miss a chance to be genuinely curious. A good attitude goes hand in hand with curiosity, with openness, and with a flexibility of one's ego.
And even if you're as considerate and humble and kind a person as you can possibly be—for as long as you can—you might still encounter incredible obstacles for long inexplicable stretches. Then I want you to trust: to trust that none of what you invest your heart and energies in will be in vain. The trick is to shape your destiny with your intentions but to expect nothing directly back—except to be surprised. In Buddhism this is called "the light of the world": that the karmic fruits of your being will keep arising. But it is your responsibility to see the world with your best, open attention, as the squirrel does before it narrows its focus on the outcome of the nut. To learn to see the choices that you will make.
What lies ahead for you is a road of gains and losses, between which you will make your home. This making of a home will most likely be the most creative and individual act of your lives. Why creative? Because there is not realIy any kind of guidance for it other than your own, so you must use your intuition, intention, and practice. John J. Audubon, in the preface to his guide to birds in America, reminds us that "If the bird and the book disagree, believe the bird." Use your own inner light to shine your way, to stand straight, to stand right up, and stand light and firm on the ground you're claiming for yourself, the self you are becoming. Take IN the whole scene of your life, as it unfolds. And, "I urge you" said the writer Kurt Vonnegut, "to please notice when you are happy." Which means, to actually notice when all is well for the moment, when the air is clear.
It is my honor to remind you today, and to remind you to remind yourselves in the weeks and years to come, wherever you may be, that each and every instant is, in fact, a rare moment of creation. That sense of your journey can be, and I hope that it will be, your very own sense of happiness. As if he had known about the squirrel, and maybe he did, wonderful E. E. Cummings put it best:
"(now the ears of my ears awake and
now the eyes of my eyes are opened)"
Congratulations, dear Seniors.
- Anna Schuleit Haber
June 6, 2014
Written by Guest Faculty Bloggers

Occasionally we feature guest contributions from members of our faculty. Their voices provide an exclusive view into the classrooms, halls, lounges, and residence halls that make Stoneleigh-Burnham School such a great place to live, work, and study. To find blogs exclusively from our faculty members, use "The Faculty Perspective" category.