In real time, it's hard to be sure what's sexism and what's you.
- Ann Friedman
As you may have heard, Jill Abramson, the first-ever female executive editor of The New York Times has been fired. There's no speculation on that point - the paper has been clear, and she has made no effort that I know of to deny it. What's much harder to figure out is why, even with excellent analyses like "Jill Abramson Will Never Know Why She Got Fired" (Ann Friedman in New York magazine) and "Why Jill Abramson Got Fired" (Ken Auletta in The New Yorker).
If you haven't already, please note in passing the extreme contrast between those two titles, and ask yourself to what extent the genders (as perceived by their names, anyway) of the authors may be a factor. Not because of who those actual people are. Because of patriarchy.
In his article, Mr. Auletta notes that Ms. Abramson recently found out that her pay and pension benefits were significantly less than her predecessor, who was male. "'She confronted the top brass,' one close associate said, and this may have fed into the management's narrative that she was 'pushy,' a characterization that, for many, has an inescapably gendered aspect." (Auletta) (For the record, you may count me in that "for many" group.) Differences of opinion over editorial policy and personnel decisions may also have been contributing factors. Mr. Auletta concludes, "Even though she thought she was politely asking about the pay discrepancy and about the role of the business side, and that she had a green light from management to hire a deputy to Baquet, the decision to terminate her was made." Emerging from the objective tone of Mr. Auletta's article, that analysis points to the likelihood of the kind of gut-level decision which is exactly at the center of Ms. Friedman's piece.
Ms. Friedman notes that not "all women necessarily have a deep personal need to be liked by their colleagues" but that nonetheless "those colleagues' gut-level opinions matter greatly when it comes to evaluating a woman's job performance." And early in the piece, she writes, "A muddled combination of complicated interpersonal stuff, not a single action or failure or incident, isn't just an explanation for Abramson's exit. It's a reality for women in almost any workplace." As she notes, while the confidence gap between men and women may not actually be all that great, the degree to and manner in which men and women are "allowed" by our culture to express that confidence does in fact vary widely. However hard one works to remain objective and free of restrictive gender norms, they exist and may be applied to us at a moment's notice. Ms. Abramson, notes Ms. Friedman, recognized there may have been some legitimacy to various complaints aired earlier in her tenure. She also recognized a double standard may have been applied. And she also cried.
"But for most women, and anyone else who faces scrutiny as the 'only one' in the room, not caring is not an option." (Friedman) Note that one doesn't have to literally be the only one in the room for this to be true. And note also that that spotlight might be due to any number of factors including the full range of gender, sexuality, class, abledness, age, religion/spirituality, or other factors. The commonality is difference from what is commonly (whether consciously or not) considered the norm, along with the real and perceived pressures that result.
Because of patriarchy, institutionalized racism, and privilege in general, the only way to solve the problem is ultimately to dismantle the societal constructs that inevitably lead to it. Along the way, those of us with different kinds of intersecting privileges can scrutinize our own actions to see how they are affecting others, listen to historically oppressed groups, understand it is inevitable we will feel discomfort, and in general work to make sure "not caring is not an option" for us as well.
It takes a village, the saying goes.
Sign me up.
Written by Bill Ivey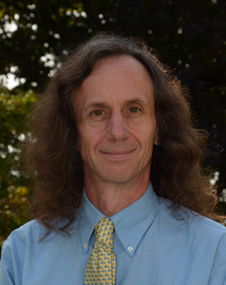 A dedicated member of the faculty, Bill Ivey is the Middle School Dean at Stoneleigh-Burnham School. He teaches Humanities 7 and the Middle and Upper School Rock Bands. Bill is the advisor for MOCA, the middle school student government, and he coordinates and participates in the middle school service program. Among his many hats, Bill also coordinates social media for Stoneleigh-Burnham School.