Founders' Day is a middle school tradition originated by the 10 founding students of the program. In late spring of that first year, they proposed that beginning in the following year, the middle school have an annual holiday from classes in May, with all activities completely planned by students. Their goals were to honor the middle school, to have fun, and to remember the Founders. The seventh grade Founders, of course, were also able to participate in the first annual Founders' Day as eighth graders, and so they helped set up a number of traditions including breakfast brought in from Dunkin' Donuts.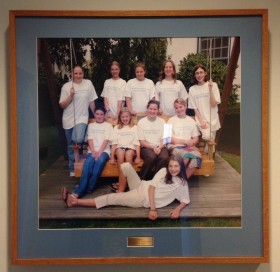 This year, then, was the 9th annual Founders' Day. The students began with an overnight in the middle school building. Their first activity was tie-dying, followed by laser tag and other games and then by a movie (they voted for the Lindsay Lohan version of The Parent Trap). Sleep came... when sleep came.
The next morning, they all returned to the corridor to shower and change for the day - which turned out to be perfect, nice and warm and sunny. The wonderful and kind people at the Dunkin' Donuts on Federal Street had labelled every drink and every bag of food, so it was incredibly easy for each student to find her own breakfast items. After eating, we all headed to the fields for a great game of kickball (another activity that dates to the first Founders' Day). Next up, we returned to the middle school so that the students could sign each others' t-shirts, freshly rinsed, laundered, and dried. They ended up spending nearly two hours on this activity, and the room filled with calls to "Sign my shirt?" amidst students gripping Sharpies and looking up thoughtfully at images unseen to anyone else but themselves before bending down and beginning to write. Ashley Chung, a six-year Senior, wandered in at this point, and awash in a swirl of emotions and nostalgia of her own, joined in the signing.
Lunch at Bonnie's House, class and all-middle school pictures, and Capture the Flag continued nine years worth of traditions, at which point we attacked the special cake Mike Phelps had ordered for us and the watermelon. After snack, some students wanted to stay outside, and participated in three-legged and wheelbarrow races before organizing another game of kickball. Others chose to go inside, where they made their own fun.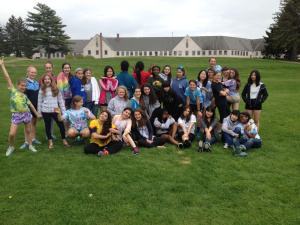 One day later, I was driving to service at the Food Bank with Sophie, an eighth grader, and we were talking about the day. She remarked on its importance as a marker that the year is starting to wind down, and how it can be tough to look ahead to the end of this year's community. We talked about what her class is like, how last year they were really skilled at finding and learning about multiple perspectives without being judgmental, and how they were able to keep that going this year as they incorporated new eighth graders into their group and also welcomed the new seventh graders. She went on to reflect about what two years in the middle school had meant to them and how they were going to miss it. "It's like a security blanket," she said, "where you know everyone knows you and cares for you." A few moments later she added, "But that allows us to develop our confidence. And we are confident. We're wondering what exactly next year we'll be like, but we can handle it." I told her that's exactly what we're trying to do here, and how much it meant to know we had succeeded.
Not long after that, we pulled into the Food Bank parking lot for one last day of service - in this case, bagging apples that would go to their mobile distribution program. Inevitably, inexorably, the clock moved toward 2:30. We took one last look at the approximately 200 pounds of apples we had bagged and boxed. I shook Jared's hand and said I was looking forward to next year, he smiled and said he was too, and Sophie and I turned and headed for the car and drove away together.
Written by Bill Ivey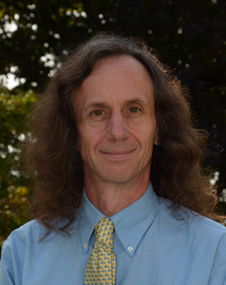 A dedicated member of the faculty, Bill Ivey is the Middle School Dean at Stoneleigh-Burnham School. He teaches Humanities 7 and the Middle and Upper School Rock Bands. Bill is the advisor for MOCA, the middle school student government, and he coordinates and participates in the middle school service program. Among his many hats, Bill also coordinates social media for Stoneleigh-Burnham School.