written on May 3, 2014, the day of Northampton's annual Pride celebration
A year ago today, I decided to stop at McCusker's and grab a coffee and vegan raspberry bar for the road. I ran into one of my old coaching friends, and while we were talking, I noticed that one of the people in the store was looking me up and down, disgust on her face. It didn't exactly put me in the mood to continue on down to attend the Northampton Pride March as I was planning, but I had promised the Dakin Pioneer Valley Humane Society I would walk with them, and I didn't want to let them down. I also realized, deep down, that she didn't care one bit where I was going, and I should not let her spoil my day.
Still, when I got to the parking lot, I stayed in the car a long while, checking my phone repeatedly, circling through Twitter, Facebook, and email over and over. When a car pulled in near me, and four members of the Pioneer Valley Gay Men's Chorus jumped out, wearing their t-shirts, and took off toward town, I had to admit I was probably being overly paranoid. I unplugged my phone, pulled on a skirt over my shorts, and followed after them. It was far from the last moment I would feel unsure of myself on the day, but it was the last time I would let it get to me.
This morning felt completely different. I didn't just stop through McCusker's, I sat down and had a bagel there (while working on narrative comments for the progress reports which were due in two days). Several people smiled at me. While I did check email and Twitter when I got to the Pride parking lot, I didn't linger. I even went and hung out at the Haymarket coffee shop in Northampton before meeting up with Dakin at the staging area.
One of the Leverett staff members came up and hugged me, and another introduced me to her daughter. I met the cat in a stroller, Honeybun. I talked to the guy with a beautiful handmade stuffed armadillo. A volunteer from Springfield I recognized from last year showed up, and we chatted until it was finally Dakin's turn. I held my sign, a picture of my cat with the slogan "My cat is open and accepting," and stepped out.
Turning the corner onto Main Street, I saw one of my student's moms and her little brother. I smiled and waved as the mom waved back and we both tried, with some success, to ease the clear sense of concern and worry off the baby's face. About halfway down the parade route, a teenager sitting in a wheelchair finished petting one of the dogs, and she looked up, face glowing, and said, "Thanks," with a tone that brought tears to my eyes. One of the other Dakin marchers leaned toward me and quietly said, "This march gives me goosebumps every year." "That was an amazing moment," I said.
It's easy on days like this to get caught up in the excitement of all the smiles and rainbows and cheers. And of course, that's part of the point of Pride celebrations in the first place. Yet, as one person noted to me almost in passing - you don't want to dwell on such things on days that are meant to be fun - what brings you those smiles and good wishes during Pride can get you verbally attacked, beat up, even killed in other contexts. And even at Pride itself, I ran into an old friend who strode toward me beaming, shook my hand, and then took a second glance and recoiled and turned away. Reacting instinctively, I turned and walked away without looking back. I may never know whether or not he turned back to me.
Still and all, despite such moments, it's true we as a culture seem to be steadily headed, however slowly, toward increased awareness and acceptance of the full diversity of sexualities and genders. I was talking to a colleague the other day, and we agreed that kids are light years ahead of many adults. At SBS, according to students to whom I've talked, the climate in general is more positive, welcoming, and supportive than what I hear about many schools. That's not to say we can't improve, and indeed the administrative team is following up on ideas that emerged from last March's inservice training. Toward that end, Ellen, the School Counselor, and I are about to attend an AISNE conference on "Understanding Sex, Gender, and Sexuality: What every pre-K-12 Educator Needs to Know in 2014."
As the Dakin contingent who were marching today turned the final corner into the fairgrounds, another teenager leaned forward urgently, trying to catch my attention, and motioned to her friend's t-shirt, which said, "Smash patriarchy." I gave the two of them a thumbs up and, as the second girl looked momentarily startled, the first girl looked like all was right with the world.
Written by Bill Ivey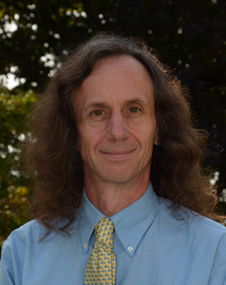 A dedicated member of the faculty, Bill Ivey is the Middle School Dean at Stoneleigh-Burnham School. He teaches Humanities 7 and the Middle and Upper School Rock Bands. Bill is the advisor for MOCA, the middle school student government, and he coordinates and participates in the middle school service program. Among his many hats, Bill also coordinates social media for Stoneleigh-Burnham School.