Some years, if it suits a specific unit the Humanities 7 students have designed, I'll do an activity where I will show them an image of Rodin's sculpture "Celle qui fût la belle Heaulmière" ("She Who Used to Be the Beautiful Heaulmière") and ask them for their reactions. Most years, their reactions will generally begin with either a generic "Ick" or surprise that a sculptor would have wanted to create that image in the first place. I then tell them the title of the sculpture and ask them if and how that would change their reactions. Finally, I read them a quote from Robert Heinlein's Stranger in a Strange Land that gives one of the character's perspectives on a great artists' ability to simultaneously show people as they are, suggest how they used to be, and show how that contrast affects them, and why he thus views this particular sculpture as a masterwork. While the students may or may agree that the sculpture is in fact a masterwork, they generally do come to view the work from the perspective of the subject and in the process engage deeply with concepts of beauty and self-image.
I decided to try the activity with this year's class, and from the very first comment, these students were thinking from the perspective of the subject of the sculpture, shifting smoothly into a discussion of beauty, feelings, and self-image. External judgment was completely lacking from the conversations, replaced by a predominant sense that the subject of the image had probably had a tough life. Giving them the title of the sculpture evoked some additional discussion, so by the time I read the quote, it served more as a commentary on one aspect of what they had already discussed than a stimulus to more discussion.
Usually when I do this activity, it's in the middle of a unit on Aesthetics and so relative notions of beauty are very much on the students' minds. This year, our theme question took a slightly different direction than usual, and connects explicitly to the notion of judgment as it relates to physical appearance. So there's a possibility that the overall context of the unit shifted the thinking of this year's class from how most groups react. That's especially true since our current read-aloud book is Wonder, which is about Auggie, a boy with mandibulofacial dysotosis and other complicating factors that result in severe facial anomalies, tracing his first experience in a real school when he enters the fifth grade and how his appearance affects those around him. The book is written from the point of view of several different characters, going forward and backward in time, which makes it particularly easy for students to examine and integrate multiple perspectives. Still, these students have exemplified empathy from day one, and I was not surprised that they were one of the classes that had atypical reactions to the Rodin sculpture.
These days, a lot of people are putting forth a concern that middle school students are not as empathetic as they used to be, affirming that fiction can play a key role in helping them develop a sense of empathy. I know my students were caring and empathetic the moment they walked into my classroom, but I also feel that the books we have read this year have offered them moments to think deeply about what it takes to be genuinely supportive and not just put forward good intentions. The students also brought up the notion that adults are by no means perfect in their own ability to empathize with and support others, citing a moment in the story when one mother photoshops Auggie out of a school picture and distributes copies to the other parents. You should have seen the shock on my students' faces when I read that passage! But this also gave us an opportunity to talk about being a grown-up, and I offered the notion that growing up wasn't just about becoming our own best selves but also about developing skills to handle those inevitable moments when we fall short.
Humanities 7, I write my new students and their families over the summer, is at its root about what it means to be human. Today was one of those days that brings home how achingly complex that can be. But it was also one of those days that brings home how much potential lives within each one of us.
Written by Bill Ivey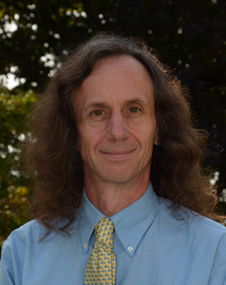 A dedicated member of the faculty, Bill Ivey is the Middle School Dean at Stoneleigh-Burnham School. He teaches Humanities 7 and the Middle and Upper School Rock Bands. Bill is the advisor for MOCA, the middle school student government, and he coordinates and participates in the middle school service program. Among his many hats, Bill also coordinates social media for Stoneleigh-Burnham School.