As an option for weekend activities, I offered to take students to a GLSEN conference on April 5. (GLSEN is the Gay Lesbian Straight Education Network.) Unfortunately, two of them ended up with conflicts, but the third student cheerfully said she would still like to go, and so we headed east to Madison Park Vocational Technical High School in Roxbury. After passing through the metal detector for "males," an extremely un-GLSEN moment all around (though I don't think it was switched on), and stopping at the registration table, we walked up the stairs to the opening celebration, where we were enthusiastically welcomed by three cheerleaders of various genders.
Eliza Byard, the Executive Director of GLSEN, welcomed all of us and spoke movingly of the experience of speaking (for two minutes, precisely timed by the TelePrompter) at the 50th Anniversary of the March on Washington. Given that Bayard Rustin, one of the organizers of the March who also served as a speaker, had been excluded from a meeting with President Kennedy out of the fear that J. Edgar Hoover, the homophobic Director of the FBI, might be upset, Ms. Byard's participation was all the more moving.
There were three workshop sessions at the conference, and my student and I both felt a session entitled "How Different Life Can Be," led by three members of the North Shore Alliance of LGBT Youth was the best place to start. After a quick overview of the organization and their work, the co-presenters opened up the session to questions. A young student who looked and sounded no more than 10 led off, talking about his lack of understanding of why people wouldn't simply let other people be people, oblivious to the looks of tenderness on the faces of many of the teenagers listening to him. A middle schooler who had stuck up for her friends when rumours were circulating about them only to have the rumours turned on her asked for advice, as did a high school student whose friend had recently come out to her parents who were refusing to believe and accept what she had said. The co-presenters listened with compassion and empathy, making suggestions while maintaining the kind of honest realism teenagers often seek, and skillfully leaving space for people in the room to respond. One girl said when her parents had trouble accepting her own coming out, she tried leaving little pamphlets around the house or webpages up on the computer. Over time, she said, as her parents understood better what was going on, they began to come around. It does sometimes take time. PFLAG was frequently cited as a wonderful resource, and I made a mental note to learn more about them.
That room had been packed, with people spilling through the doors and out to the corridor, a pattern which would repeat itself in both of the next two sessions I attended. My student and I agreed to attend different sessions throughout the afternoon, and to help shape my choices, I let her choose first and then asked her what needs she saw in the school. She thought carefully, and said she felt that students had a pretty solid knowledge of different sexualities and were open and welcoming, but that many of them did not have as solid a sense of different genders and how that plays out in real life. While there was a "Trans 101" type session coming up next, my instinct was that I would already know the majority of the information being presented, so I made a mental note to think further about what my student had said, and looked for other sessions to attend.
For my next session, I chose "Reversing the Erasure of LGBT HIstory," presented by three teachers from Lowell High School. Through a skillfully organized grassroots effort, they succeeded in convincing their district to adopt the historic, inclusive curriculum being developed by the Los Angeles Unified School District following passage of the FAIR (Fair, Inclusive, Accurate, and Respectful) Act. They showed a moving video, "Through Gay Eyes," which was produced by one of the teachers, Deb Fowler, and a student then attending Lowell High, Connor Crosby. They had shown this video to decision-makers in the District to help build support. While I greatly admired what they had accomplished, as well as their calls for similar advocacy across the state, I found myself thinking how lucky I was that we already have a desire at the administrative level to support LGBT students throughout their experience in our school and beyond. I did walk out with a number of ideas for links and other resources I can keep in mind to help my Humanities 7 students broaden their research so their Focus Question projects can be as inclusive as the conversations I have with them.
My final session was "Queering the Classroom: Providing a Safe Environment for All," facilitated by Marie Caradonna of the West Suburban Alliance of Gay, Lesbian, Bisexual, Transgender, and Queer Youth. Her announced approach, to treat us all as though we were both cissexual and cisgender, resulted in a session that was as much demonstration as information-sharing, which I imagine was her goal. Students and teachers shared concerns, suggestions, and clarifying information, and an honest and supportive dialogue grew and flourished. Among other things I learned: the term "demisexual," used for someone who experiences sexual attraction through romantic attraction. I also learned a new definition for the term "bisexual": "someone who is sexually attracted to their own gender and to other genders."
My student, who had a cold and also had had a rather short night of sleep between the late return from Rent and the early departure for the GLSEN conference, dozed much of the way back, giving me plenty of time to think through the day. I decided to spend the evening in Northampton, and upon arrival, sent out a series of tweets including this one, "Now eating a vegan sandwich in Northampton plotting to upend social norms and get everyone to 'just be a decent person' as my student said," which garnered a number of favourites and retweets... and one virtual fist-bump.
The title of this blog quotes one of the participants in the first session word for word (unfortunately, I do not know her name). The split second I heard it, I thumbed it into the "Notes" app on my phone, knowing it would become the title for this blog. But a cool title for a blog, even if accompanied by a fist-bump-worthy tweet, is not remotely enough. For starters, I need to stand in my own truth. I think I'm actually doing a pretty good job, all things considered. But perhaps it's time to kick it up to the next level.
And that word "perhaps" is starting to seriously grate on my nerves.
Written by Bill Ivey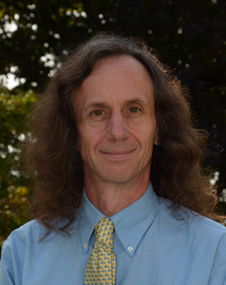 A dedicated member of the faculty, Bill Ivey is the Middle School Dean at Stoneleigh-Burnham School. He teaches Humanities 7 and the Middle and Upper School Rock Bands. Bill is the advisor for MOCA, the middle school student government, and he coordinates and participates in the middle school service program. Among his many hats, Bill also coordinates social media for Stoneleigh-Burnham School.