Other than the persistent and depressing cold, which I'll concede has the virtue of bringing people together united in the strong desire for spring to just come already tinged with a sense of pride that we seem to have survived winter, it's been a relatively normal return from spring break. The faculty began with an excellent in-service day. We spent the morning thinking about gender and sexual identities and how they relate to adolescent development, and how best to support our students. In the afternoon, we learned about Korean culture and spent time thinking about ways to best support all the English learners in our school. Kids greeted each other with the usual screams and hugs. Classes got back to work with a general good will and air of curiosity, although I'll admit here that my Humanities 7 class was openly (and occasionally successfully) trying to distract me from starting the brand new unit. They would eventually agree that the unit's theme would be judging, with the discussion underlining that we were especially looking at how ideals get set, why some ideals end up so superficial, and the sources and effects of judgment on people in general and 7th grade girls in particular.
Wednesday morning, while looking for interesting articles and comments to share on the school's Twitter stream, I stumbled across an article at edweek.org entitled "Single-Sex Classrooms Making a Comeback for All the Wrong Reasons." That certainly caught my attention! Reading through it, I felt as though I were in an alternate reality. The concluding sentence, "It seems that there must be a better way to encourage young women, and men, in their academic studies without implementing the archaic practice of total separation in classrooms." summed up the general drift of the article, and was followed by a question that, in the context of the article, I hope and trust was sincere: "Are you in favor of, or against, single-sex schooling models?"
Well. I am strongly in favour of schooling models that work toward social justice, and unsurprisingly, I believe (based on both experience and on research) that girls schools can provide a unique, valuable, and rich context for that work. I don't always comment on edweek.org articles, but I was definitely riled up, and before I knew it, I had worked up the following comment that began with quotes from the article:
"This idea that young women are dropping non-feminine topics at an impressionable age because of the opposite sex is flawed." "One of the arguments for single-sex schooling is that it takes away the tingly, budding attraction emotions in young people" I work in the middle school program of a girls independent school, and believe me, these are not fundamental rationales for our being a girls school. I would run away screaming if that were true.
In sharp contrast to those rationales, our school's mission implies feminist ideals as it is not just about honoring and developing girls' and women's voices but also about working to build a world that is genuinely willing to listen. Year after year, kids in my class say they can talk about gender issues in a way that was never possible in their old schools. They'll talk about coaches - coaches! - that discouraged them from developing athletic ability. They'll talk about how much they appreciate being taken seriously and valued as girls. One alumna wrote of how grateful she was to have learned how to live as a feminist in a patriarchal society. And there is research supporting these sorts of benefits of living and learning in a girl-positive environment.
As for the "T" in LGBT - we have in fact had students and alums come out as transgender (by the way, I would argue that the implication here is that gender, unlike sex, isn't necessarily predetermined), and I do in fact try to be very clear with my students that I'm well aware that not every person at my school whom I've ever taught, or will ever teach, will necessarily self-identify as female their whole life.
So yes, I support my school's model. But I don't view it as archaic in the slightest. And in no way do I believe I am "teaching stereotypes" - other than to identify them and the forces creating them, the better to work to undermine and do away with them.
Written by Bill Ivey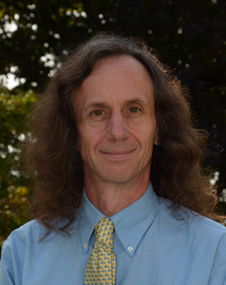 A dedicated member of the faculty, Bill Ivey is the Middle School Dean at Stoneleigh-Burnham School. He teaches Humanities 7 and the Middle and Upper School Rock Bands. Bill is the advisor for MOCA, the middle school student government, and he coordinates and participates in the middle school service program. Among his many hats, Bill also coordinates social media for Stoneleigh-Burnham School.