The end does not actually justify the means; the means create the end.
- Gloria Steinem
If there isn't trouble the day after a feminist speaks, they haven't done their job. So noted Gloria Steinem, feminist icon, early on in her speech given at the Massachusetts College of Liberal Arts as part of their Public Policy Lecture Series. As I thumbed a paraphrase of her words into my phone, I thought, "Well, perhaps it's my job to help ensure there's trouble." And indeed, Ms. Steinem referred on multiple occasions to the accumulated power in the room, never mind the other auditorium where overflow was watching and listening via a video feed.
Her listed topic was, "Feminism: Where are we going?" It would appear that where we are going (as a gender activist, I strongly sympathize with and work alongside feminists) is both exciting and dangerous. Most social justice movements, she said, go through three distinct stages: raising consciousness, organizing, effecting transformation. The phase of consciousness-raising most pertinent to modern feminism may have reached its peak with the groups of the 1970's I remember so well in my home town and at my college. Ms. Steinem would note later on, in response to a question, that if done right and through face-to-face communication, consciousness-raising groups can permit an easy, smooth, and seamless shift to organizing - part of the work is already done.
So at this point in time, Ms. Steinem argued, the organizing phase is also largely done. Attitudes have sharply shifted, and there are signs that the process of transformation has started. As Ms. Steinem put it, "Hierarchy is based on patriarchy and patriarchy isn't based on anything any more." However, to completely break free of gender boxes and open up the full range of human potential, it's going to take a whole lot more transformation including men developing their full humanity as well. She also noted, both in response to a question about intersectionality and elsewhere in her talk, the intimate relationship of of feminism and anti-racism, affirming that "It's not possible to be a feminist without being anti-racist."
To break free of gender and other restricting boxes, we can think in terms of a circle of human qualities rather than a hierarchy. To further challenge and put an end to hierarchy, we can also work to understand individuals on their own terms rather than by identifying them as part of a group. This does not mean denying connections; quite the contrary. Ms. Steinem noted that "We are linked, we are not ranked," and affirmed that hierarchies are a self-perpetuating lie that we increasingly disbelieve. Ultimately, the goal would be to ensure that "We are each completing our own circle of uniqueness."
Ms. Steinem also talked about domestic violence, pointing out that countries with the highest rates of domestic violence also tend to have the highest rates of other kinds of violence. Normalizing violence in the home normalizes violence in the world. Furthermore, domestic violence is about control, and the most dangerous time for a potential victim of domestic violence is immediately before or after they escape that control.
As we work to free humanity from the control of patriarchy, the metaphor of escaping from domestic violence holds true. One questioner from the audience noted the strength of the backlash in the form of both various proposed pieces of legislation and rhetoric, expressing the fear that things were actually getting worse rather than better. Ms. Steinem acknowledged the strength and force of the backlash, noting that legislators, especially in state legislatures which fly somewhat more under the radar than Congress, disproportionately represent a minority view that seeks to restrict the rights of women, LGBT people, and people of colour. She pointed out that the majority, even when they are right, does not always win.
Among audience members asking questions were a student who had come down from Burlington, VT, a worker with a group fighting domestic violence in Cambridge, MA, and an alumna of MCLA who had heard Gloria Steinem before but had driven six hours from Philadelphia with a friend so the friend could see her as well. A number of questions were preceded with sometimes tearful statements that, "You are one of my heroes," "You kept me sane," and "You have no idea what you meant to me." The speakers seemed to be expressing not only a longing for connection but also a longing for affirmation for their true selves in a world that does not always value them. Ms. Steinem noted the fundamental importance and power of networking, of creating spaces where people can talk about what they are seeing, feeling, and thinking, and of knowing wherever you go, you can find such a space. Such groups work best face to face; "A revolution doesn't happen by pressing 'Send'."
I hope and pray that this school is one such space, and I know I work nonstop in the hope that it may be. I also work nonstop to spread the notion that people of all genders need to be freed of the roles and boxes and rankings that have hobbled them for hundreds of years. But, as Ms. Steinem noted, the period of human history dominated by patriarchy has been relatively short. We are in fact the majority. And if we want to go forth and cause a little trouble, so to speak, we are not alone. Therein lies hope. That circle of uniqueness need not just be each individual person; it can also be also all of us together. And all of us together are a force. All of us together can win.
Written by Bill Ivey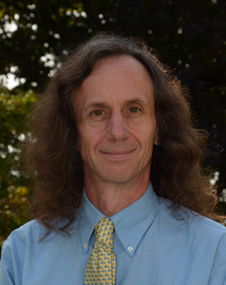 A dedicated member of the faculty, Bill Ivey is the Middle School Dean at Stoneleigh-Burnham School. He teaches Humanities 7 and the Middle and Upper School Rock Bands. Bill is the advisor for MOCA, the middle school student government, and he coordinates and participates in the middle school service program. Among his many hats, Bill also coordinates social media for Stoneleigh-Burnham School.