I've never seen anything quite like it. Usually, at the end of a show, especially on Opening Night, the cast either cheers and wanders off stage after the bows or simply wanders off stage. But as Meg Reilly, the music director, and Josh Carnes, the drummer, went into the exit music, these kids clearly did not want to leave, and it only took a few moments for the first one to turn to the girl standing next to her and wrap her in a long, warm hug which spread like, well, AIDS in the early 1990s, to choose a show-appropriate metaphor. Only, of course, on a much, much more positive note.
Before the show, Kim Mancuso, the stage director of the play, had gathered us all together on stage for an Opening Night ritual that marked and acknowledged the importance of each and every possible relationship among us in pulling off this incredibly complex and powerful show. When Tom Geha, the lighting technician, and I returned to the tech table, he said, "You know, you probably don't even think about it because you see them every day, but I was looking around and it really hits you how young they are." Rent is an ambitious show for people of any age, but it is an exceptional challenge for teenagers and pre-teens (three cast members were seventh graders) to immerse themselves for three months in the world of New York City's East Village in the early 1990s, when many of the starving young artists were HIV-positive and/or had come down with full-blown AIDS. In that context, it was perhaps even more of a challenge for these kids to put themselves out there on stage for all to see.
Yet, every single audience member I talked to said the same thing, that part of what made this show exceptional was the absolutely universal commitment to the show and to each other that was clear from the first entrance to the last onstage hug before they finally wandered off stage.
The other part of what made this show exceptional is the show itself. The script is raw and intense, fueled by the tension that comes from the uncertainty of not knowing which one of your friends might be the next to die, of trying to find happiness and live day by day as best we can. With the funeral of one of the most beloved of the main characters as the centerpiece of the second act, and the subsequent destruction or near-destruction of a number of the relationships, the second act is harrowing. I turned to Tom after the Saturday night performance, and commented, "That second act just destroys me every time, and more and more each time I see it." I could see in his eyes even before he answered that he felt the same way.
Near the end of the show, the character Tom Collins sings, "I can't believe you're going / I can't believe this family must die / Angel helped us believe in love / I can't believe you disagree." One of my seventh grade Humanities students wrote an independent writing piece after the final show that essentially echoed this sentiment. I wrote her in response, "This is beautiful - raw and honest and in the moment. It's not polished, and quite honestly it probably shouldn't be. / I will share this with you in reaction, something I sent out on Twitter a few hours after the show: 'Hard to mix the 2nd act of #Rent with tears flooding my eyes but I did my best. @sbschoolorg kids did an awesome job with a powerful show.' I think this one will stick with many, perhaps most, of us for a lifetime."
"Rent," of course, not only refers to the money the characters in this musical state in the title song that they are not going to pay - not last year's, not this year's, not next year's. "Rent" also refers to the concept of being, literally, torn apart. In this case, fortunately, though perhaps emotionally shredded, the cast and crew of this musical were not torn apart.
This family, at least, will never die.
Written by Bill Ivey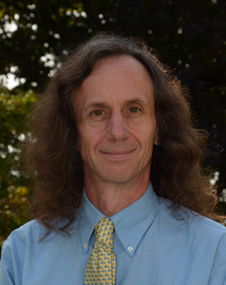 A dedicated member of the faculty, Bill Ivey is the Middle School Dean at Stoneleigh-Burnham School. He teaches Humanities 7 and the Middle and Upper School Rock Bands. Bill is the advisor for MOCA, the middle school student government, and he coordinates and participates in the middle school service program. Among his many hats, Bill also coordinates social media for Stoneleigh-Burnham School.