On Tuesday, Feb. 25, the Center for Teaching Quality is holding a book chat on Why Gender Matters by Dr. Leonard Sax, the founder and executive director of the National Association for Single Sex Public Education. (NASSPE) His work is centered on the notion that understanding gender differences enables us better to help our students learn.
Yesterday, Annie Murphy Paul, author of the forthcoming book Brilliant: The new science of smart, shared a link to a new article published about Dr. Janet Hyde of the University of Wisconsin - Madison and her newest publication, a major meta-analysis of 184 studies on single-sex schooling. Put simply, the primary conclusion is that there is "scant evidence that [single-sex schools] offer educational or social benefits." (Tenenbaum)
Fresh from my experience refuting Lise Eliot's misrepresentation of Dr. Linda Sax's landmark 2009 study at UCLA, I wrote "Check the 2009 Linda Sax study. It shows some positive effects for girls schools." Scott MacClintic, the Director of the Kravis Center for Excellence in Teaching, through whom I had learned of Ms. Murphy Paul's link, wrote back to say that Dr. Hyde's meta-analysis had in fact included the UCLA study. Ms. Murphy Paul thanked him, and added a note to me that "as a girls' school graduate [she is] sympathetic to the idea that there are benefits that research can't capture." I, of course, share that sympathy!
But I was also curious about Dr. Hyde's study. Not without trepidation, I followed the links through to the publication, co-authored with students of the University of Wisconsin - Madison, Erin Pahlke (now teaching at Whitman College) and Carlie M. Allison. As I skimmed the work, it became increasingly clear that many of the findings I remembered from the UCLA study were not able to be confirmed in the meta-analysis due to an insufficient number of controlled studies. In other words, the meta-analysis might have been unable to prove a number of positive effects in single-sex schools (which, it should be noted, would include both boys and girls schools), but neither did it disprove those effects. One may yet hope other sufficiently controlled studies will be done that would confirm more of Dr. Linda Sax's findings about girls schools using these meta-analytical techniques.
This led me to think about the notion that studying girls schools in the aggregate and comparing them to multi-gender schools would automatically mean grouping together girls schools that fight stereotypes and those that live by them. I would love to see research some day that looks closely at girls schools and attempts to determine what separates those that get the best results from those that don't. Early this morning, I asked that question of Ms. Murphy Paul and Mr. MacClintic, and he responded by linking me to a wonderful study on what teaching techniques and other school practices can best be used to encourage girls in STEM (Scutt et al).
I know that many advocates of coed schools point to the potential for stereotyping in single-gender schools, and as I've said before and will no doubt say again, I completely agree that we need to be looking as carefully and honestly as possible for that problem. But what I believe many advocates of coed schools overlook is that the potential for stereotyping also exists in coed schools. Indeed, as I understand it, research supports the idea that stereotyping can take place regardless of the gender make-up of a school. That makes intuitive sense; gender-based stereotyping is embedded in our patriarchal society, and it would be surprising if you didn't see the effects in our schools.
So, I shall roll up the pink sleeves of my sweatshirt (it's Character Day here, and I am playing Hermione Granger at age 13) and continue my day-to-day work with my students doing what I can to raise their awareness of, and break down, gender stereotypes. I shall continue to keep my eye out for what research can tell me about how best to do my job. And I shall continue to listen - not just to wonderful people like Ms. Murphy Paul and Mr. MacClintic, but also to my students. I know I can trust them to help keep my eyes on the prize.
Written by Bill Ivey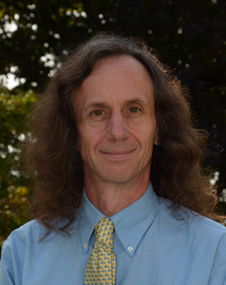 A dedicated member of the faculty, Bill Ivey is the Middle School Dean at Stoneleigh-Burnham School. He teaches Humanities 7 and the Middle and Upper School Rock Bands. Bill is the advisor for MOCA, the middle school student government, and he coordinates and participates in the middle school service program. Among his many hats, Bill also coordinates social media for Stoneleigh-Burnham School.