On Sunday, I received an email from my friend Jeremy Deason (a former Athletic Director and middle school teacher/advisor here) with the subject header "Your Thoughts." I always smile whenever I hear from Jeremy, and was excited to see what was up. He invited me to look at the following three links in order and write some quick notes of reaction after reading each article before proceeding on to the next. I'll share them now in case anyone wants to do the same before reading on here, though I will also summarize important ideas for anyone who prefers to simply continue reading:
1. http://t.co/l5UGFV66fW
2. http://t.co/ZFSZgtAFpP
3. http://bit.ly/KgBZ4n
**********
[optional Jeopardy theme song here!]
**********
As it turned out, and as I had vaguely suspected, I had read the first article already. Indeed, my Twitter feed had lit up with people reacting to it. On Wednesday, January 15, Caleb Hannan published a piece on Grantland, an ESPN-affiliated website intended to support and highlight excellent long-form sports writing online. It was entitled Dr. V's Magical Putter and, in a not uncommon initial reaction, one of Mr. Hannan's followers tweeted on the day of its publication, "This could end up being the best article I've read all year."
That was not the message of the tweets that had lit up my Twitter feed on Friday. What I was seeing was anger, outrage, hurt. What had gone wrong over those two days?
The story concerned a physicist, Dr. Essay Anne Vanderbilt, who had come up with a radical new design for a putter that seemingly worked like a charm. As Mr. Hannan checked out the club (he loved it) and tracked down the rest of story, he uncovered strange gaps in her past, and found among other things that she had lied about her academic credentials. If he had left it there, it would have been a gripping and fascinating story that people might continue to be calling the best article they read all year. But he didn't.
And even when he learned that she was a trans woman in deep stealth, had he kept that information to himself or shared it with her while explicitly saying he would honor their original agreement that he "focus on the science and not the scientist," things might have turned out differently. But he didn't.
He outed her to an investor. Dr. V learned what he knew, and became increasingly desperate. The last time he heard from her, she threatened him and told him he was about to commit a hate crime.
And then, last October, she killed herself.
Mr. Hannan included all this information in his piece, including her birth name, misgendering her on multiple occasions, and thus repeatedly violating the guidelines of the easily accessible GLAAD Media Reference Guide - Transgender Glossary of Terms. So the hurt, outrage, and anger being expressed on Twitter (and elsewhere) stemmed not just from the events leading up to Dr. V's suicide but also to the article that came out afterwards.
To Grantland's credit, Bill Simmons wrote what both Jeremy and I felt read like a sincere and heartfelt apology, and they provided space for Chistina Kahrl, a staff writer who also serves on the Board of Directors of GLAAD, to write a response. Mr. Simmons wrote in part, "I realized over the weekend that I didn't know nearly enough about the transgender community – and neither does my staff. I read Caleb's piece a certain way because of my own experiences in life. That's not an acceptable excuse; it's just what happened." and Ms. Kahrl noted, "Because of this screw-up, we owe it to the ruin wrought in its wake to talk about the desperate lives that most transgender Americans lead and the adaptive strategies they have to come up with while trying to deal with the massive rates of under- and unemployment from which the trans community generally suffers. And we owe it to Essay Anne to understand how an attempt to escape those things became its own kind of trap, one Grantland had neither the right nor the responsibility to spring."
Mr. Hannan tweeted on Jan. 17, the day Twitter exploded, "For what it's worth, I haven't blocked anyone today. I'm reading all of this. I'm totally overwhelmed, but I'm reading."
Jeremy commented during the course of our exchange that "[he wonders] if this is the type of thing that we will (hopefully) look back on in 10-20 years as being even more ridiculous and ignorant than it is today. If it makes sense, it's almost like the same piece could have been written 10-20 years ago with the only difference being Dr. V was gay, not [transgender]." There's no question that, just as our culture's attitudes toward lesbians and gay men shifted as they became increasingly visible in our society, so too our culture's attitudes toward transgender people are beginning to shift with their own greater visibility. That is all to the good, and brings hope.
But that visibility must come at a time of their own choosing. No one else has the right to make that choice. No one.
Written by Bill Ivey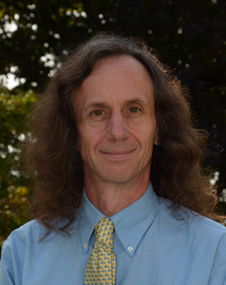 A dedicated member of the faculty, Bill Ivey is the Middle School Dean at Stoneleigh-Burnham School. He teaches Humanities 7 and the Middle and Upper School Rock Bands. Bill is the advisor for MOCA, the middle school student government, and he coordinates and participates in the middle school service program. Among his many hats, Bill also coordinates social media for Stoneleigh-Burnham School.