To evolve as humans, we must let go of behaviors and attitudes that hold the rest of humanity back. - Christy Turlington Burns, from the Introduction to the good mother myth, edited by Avital Norman Nathman.
"So what are you going to do when you leave?" my son asked me as we stood together in his dorm room with several bags full of clothing, food, and other supplies set out on the floor waiting to be unpacked. I couldn't help but think that, happy as he was to be back at college, ready to see his friends and throw himself into a new term's worth of courses, he knew the house would be empty without him there and was wondering how I'd be doing. And in truth, I was mostly, transparently, trying not to think too hard about the Kian-sized hole that awaited me when I eventually - because I was definitely not going to hurry - got back home.
Awash in thought over all the time he'd spent alone over the past two weeks while I was at work, sometimes not getting home until after 8:30 with work still left to do, trying desperately to think as I drove home of something tasty and reasonably different from the previous night that I could cook for him, I asked myself "What kind of parent am I?" - by no means for the first, or hundredth, or I suppose millionth time. It's not that I haven't tried to do my best, and it's not that I have any regrets when I think about who my son is. He is a truly wonderful person - loving, smart, kind, respectful, with a subtle and surprising sense of humour that brings delighted laughter up from deep within you. He loves his school, has great friends, knows the value of hard work. He is independent and values community. Like all of us, he is imperfect; unlike far too many of us, he manages for the most part to keep that awareness without either letting it get him down or letting it become an excuse. Yet, I seem to always feel I could have, should have, somehow done better by him.
And here's the thing. I'm not even his mother. As a father, I have found the bar is set ridiculously low for society's expectations of my parenting skills. But expectations for mothers are set to a whole different level. As Christy Turlington Burns wrote in the foreword to the good mother myth, the powerful and important collection of essays edited by Avital Norman Nathman, "[The ideal of the Good Mother is] a myth that is largely predicated on patriarchal constructs, one that creates false standards that sets women up for failure, not success, and for judgment instead of support." (p. x) Through a series of remarkable essays written by several dozen mothers, this book seeks to break the hold of the Good Mother myth and reveal "the collective consciousness of ever-evolving women who share the experience known as motherhood." (Turlington Burns, p. xi) It has the potential to do for mothers what Rachel Simmons's Curse of the Good Girl did for girls.
From the first sentence of the first essay, "Ichabod's Ghost" by Abby Sher, I knew I was in unfamiliar - and welcome - territory: "The first time I dropped my daughter Sonya on her head from a great height, she was about eight months old." (p.21) As we follow the saga of Sonya's tumbling out of a four-poster bed, sinking underwater as she practiced new-found swimming skills, and losing her balance and falling to the asphalt from her mom's shoulders, we cringe, gasp, tear up, and smile softly with a somewhat wry relief. When Ms. Sher writes, "By now, the biggest question in my head was who let me be a mom, and is there a way to rethink that decision?" (p.23) and "It took me a week to stop rereading the list of concussion signs that Dr. O mentioned. And another year of talk-therapy to name all the reasons why I thought I should give up on motherhood and run away before I did permanent damage," (p. 24) she gives us all permission to acknowledge our own fears and doubts. As I read the story, I pulled up a mental image I prefer to keep very deeply buried of one night when my son was about two and I went in to check on him, only to discover he had somehow rolled off the bed and gotten wedged between the guardrail and the mattress, his legs dangling down. No damage done, fortunately, except for my permanent sense of guilt that if something had in fact happened, it would have all been my fault for failing to protect this wonderful, loving, trusting little person.
But the essay doesn't end there. Ms. Sher goes on to tell about a time when she and Sonya were painting together, and Sonya asked her to do a rainbow, which admittedly turned out not to be her all-time greatest work of art. Ms. Sher asked her daughter what she thought, and Sonya retreated to consult with her doll Bippy. After some back and forth, she said, "I know. I know. But that's not a nice thing to say. I think Mom's doing a great job." (p.25) Ms. Sher responded by wanting "to laugh and cry and hold my beautiful daughter so tight with love. / Instead, I bit my lip and said, 'Yeah, Bippy. Sorry. But at least I'm learning.'" (p.25)
All of us being different, each of us may relate in different ways - if at all - to any given one of the essays in this book. But in the end, that's only part of the point. Because, all of us being different, all of us are different as parents. To disempower the Good Mother myth, we need to work to actively affirm the individual truths of motherhood, all of them. As Ms. Norman Nathman writes in her introduction, "Read these stories, find yourself within these pages, and join us as we redefine the myth of motherhood to fit reality." (p. xvii) And Ms. Turlington Burns points out that "At this point in time, the possibility and importance of connecting, empowering, and accepting each other as women and mothers at every point along the mothering spectrum is crucial." (p. x)
"I'll probably make a few stops on my way home, maybe head up to Cambridge or go to Northampton," I told my son in answer to his question about where I was going, and he nodded. A hug and a couple of "Love you!"s later, I was back out in in the snow and rain, the Kian-sized hole now where my heart should have been. "Having children means our hearts walk around outside our bodies," said President Obama in response to the Sandy Hook tragedy, as Jessica Valenti pointed out in her essay based on that quote. (p. 68)
If an especially acute awareness of the hole in my heart was to be my fate on this day, in reading and learning through the afternoon about the lives of the good (enough) mothers in the book, at least I knew I was not alone.
Written by Bill Ivey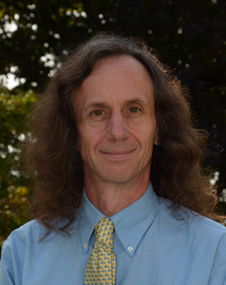 A dedicated member of the faculty, Bill Ivey is the Middle School Dean at Stoneleigh-Burnham School. He teaches Humanities 7 and the Middle and Upper School Rock Bands. Bill is the advisor for MOCA, the middle school student government, and he coordinates and participates in the middle school service program. Among his many hats, Bill also coordinates social media for Stoneleigh-Burnham School.