An address to the school delivered on Martin Luther King Day.
"When you call something the 'New Civil Rights Movement,' you're implying that the 'old' Civil Rights Movement is over. It isn't." - Womanist Gamer Girl
Nearly 60 years ago, on May 17, 1954, the Supreme Court of the United States issued their historic decision in Brown v. Board of Education ending legal segregation in American schools. Chief Justice Earl Warren had worked for weeks to build a consensus, enabling the decision to be unanimous despite personal and legal reservations several of the justices held in the case. One of the key holdings was that, "We conclude that in the field of public education the doctrine of 'separate but equal' has no place. Separate educational facilities are inherently unequal. . ." (http://www.uscourts.gov/)
Nearly 60 years later, exactly a week ago today, U.S. District Judge D. Price Marshall settled the longest-running case relative to Brown, approving a settlement between the Little Rock district and the state and surrounding districts. The original case dates back to 1956, when a class action suit was filed seeking the desegregation of the Little Rock school system. While in one sense the settlement ends an era that should never have stretched out so long, there is little to celebrate about it.
For one thing, according to history professor John Kirk, "in a city that is roughly 47 percent white and 42 percent black, the school population is two-thirds African-American." (Kirk, quoted by Washington) As Kirk further noted, white students are choosing private or charter schools. In addition, and following patterns that were seen in districts throughout the country as schools were progressively desegregated, there was a significant amount of white flight to the suburbs. In this way, as was noted by attorney John Walker, who represented black students in the case, "the legal system of segregation has been replaced by a defacto system." Pulaski County Superintendent Jerry Guess said, "I have had a lot of people comment about their kids going to schools where black students are and not wanting to. And I believe that's still, unfortunately, a truth about human nature." (Guess, quoted in Elliott)
"A truth about human nature." Seriously? I'm not going to deny that there are prejudiced people in the world, and of course we all notice difference. But specific attitudes toward difference are not inevitable. People are not born prejudiced; this must be learned.
And if it can be learned, then it can also be unlearned. Unlearning is a long, slow process. Research suggests that it takes nine times as long to relearn something correctly as it does to learn it correctly in the first place. But when the goal is universal respect for all people regardless of the colour of their skin, we have a moral obligation to work for that goal, to keep the faith no matter the odds. As Dr. Martin Luther King Jr. said, "Human progress is neither automatic nor inevitable… Every step toward the goal of justice requires sacrifice, suffering, and struggle; the tireless exertions and passionate concern of dedicated individuals." and "Faith is taking the first step even when you don't see the whole staircase."
So, if you do encounter prejudice, take that step and confront it. Start the unlearning process. Confront prejudice with love and respect, for you will never teach love and respect if you don't model it. But confront it nonetheless. Have faith that you are doing the right thing. Have faith the next steps will become clear when the time is right.
And have faith that you are not alone. Year after year, time and time again, my students express sadness and confusion that racism ever existed and still exists, and time and time again, they say they want to do something about it. So, when I get discouraged in my own fight, I often think of you all. Because you inspire me to stay on the staircase, even when the next step isn't visible. Yet.
Written by Bill Ivey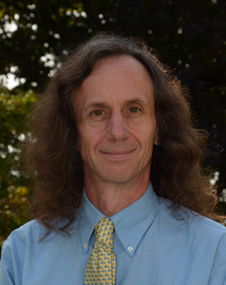 A dedicated member of the faculty, Bill Ivey is the Middle School Dean at Stoneleigh-Burnham School. He teaches Humanities 7 and the Middle and Upper School Rock Bands. Bill is the advisor for MOCA, the middle school student government, and he coordinates and participates in the middle school service program. Among his many hats, Bill also coordinates social media for Stoneleigh-Burnham School.