When the appointment of Dr. John Chubb to the presidency of the National Association of Independent Schools was first announced, there was a certain level of concern expressed by a number of people over his views on education. To his very great credit, Dr. Chubb responded quickly and graciously, even talking extensively over the phone with Kim Sivick, now the Director of Professional and Organizational Development for the Pennsylvania Association of Independent Schools, and with me as well. Kim and I both blogged about our respective conversations, she here and I here. Among other encouraging points Dr. Chubb then made was the desire to determine and facilitate policy directions desired by the membership.
On Jan. 6-7, 2014, NAIS held a "Prominent Research Gathering" to "identify market trends affecting independent schools, new business models that will drive growth, and methodologies to measure and articulate the benefits of an independent school education." (NAIS website) Of the 19 people invited, three are with the Hoover Institution at Stanford and another two from Stanford itself, four are with or have published with the Brookings Institution, and one more has ties with Achieve; all of these individuals and/or these groups are associated with corporate reform policies. Of the remaining nine people who attended, only four currently work in schools - in each case, a coed day school. Two of them are Heads of School, one an Assistant Head of School for Business and Finance (who is at the same school as one of the Heads), and one a Director of Enrollment Management. At least 18 of the members of this group are white, and only five are women. Honestly, I would have hoped for much more diversity - in terms of core beliefs, school backgrounds, and demographic profile. I also tend to favour including active practitioners in the K-12 classroom in such groups.
My cousin Bruce Baker, a professor at Rutgers who is a nationally respected expert in school finance and statistical analysis, blogged on Monday about his own concerns based on views stated in the past and conclusions drawn by many members of this group. In keeping with his positive past record, Dr. Chubb responded with a courteous reply stating "I think you will find that the meeting has a very different aim than you suggest." and "Our intent was to bring together people whose diverse opinions and expertise could challenge NAIS as we determine which research topics will help independent schools thrive long into the future." Dr. Baker responded in kind, reaffirming politely "that the group you've convened is anything but diverse in terms of its views on effective and efficient resource allocation in education" - a view which, as I've suggested above, I happen to share.
With the meeting now over and the announcement of what ideas they discussed and what research directions they are proposing still (and soon) to emerge, I find it irresistible to imagine what the group might have discussed - or more precisely, what I hope they discussed.
Regarding market trends, I hope and trust they considered the effect of the dramatic increase in income inequality in this country: over the last 40 years, the top 1% of the country have nearly doubled their share of all wealth, from approximately 11.3% to nearly 22.5% while the bottom 90% have seen their share of wealth fall from approximately 67.5% to below 50% for the first time in history. (Pew Research) Meanwhile, "From June 2009 to June 2012, inflation-adjusted median income fell 4.8%." (Sentier Research, reported in the Washington Post) If we are to, through our schools, truly promote diversity, social justice and equality in our society, we will need to find ways to deal positively with the negative effects of the shifting economy. Fortunately, we may do so from a position of strength, as national levels of enrollment in non-sectarian independent schools have remained relatively constant through the changing economy (note Figure 2 in Baker).
Regarding business and education models, I would imagine and hope that the group acknowledged that not all business models adapt well to education, and in particular that some of the competition-based models which schools are often urged (in the case of public schools, occasionally forced) to adopt did not work that well in the business world to begin with; see on this point yet another of Dr. Baker's blogs. More positively, a research-based progressive model for middle schools, This We Believe by the Association for Middle Level Education, has been shown to work effectively, and is reflected at the high school level in the principles of Breaking Ranks II by the National Association for Secondary School Principals.
Regarding measures of student outcomes, the key questions here are not just how to assess students but also toward what end. My understanding is that research increasingly suggests that formative assessment is far more instrumental in learning than summative assessment, and that while standards-based assessment (such as the system used in our middle school) can be more effective than traditional grades, a system of purely narrative assessment might well be the strongest of all. As to research on the effectiveness of independent schools, one shining example would be the 2009 Sax study done at UCLA which objectively proved the effectiveness of independent girls schools in a number of important areas.
As to purpose of student assessment beyond student learning, one of the members of this group has written on the use of test scores to "deselect" teachers, firing our way to the top. Yet research shows the unreliability of Value-Added Modeling in identifying the effectiveness of a given teacher, as shown for example by John Ewing in this piece from the Washington Post. Hopefully, this group has discarded consideration of this and other empirically indefensible practices often proposed for public schools, and chosen other directions for the future.
Dr. Chubb notes that "NAIS will be posting more details of the research meeting later this week." and, like my cousin - and no doubt a good many members of NAIS - I am looking forward to learning the ideas and directions for further research that emerge from this meeting. A year ago, in his phone call with Kim Sivick, Dr. Chubb stated, "The direction that NAIS takes in the years to come will be the direction that the schools wish to take, collectively and individually. That is as it should be. It is also the only way that I know to work effectively as a leader." As was true a year ago, and as is likely to be true for the rest of my life, I hope and trust that NAIS schools will collectively choose a direction that promotes social justice and supports all students in the country, including those in public schools, and indeed will support students through the entire world. I am quite sure those ideals are individually true of my own school, and I am quite sure we are not alone.
Written by Bill Ivey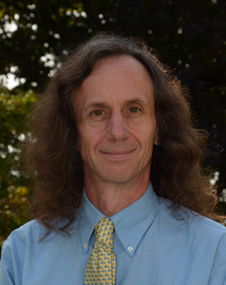 A dedicated member of the faculty, Bill Ivey is the Middle School Dean at Stoneleigh-Burnham School. He teaches Humanities 7 and the Middle and Upper School Rock Bands. Bill is the advisor for MOCA, the middle school student government, and he coordinates and participates in the middle school service program. Among his many hats, Bill also coordinates social media for Stoneleigh-Burnham School.