We need to make sure we're making it possible for people of all genders to feel acknowledged for their contributions and not feel held back by something as arbitrary as their genetics or appearance.
- Emily Graslie
Chief Curiosity Coordinator has to be one of the most awesome job titles ever. The position, created by Chicago's Field Museum of Natural History, is held by Emily Graslie, who is STEAM (Science - Technology - Engineering - Art - Mathematics) personified. A studio art major, she interned at the Philip L. Wright Zoological Museum, where she was tapped to host her own show on YouTube, "The Brain Scoop," to show and discuss the behind-the-scenes workings of a major natural history museum. She also manages a tumblr by the same name.
Ms. Graslie's path to success is one which may have been impossible a decade ago; certainly, YouTube didn't begin service until 2005. In 2012, successful vlogger Hank Green, who lives in Missoula, Montana, met Ms. Graslie when she was tapped to guide him around the university's Philip L. Wright Zoological Museum for one of his shows. She did so well on camera, and provoked so many positive comments, that Mr. Green offered her her own YouTube channel within his science-focused Nerdfighters community. Some of the staffers at the Field Museum of Natural History had seen and liked her show, so when she called and asked permission to film there, they not only gave her permission to do so but also set up three day's worth of tours, invited her to "after-hours get-togethers," and eventually offered her her dream job. (Graslie) She was just two years out of college and had not yet even earned her Masters (currently on hold due to work obligations).
Yet, as a woman in science, Ms. Graslie's career path has not been all sunshine and roses. As NPR correspondent Robert Krulwich noted in the piece Science Reporter Emily Graslie Reads Her Mail - And It's Not So Nice, "It turns out her mail is, well, troubling." Much of it focuses on her looks, often in crude terms. On her blog, Ms. Graslie notes, "The remarks are enough to make me want to throw my hands up and retreat to a tiny cabin in the middle of nowhere. (...) Let's not create that kind of environment for our peers. Let's be supportive, encouraging. Focus on the content, not the presenter. Ignoring the fact that these comments are uncomfortable is dismissive and counter-productive: let's have less tolerance for both those comments, and the apathetic attitude attached to how they affect our community." The video lasts about six minutes, and is well worth watching.
This week is Computer Science Education Week, and our school is participating in the Hour of Code. As experience and comfort with computers becomes increasingly important in our society (as reflected in the growing numbers of college students of all majors who are taking at least a few courses in Computer Science), it will be wonderful for all the kids to join the 4,000,000 students worldwide who are participating. And beyond that, perhaps the experience will awaken, or confirm, or deepen some of the students' interest in and commitment to STEAM fields.
I am quite certain there is not one member of our community who wants any of our students to be subjected to the kind of harassment and abuse which is a daily part of Ms. Graslie's life. Yet, she is after all only a few years older than our oldest students. Even the most hopeful of optimists has to concede our future STEAM majors will undoubtedly be facing a certain sexism. Fortunately, they will carry with them the benefits of having attended a girls school - a greater sense of agency, self-esteem derived from within, experience in an environment 100% comfortable with the concept of women loving and being skilled at STEAM. Fortunately, they know that those of us who support them now - parents, friends, faculty - are also working towards a world where they will be unquestioningly accepted for who they are regardless of gender.
My mother, a Physics major and college professor, was subjected throughout her career to the same kind of overt harassment as Ms. Graslie has experienced, and more subtle sexism as well. She has said things are better now than they were, but not as good as they could have been, and not remotely as good as they need to be. It's time to step up the pace of change. Ms. Graslie's words provide the direction. It's up to all of us to join her in taking the lead.
(note: the title of this post was taken from the lyrics to Bruce Springsteen's song "No Surrender.")
Written by Bill Ivey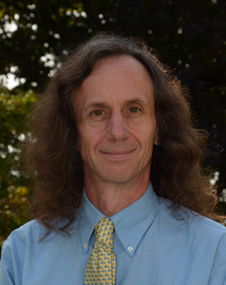 A dedicated member of the faculty, Bill Ivey is the Middle School Dean at Stoneleigh-Burnham School. He teaches Humanities 7 and the Middle and Upper School Rock Bands. Bill is the advisor for MOCA, the middle school student government, and he coordinates and participates in the middle school service program. Among his many hats, Bill also coordinates social media for Stoneleigh-Burnham School.