One day in Humanities 7, class, we were talking about different ideas of what is feminism and what is feminine when suddenly their voices began to get louder and more urgent. There was an edge, and I could tell there was something below the surface I hadn't quite deciphered yet when one of the girls told another, "You're a dudist!" Before I'd recovered laughing from the inventive spontaneity of the word "dudist," I knew I had finally figured out what was going on: some kids in the class viewed feminism as inherently anti-men, while others didn't. I explained that, while there is indeed a small and often vocal group of feminists who are anti-men and who perhaps get disproportionate coverage in the media, by no means do they speak for all feminists. One could, I told the kids, in fact argue there are as many kinds of feminism as there are feminists. And that led to an inspiration.
"Some of the strongest feminists in this school," I told the students, "are in Ms. Durrett's Sophomore Honors English class. Would you like to invite them to join us one day to talk about all this?" They loved the idea, as did Ms. Durrett and her students. Both classes wrote questions to help frame the discussion, and on the appointed day, the sophomores came streaming into our room, the eyes of former Humanities 7 students lighting up as their faces softened with memories. The kids all settled into every beanbag chair in the middle school, some doubling up, with a look of anticipation on their faces.
Though not all the questions dealt directly with feminism, that's where we began the discussion. There was remarkable agreement, actually, over what I think of as the core ideals of feminism: equal rights for all people, including girls and women. There was, however, a much more extended discussion of the word itself. Few students were comfortable with it, for a host of reasons including, for some, its reinforcement of a binary view of gender. The seventh graders had come up with the term "equalist" the day before, and many of the sophomores nodded slowly as they considered it. "I like it," one said, and a sophomore who followed up after the discussion with ideas for this blog identified that as one of three specific stand-out moments for her "because [the term "equalism"] offers a wider acceptance and understanding of what feminism stands for."
Whether and how we will be able to achieve the ideals of equalism is another question altogether, of course. Students felt firmly that the concept that we all should be seeking equality should become the norm and not the ideal, but they were deeply skeptical we would ever be able to truly achieve equality. Humans, they felt, seem to have a natural need for hierarchies, and of course different people have different aptitudes and affinities. However, they hastened to point out, that need not automatically lead to assigning gender to those roles, and hierarchies don't necessarily have to be attached to them either.
When the topic turned to girls schools, most of the students, though definitely not all, said they came here looking to get away from the behaviors and influences of boys. They love our academic way of being and the way students listen to each other's ideas, hear them out, and build on them. One sophomore told a story of attending a debate where a girl from another school had a long name, and shocked our student by apologizing for it to the teacher serving as a judge who had to write it down. This led another another sophomore to say, "It's one thing to apologize for being rude, it's another to apologize for your existence."
One of the seventh graders observed a similar gap in confidence between students at our school and girls in coed schools, noting that some of her friends have changed a ton in just the three short months we've been here while she has basically stayed true to herself. It stunned and scared her how quickly that gap had opened up, but it also made her grateful for what she had. Another sophomore noted, in another high point of the discussion, that Stoneleigh-Burnham "has taught us to be more than girls and women. It has taught us to be individuals."
Though we had not specifically planned on discussing sports culture, we segued pretty naturally to that topic while discussing girls schools. Deeply saddening was the near universality of the girls' experiences in athletics and with their coaches before coming to our school, where they felt they weren't taken seriously, were actively discouraged from doing sports (by their own coaches!), and were in some cases outright belittled and even bullied (by their own coaches!). The students acknowledged the differences between women and men in terms of muscle mass, upper body strength, and center of gravity, but at the same time several students also affirmed that women's legs were stronger than men's (it is worth noting here that, from what I've read, the general consensus seems to be that if a woman ever holds a non-gender-specific world record in any event, it is most likely to be the marathon). This discussion led naturally to pointing out inequities in men's and women's sports, and most especially media coverage of male and female athletes (both the frequency and the nature of that coverage), to general agreement and outrage.
We kept talking right up to and even a little bit beyond the bell, and as the students jumped up and hoisted their backpacks to their shoulders, many of them, sophomores and seventh graders alike, asked if we could do it again. Of course they would want to do so - throughout the period, they were uniformly respectful and listened actively to everyone. Many voices of all ages were heard, and they had created an atmosphere of equals. We had left untouched their questions about gender identity, and had only just begun to touch on issues with the media. No doubt, they have many more questions they still want to ask. No doubt, we will be doing this again.
Written by Bill Ivey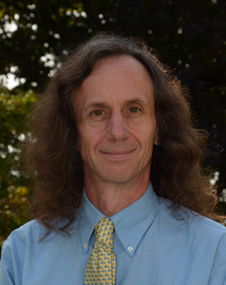 A dedicated member of the faculty, Bill Ivey is the Middle School Dean at Stoneleigh-Burnham School. He teaches Humanities 7 and the Middle and Upper School Rock Bands. Bill is the advisor for MOCA, the middle school student government, and he coordinates and participates in the middle school service program. Among his many hats, Bill also coordinates social media for Stoneleigh-Burnham School.