You're in the arms of the angel. May you find some comfort here.
- Sarah McLachlan
When my alarm went off this morning, it was perfectly timed for the beginning of the beautiful last line of Sarah McLachlan's song, the perfect way to begin this 16th Transgender Day of Remembrance. In 1998, Rita Hester, a young African-American transgender woman, was murdered in Allston, Massachusetts. A candlelight vigil organized by Gwendolyn Ann Smith and attended by several hundred people was held in her memory, and the occasion inspired the international Transgender Day of Remembrance.
Last night in Northampton, Massachusetts, a small gathering of people huddled near a fire for another candlelight vigil. The mood was surprisingly light, even when the college students in attendance began passing out candles along with cups to shield the candles from the wind and our hands from the hot wax. As we sang "This little light of mine, I'm going to let it shine..." softly at first but with growing strength and volume, the minister in attendance lit his candle from the fire, and the flame was passed from person to person. No one seemed to know who was stepping out first to lead the way to the Unitarian Universalist church where the service was to be held, but gradually, a consensus emerged that it was time to move forward together, and we did.
Once in the church, as I was rubbing my hands together and attempting to warm up, another college student asked if I would be willing to read the name of one of the dead from the previous year. Though she was not my student, she was a student, and I quelled my nervousness at the thought, smiled, and said, "Of course." She handed me the name of Terry Golston, and I looked down at the little piece of paper, thinking about this person I vaguely remembered hearing about at the time of her death but would never know, reflecting on how her life was now inextricably bound to mine and what that might entail.
When my turn came to read, I looked down at the paper and said, "Terry Golston," and paused for a brief moment of silence as requested. "Died September 6, 2013 in Shreveport Louisiana. Terry, 44, was a cross-dresser. She died after being shot three times. Another trans person with her survived (I emphasized the affirmation of hope in the word) the shooting. The police say that robbery may have been a "motivating factor" (and the tone of my voice noted the quotation marks without dwelling on them), but neighbors believe that they were targeted for being trans."
28 names in all were read - the 18 trans* people who were murdered this year in the United States, most all of them trans* women of colour, plus 10 representative trans* people from other countries. Immediately before the reading, Yohah Ralph, who was presiding at the service, offered anyone who wished to leave for this part of the service the chance to go wait downstairs or in the vestibule. I could see why. It is tough enough to read these stories. It is excruciating to listen to them, and I periodically heard gasps as people took in the brutality and raw hate of many of the crimes being read in studiously but shakily neutral tones by reader after reader.
Immediately prior to the ritual reading of names, the father of Eric Collins spoke to us. His son was a transgender boy who died on February 7, 2013 at the age of 14. Bullied relentlessly both at and away from school, buffeted by body dysphoria as doctors refused to give him the surgery he so desperately wanted until he grew older, Eric (the name he chose to replace his birth name) developed an eating disorder that caused him to lose over 60 pounds. Wearing a jacket that read "Eric's pride" and showing his son's face over a pair of wings, his father, in a voice suffused with bitterness at his own actions, noted that the whole rest of his life will be one long "woulda, coulda." And this was a man who pursued every avenue he could think of to try to learn about transgender people, to try to understand what made his son feel the way he did, to seek out how best to be supportive.
I looked up Eric's obituary online when I got home, and sent it to Tod. I had seen a poster outside his office earlier in the day offering to bring students to the Greenfield Transgender Day of Remembrance on Wednesday evening, and I wanted Tod to be prepared to support our students for what was to come. Whether or not Eric's family attended this ceremony, his name was bound to come up as a number of people in the Greenfield TREE (Trans Rights, Education, and Empowerment) group knew him, and I knew they had grief counselors and other support staff at the ready. As the organizers of the Northampton TDOR had done.
Near the end of the service, during a time for participants to raise their voices if they so chose, one person in attendance read the Kiddush. Though I don't speak Hebrew, the sound of Jewish prayers always has a comforting effect on me, and as the service concluded, the person behind me commented that the same was true for her.
May Eric's family and those of other transgender people dead this year and in years past find peace. May the souls of those people rest in peace. And may we all join together to reshape the world so that one day Transgender Day of Remembrance may be just a footnote in history books.
Written by Bill Ivey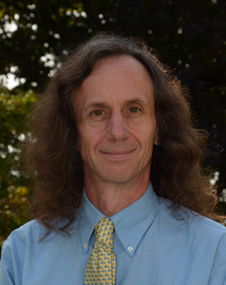 A dedicated member of the faculty, Bill Ivey is the Middle School Dean at Stoneleigh-Burnham School. He teaches Humanities 7 and the Middle and Upper School Rock Bands. Bill is the advisor for MOCA, the middle school student government, and he coordinates and participates in the middle school service program. Among his many hats, Bill also coordinates social media for Stoneleigh-Burnham School.