"You might want to have someone go with you, so you don't walk into a wall," I said. Erin was just pages away from the ending of To Kill a Mockingbird and had stood up and started walking to her next class without ever taking her eyes off the open book. Erin asked, "Isabela, will you go with me so I don't walk into a wall?" Isabela smiled and said, "Okay," and they drifted off together.
Erin was not alone in having become utterly immersed and captivated by the book – several other seventh graders had also read ahead, moaning at the end of study hall and refusing to put the book down. Bekah had just finished reading Atticus's summation at Tom Robinson's trial, and marveled at how captivating and compelling the two-page speech was. Juliana looked over at me and said, "Oh my God, this book is so good! It makes me want to be a lawyer!" I paused and thought for a second. "Interesting. It makes me want to be a writer. And yet, we'd be doing the same kinds of things and for the same reasons." Juliana smiled back, told me, "I'm so glad I'm in Debate," shouldered her backpack, and headed off to Art and Culture.
Earlier in the day, a group of Humanities 7 students had presented their completed video of an original script they had written for independent writing. Shot on the fly during class, study halls, and whenever opportunities presented themselves, the video was a tightly edited (okay, they accidentally showed the ending twice - but that aside!), well-paced, both funny and moving work, and the students looked justifiably proud of their efforts as the class applauded at the (real) ending.
It feels like we are officially in the iPad era of the school now. Never before had students done a script together for independent writing, and that may well be in part because never before have they been able to shoot and edit a video so quickly and instinctively. My prediction and hope had been that having iPads would enable us to greatly expand how we communicate with each other, and we seem to be started along that path now. Some students are rushing headlong down the path, others treading it more slowly and deliberately, but all are headed in the same direction. Yet, for many of us, there is also something timeless about books, real, books with covers and artwork and the smell and touch of paper. There's a place, we realize, for every technology, from different ways of physically marking on surfaces (paint on cave walls, pen on paper, purple dry-erase markers on white boards, etc.) to books to cameras to computers and more. Different tools for different tasks.
Several weeks ago, I had planned to present the note-taking app "Notability" to my class, but on a hunch, I asked when we got to that point in my lesson plan, "Have any of you already tried Notability?" About six out of 14 had. "Do any of you feel confident enough to come up and show the rest of the class about it?" Several did, and we agreed Juliana and Elizabeth would come up. They borrowed my iPad and stood next to the TV, and systematically and thoroughly showed the students everything Notability could do and how to do it. There were some questions along the way, but the students had such a strong intuitive sense of what their classmates would understand that most of the questions that might have arisen were answered simply in how well the presentation went.
Dr. JoAnn Deak says the core elements of self-esteem in girls are confidence, competence, and connectedness. Our school's mission statement is all about voice and being one's own best self. That learning moment crystallized how we go about meeting our mission, and why we are so effective in doing so. Technology is a part of that - but as a means to an end. Never an end in itself.
Written by Bill Ivey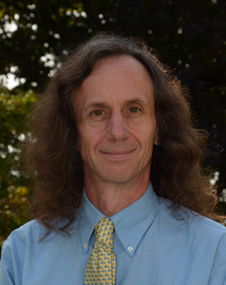 A dedicated member of the faculty, Bill Ivey is the Middle School Dean at Stoneleigh-Burnham School. He teaches Humanities 7 and the Middle and Upper School Rock Bands. Bill is the advisor for MOCA, the middle school student government, and he coordinates and participates in the middle school service program. Among his many hats, Bill also coordinates social media for Stoneleigh-Burnham School.