"That Rock Band," a parent said, shaking his head. Clearly searching for words, he added, "Wow." It was not an uncommon reaction, and when I emailed my usual post-concert congratulations to the group, I told them about the moment and noted, "Yes, you performed that well; you literally left people speechless." It's true, from the first notes pounded out on the piano as they slammed through "Yoü and I" by Lady Gaga, through the last, sweet harmonies held over a cymbal roll and an echoing piano chord as they ended "Just the Way You Are" by Bruno Mars et al, they were amazing, all of them: Bonnie, Charlotte, Heather, Jin, Joy, Joyce, McKim, Molly, Natalie, Olivia, and Susan. And when I pointed out that the vocalists wrote all the harmonies themselves, the speechless factor among audience members rose even higher.
This is just our first performance, just a few weeks into the year. While six members of last year's group returned and one moved up from the middle school band, four were brand new, and one of those was a complete beginner to her instrument. Yet, they came together so thoroughly and so rapidly that we chose and began working on our next two songs even before the first performance, something we have only rarely been able to do in the past.
As I looked back on the performance with pride, my mind jumped to an evening at the beginning of this past summer. I was at a coffee house in Amherst, and two baristas were working the counter. While one of them was preparing my drink, he commented to the other, "I don't like it when chicks cover songs." So many responses sprang to my mind, of which one of the more polite was, "Even songs written by, umm, women?" but I was technically not involved in the conversation and stayed quiet. The other barista was clearly taken aback; after a moment, she said what seemed to be the only thing she could think of in response: "Really? Why?" He paused, far longer than anyone who had just made such a flat declaration had any right to, and came up with, "There's just something wrong about it."
Well. There it is, then. That clears that up! The other barista paused a while and went back to wiping down the countertop.
Earlier today, a friend shared on Facebook a link to a video of Ann and Nancy Wilson of Heart performing "Stairway to Heaven" at a concert honoring the surviving members of Led Zeppelin. In her posting, she noted that the performance was so good it made Robert Plant cry, and indeed part of what makes the video so moving, beyond the incredible performance itself, is the interspersing of shots of the group members' reactions to the song with shots of the performers themselves.
I don't know what that one barista would think of this performance, if he came across it - whether it would simply confuse him and he would think Robert Plant a wimp, or whether it might actually penetrate his male privilege-addled brain deeply enough to make him rethink some of his beliefs. One hopes for the second, of course, but he had quite a way to go.
Family Weekend at our school is in many ways about elevating and honoring girls' voices as we share what we get to see every day with families who get to see the effects of what we do every day. While the Rock Band performances exemplify what the school is all about, in no way are they the only example. Far from it, in fact - which is part of what makes our school so special.
Which makes it all the more sad that there are still people so deaf to women's voices that they are literally missing half of what the world has to offer, and have no clue. And so, as we support these girls in bringing their voices to the world, we also work to support the world in shutting up long enough to open their ears and truly listen.
Because sometimes, speechlessness is good.
Written by Bill Ivey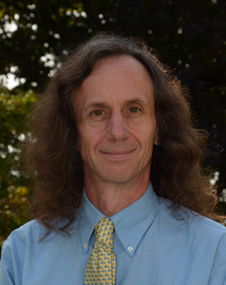 A dedicated member of the faculty, Bill Ivey is the Middle School Dean at Stoneleigh-Burnham School. He teaches Humanities 7 and the Middle and Upper School Rock Bands. Bill is the advisor for MOCA, the middle school student government, and he coordinates and participates in the middle school service program. Among his many hats, Bill also coordinates social media for Stoneleigh-Burnham School.