"Can I ask a question?" Julia, a returning 8th grader, asked toward the end of our first all-middle school meeting. "Sure," I said as 33 pairs of curious eyes turned to look at her. "Well, it's really more of a statement (laugh). I just want to say that I love this meeting tonight. It's the best part of the whole year." It is indeed a wonderful tradition - after an all-school dinner, everyone gathers in the Capen Room where faculty introduce themselves, Big Sisters introduce themselves and their Littles, a few announcements are made, and everyone races off to begin focusing seriously on the finally imminent first day of classes. "I don't know if I'm ready to say it's all downhill from here, but I do love this night," I said softly to Andrea as kids streamed past us. She laughed and nodded. "I know," she said.
Part of the tradition is faculty members letting students know how they would like to be addressed. About halfway around the room, one of the first-year teachers, Jake Steward (the new Chair of the English Department), said: "You may call me Steward. You don't have to use the 'Mr.' I'm aware of my gender." Everyone laughed. Eric Swartzentruber was next and, after introducing himself as the Admissions Director, added, "While I am also aware of my gender, you may call me Mr. S." Everyone laughed again. I laughed too, but it all got me to thinking - what does it actually mean to be aware of your gender?
I suppose the first step is to figure out what you mean by "gender" in the first place. By no means does everyone share the same definition. For some people, of course, it simply means how you were identified at birth based on anatomy. End of story.
However, for others, it's a little more complicated. I remember one person this summer, commenting on the birth of the royal baby: "Well, the royal baby has been born and, apparently having something resembling a penis, has been identified as a boy. We'll see." One's genetic heritage is, of course, relatively fixed (as I understand it, the developing science of epigenetics continues to call even this into question). But you can't always tell who is intersex at birth, and you certainly can't always tell what that new baby's personal sense of gender will be when they grow up. Masculine? Feminine? Somewhere on a continuum? Both equally? Some other sort of blend? Neither? Fluid? We're getting to the point where it's hard to keep track of all possible senses of gender a person can have. Some colleges are starting to incorporate asking students about pronoun choice during orientation and their offices now routinely ask visitors, "And what pronouns are you using today?"
Recently, I was actually asked the "what pronouns" question. And I have to say, it felt entirely respectful and dignified. No assumptions. No inferences. No judgments. Just quietly asking what worked for me, a human being. (For the record, my answer was, "'He' is fine, and thank you very much for asking.")
Of course, in a girls school, it's a little trickier to avoid making assumptions about gender altogether. It's right there, three times, in our mission: "... We inspire girls... discover her best self... her voice will be heard." And I do think, for most of my students, being aware of their gender is indeed becoming aware for themselves of what it means to be a girl growing into a woman. For most of them. But not necessarily for all of them. Sometimes, one's own best self turns out to be... not female. Just the other day, Mrs. Logan-Tyson mentioned how nice it was to spend time with one of our alums at Reunion and find him to be so happy in life. And that is one of our most important core goals for all of our graduates.
So, for many of us anyway, perhaps being aware of one's gender is a personal journey that works differently for different people. The tangle of society's beliefs, assumptions, and stereotypes provides a context for that journey, either supportive netting or a steel trap depending on who you are and whom you are with. Fortunately, if you can remain fully open to experiencing the person with whom you find yourself, you will be giving them the space and freedom to be their own best self, simultaneously regardless and fully aware of gender.
Recently, some grandparents who were worried about whether their granddaughter might be confused about her gender given her short haircut, propensity for "only boys' sports, such as martial arts", and love of boys' clothing, asked advice columnist Carolyn Hax, "Please point us in the right direction." Ms. Hax began her response with this line: "The 'right direction'? Love her."
It really is that simple.
Written by Bill Ivey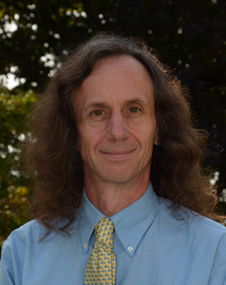 A dedicated member of the faculty, Bill Ivey is the Middle School Dean at Stoneleigh-Burnham School. He teaches Humanities 7 and the Middle and Upper School Rock Bands. Bill is the advisor for MOCA, the middle school student government, and he coordinates and participates in the middle school service program. Among his many hats, Bill also coordinates social media for Stoneleigh-Burnham School.