Several years ago, a friend of mine who had just had her first child asked me what I had done to help my son grow up to be as strong, kind, grounded, and self-confident as he is. Her concerned look told me how desperately she wanted the same for her own son. My quick response, that my secret to raising my son so well had been for my wife to be his mother, was not given entirely out of modesty or humility (for one thing, my wife is truly one of the most extraordinary parents I've ever known). By, in a sense, deliberately avoiding the question, I meant to create space for her to discover the mother she was meant to be. We did have a longer, more heartfelt conversation later on, but ultimately she found the secret on her own: her child was not my child, her family was not my family, and she had to find her own way as a parent to this unique human being and as a member of her own unique family.
Part of our school's mission is to enable all our students to be their own best selves. As obvious as this goal might be, and as fundamentally important, it is not easily achieved. Recently, Erin L., a seventh grader, wrote the following in an essay:
Is my personality a chance, or am I who I was meant to be?
I am shy and quiet. I have always been... I found that I was comfortable in my routine of school and home, in a small circle of people I knew, but in sixth grade, my shell of comfort was shattered, like a broken snow globe. Facing interviews, and new teachers, I tried to embrace my final year of comfort, and then began work on one of the hardest things I will ever have to do… I began working on banishing shyness. Timidity and innocence are strong protective walls, but as well as walls keep out, they also block in...
As I struggle to break the walls, I am learning more than self-confidence. I am learning how to learn from mistakes, I am learning how to embrace change. I am learning what it feels like to step into a spotlight, and glow underneath the light. So perhaps I was given my personality to teach me, because, I think perhaps we are our own greatest teachers, if we simply have the patience to learn.
No, my personality was not a chance. Something thought me out very well, or maybe it was an unconscious decision on my part. To be who I am to become, may not be easy. But it is my choice.
I suspect I am not alone in wishing I had been that wise at her age. For that matter, even now, at 53, I feel I am still discovering myself - making conscious and unconscious decisions, trying to have the patience to learn and to be my own greatest teacher, shaping my presence in the world so that people might perceive me as I perceive myself. Even after 40 or more years of trying to be who I am to become, I'm not 100% certain I've entirely achieved that. But I still have time. We all do.
As the Upper School Rock Band was gathering the other night, several of the students were spinning and bouncing around the room and talking about the character of our school: "We're all quirky." "We're all different." "We're all... artistic." "Everybody accepts everybody else." "There wasn't really a place for people like me at my old school." "It's almost," I said with a hint of laughter in my voice as I feigned surprise and a sudden discovery, "as if this school was all about finding out who you were meant to be and becoming that person - becoming your own best self. And that it's working." The girls all smiled, and one danced a little half step to her right. "Exactly." one of them said with a confident nod of her head as she took a firm step forward.
Written by Bill Ivey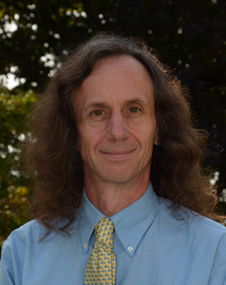 A dedicated member of the faculty, Bill Ivey is the Middle School Dean at Stoneleigh-Burnham School. He teaches Humanities 7 and the Middle and Upper School Rock Bands. Bill is the advisor for MOCA, the middle school student government, and he coordinates and participates in the middle school service program. Among his many hats, Bill also coordinates social media for Stoneleigh-Burnham School.