This was the title of a post in the Senior IB candidates' blog for their Theory of Knowledge class. Their teacher, Alex Bogel, linked them to an article by Marc Prensky entitled "Our Brains Extended" which the faculty was reading over the summer. In the article, Mr. Prensky makes the point that "Technology... is an extension of our brains; it's a new way of thinking." He then poses the question, "Now that kids are routinely exposed to increasingly sophisticated information online, what's an 'age-appropriate' curriculum? What subject matter from the past is still relevant, and for whom?" Finally, he suggests a vision for completely revamping the curriculum in our nation's schools. He proposes organizing learning around four themes: effective thinking, effective action, effective relationships, and effective accomplishment. (Interestingly, these four themes integrate well with the fundamental philosophy of the IB curriculum, for example through the Creativity-Action-Service, or CAS, requirement.)
The students brought a wealth of knowledge and insight in their responses to Mr. Bogel's posting. Here are six extracts from their work that, when juxtaposed, tell an interesting story of the students' own visions for the role and potential influence of technology in their education.
I agree with the article about how [technology] is an extension of our lives it almost makes us super human. I also agree that we need to teach older and younger people that technology is great, but I don't know if it is the BEST way because even though I may not love to read it is important to teach and be able to use. [Technology] is not the number one skill students need to take from school in order to succeed. Reading is the root of everything. - Jillian
I agreed with certain parts of the "Rethinking the Curriculum" section and linked the mathematics section with something my dad always told me. My dad always tells that real math is what goes on before we put our pencils on the paper. Real math is when you look at a problem and you figure out exactly what to do in order to solve it. Determining the numbers and values is just arithmetic. Math isn't beautiful because we can add and subtract numbers; the numbers are just the tools we use to express mathematical ideas. - Karen
I really like the Effective Thinking, Acting and Relationships. In many ways this is what is happening at SBS, especially the effective thinking. I think that there is opportunity for the action and relationship aspects but they are not as out right or obvious to someone who is not aware of them. I think that these would enhance the SBS curriculum because they would make SBS an even more culturally aware and active school. Setting up programs with other schools around the world would make way for a new type of communication and connects for students and knowledge. - Elizabeth
I think our school should consider combining classes with teachers from around the world. I believe we need to move forward and make the future generations feel as though they are people of the world and not separated by distinctions. To create more global citizens, transnational cooperation is necessary. - Dorjee
I agree that the curriculum needs to be changed fundamentally, but I do not think that Marc Prensky's emphasis on technology is as important as he made it seem. Technology definitely touches every aspect of our lives, but I think there must also be emphasis on learning through other outlets like music, art and nature. I have seen and experienced firsthand how technology can consume our thoughts and actually disconnect us from the people around us; so to put more emphasis on technology in schools we must first change the ways we use technology. The powerful connections that technology permits students like global communication must be treated more seriously if integrated into the curriculum. - Jane
Prensky's curriculum suggestion seems like the most hard-to-apply concept in the article, mainly because it would involve an overhaul of the education system, and the agreement of town councilors everywhere on the fact that this is where our society is headed. If it's a hard concept for me, a technology-addicted 17 year old to swallow, then you can bet that our current traditional education model isn't going anywhere any time soon. - Caroline
Written by Bill Ivey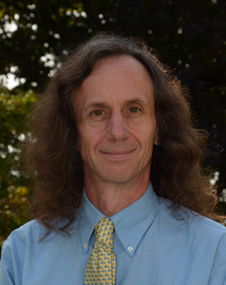 A dedicated member of the faculty, Bill Ivey is the Middle School Dean at Stoneleigh-Burnham School. He teaches Humanities 7 and the Middle and Upper School Rock Bands. Bill is the advisor for MOCA, the middle school student government, and he coordinates and participates in the middle school service program. Among his many hats, Bill also coordinates social media for Stoneleigh-Burnham School.